KEY 73 CAN BE a time of renewal for the nation no less than for American evangelical Christians. In the aftermath of the Viet Nam war, a new opportunity exists for national unity and stability, and its best guarantee lies in the renewal of moral and spiritual sensitivities. The social drift of recent decades has left little doubt that unregenerate human nature is too immersed in self-interest to generate enduring humanitarian concern; lacking a clear vision of the will of God, it turns even the noblest ideals into questionable theories of social change.
A biblically controlled witness can bring light and life to multitudes of Americans at a time of critical indecision and need. Without fresh awareness of the revelation of God and the vitalities of spiritual regeneration, the nation can only sink deeper into the pursuit of affluence as the main goal of life, into the relativities of social experimentation, and into disenchantment with political solutions. Although it may sound moralistic to many social planners today, the fact remains that nothing is more relevant to a good society than the virtues championed by biblical religion, from public justice to neighbor-love; and for these ideals no more solid support exists than the truth of God's creation of mankind and his redemption of sinners.
Evangelical Christians are numerically the largest religious segment in American life. While Catholicism is experiencing turmoil and neo-Protestant ecumenism has churned to a standstill, the evangelical movement has made noteworthy gains. Many signs of vitality are evident: the widespread Jesus movement among teen-agers who were generally considered lost to Christianity; interest in evangelical books and literature at a time when the religious book market has a generally poor showing; the ongoing commitment to evangelistic engagement and foreign missions; the growth in evangelical churches while most liberal congregations are grateful if they can avoid serious losses; and the expansion of conservative seminaries while ecumenical campuses are hard pressed.
Neo-Protestant theology and social demonstration have run out of fads. Were evangelicals to rise out of their isolation and competitiveness into a cooperative witness, the blessings of a personal relationship to God and the rewards of a life committed to Christ could now be shared nation-wide in a compelling way.
Key 73 poses a disturbing challenge to evangelicals and non-evangelicals alike. Many ecumenists have wanted larger evangelical participation in organized ecumenism, but the pluralistic theological commitment and primarily socio-political emphasis of the National Council and the World Council of Churches have discouraged evangelicals from seeking this. Within most mainline denominations there survives a significant body of Christian believers who seek rededication to apostolic priorities of doctrine and mission. For them Key 73 presents a long awaited opportunity to stand with evangelicals of all denominations in a spiritual witness.
Some hard-hat ecumenists will probably see Key 73 as an opportunity to sell social activism as an updated form of evangelism. Moreover some evangelicals are now so confused about authentic Christian social ethics that they append not only welfare statism but also an uncritical political commitment (whether Republican or Democratic) to their evangel. For a whole generation evangelical Protestants linked to the National Association of Evangelicals have criticized the NCC because liberal churchmen endorsed political candidates and promoted legislative specifics in the name of Christian sensitivities; the Church, they insisted, ought not thus to meddle in politics. But in the last election several prominent evangelical personalities threw their weight publicly to Mr. Nixon in connection with their enterprises and institutions. In a compensating move, a committee of Evangelicals for McGovern, composed mainly of suburban-league educators and editors, took the other tack. While a professor of Christian ethics joined some politicos in accusing Nixon of being worse than Hitler because he had not stopped the Viet Nam war, a leading evangelist lauded the President as an exceptionally moral man.
It becomes increasingly clear that no one evangelical can be thought to speak for fellow evangelicals in all personal commitments. It becomes similarly clear that at the point of evangelism, and not at the point of politicking, evangelicals today command the respect of their constituencies, unless they are serving in political vocations. What is imperative today is that evangelical churchman show that their political commitments stem logically from the religious categories they espouse—whether revelation or Scripture, or the cross, or the resurrection, or the Church. Unless evangelicals take the lead in doing this, their evangelism will become mere prolegomenon to unrelated socio-political commitments, and radical activism will seem to have equal legitimacy.
Some evangelicals append an uncritical political emphasis or social involvement to their evangelism; on the other hand, some denominational activists uncritically transmute evangelism into social activism. This situation reflects a striking evangelical-ecumenical contrast.
One outcome of the World Congress on Evangelism (Berlin, 1966) was that many evangelicals saw the error, yea, wrongness, of exercising social concern for the purpose of enticing people to spiritual decision. They recognized, in view of God's creation of all men, that anything relating to human survival and dignity is a legitimate and necessary evangelical concern. At the same time they carefully distinguished between justice and grace; no one was naïve enough to label such social involvement as evangelism. Today a number of denominational activists are commending Key 73 because, they say, it does not restrict evangelism to personal conversion but accommodates the changing of social structures as legitimate evangelism Somebody seems to be woefully confused.
Church-state relations still disconcert large numbers of evangelicals. The temptations of political power are so vast that no evangelical ought ever to sleep too soundly in the White House, and no president ought ever to sleep too soundly in the White House, and no president ought ever to feel wholly comfortable in an evangelical meeting. At the same time, this is no moment for evangelical Christians to cop out of national affairs. Evangelism is not self-propagating, nor is social justice. And the Christian needs to count for something both in the realm of grace and in the world of woe.
Have something to add about this? See something we missed? Share your feedback here.
Our digital archives are a work in progress. Let us know if corrections need to be made.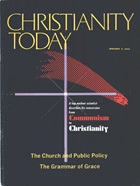 This article is from the January 5 1973 issue.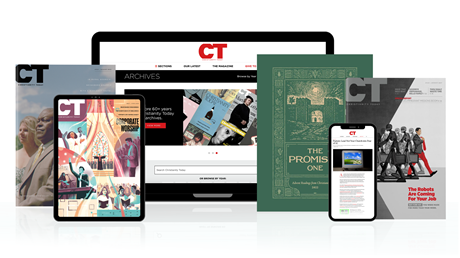 Annual & Monthly subscriptions available.
Print & Digital Issues of CT magazine
Complete access to every article on ChristianityToday.com
Unlimited access to 65+ years of CT's online archives
Member-only special issues
Subscribe
Evangelical Renewal
Evangelical Renewal