Today little is said in the churches about repentance. Few indeed are the sermons that stress its necessity. Many church members have never been confronted with the fact of personal sin and the steps whereby it is forgiven.
Central to our failure to stress the necessity of repentance is our failure to sense the total holiness of God and the offense of sin to him. We are inclined to regard the Cross as a token of sentimental love rather than God's only way of effecting man's redemption. And because we have downgraded the fact and the effect of sin, the need of repentance has faded into the limbo of a supposedly antiquated theology.
Supplanting the biblical concept of redemption in the minds of many are many bizarre theories that bypass the need for true repentance.
Some would have us believe that there are no such persons as "lost sinners"; that all men are saved, they just do not know it. According to this view, evangelism consists of telling people they are already redeemed by the love of God, rather than telling them they stand under the judgment of God as sinners and must repent and turn from their sins through faith in Christ.
Why repent if there is no hell, no eternal separation from God? Why repent if sin is no more than a combination of unfortunate circumstances that may be adjusted by education, a new environment or other human endeavor?
Why become involved in "an emotional binge" of self-accusation? Why repent if our offenses are primarily against our fellowmen and not against a holy God?
Does not the crux of the matter rest in our misunderstanding of man's sinfulness and the holiness of God?
Job thought himself a good man and spent long hours defending his integrity. Then he found himself confronted by a revelation of God that put things in their proper perspective. Repentant he cried out: "I have heard of thee by the hearing of the ear: but now mine eye seeth thee. Wherefore I abhor myself, and repent in dust and ashes" (Job 42:5, 6).
David, guilty of adultery and murder, was confronted with the denunciation "Thou art the man." Then, realizing the enormity of his sins, he prayed in an agony of repentance: "Against thee, thee only, have I sinned, and done this evil in thy sight; that thou mightest be justified when thou speakest, and be clear when thou judgest" (Ps. 51:4).
Repentance today is ignored because there is so little conviction of sin, so little understanding of its nature and its effect. God, speaking through his prophet Ezekiel, said: "Therefore I will judge you, O house of Israel, every one according to his ways, saith the Lord God. Repent, and turn yourselves from all your transgressions; so iniquity shall not be your ruin" (Ezek. 18:30).
How many of us have faced up to our own sinfulness? How many have asked the Holy Spirit to enable us to see sin as God sees it? When this takes place repentance follows, for we see ourselves for what we are and not what we would like to think we are.
The people of Israel, the recipients of God's love, mercy, and revelation, turned from God to their own sinful ways, and personal and national judgment stood at the door. In Joel we read: "Therefore also now, saith the LORD, turn ye even to me with all your heart, and with fasting, and with weeping, and with mourning; and rend your heart, and not your garments, and turn unto the LORD your God: for he is gracious and merciful, slow to anger, and of great kindness, and repenteth him of the evil" (Joel 2:12, 13).
Repentance, stressed in the Old Testament, comes into even clearer focus in the New. John the Baptist came preaching: "Repent ye: for the kingdom of heaven is at hand" (Matt. 3:2). Later our Lord came preaching, and saying: "Repent ye, and believe the gospel" (Mark 1:15). His disciples also "went out, and preached that men should repent" (Mark 6:12).
The vital role of repentance was stressed in our Lord's observation about those Galileans whose blood Pilate had in derision mingled with their sacrifices: "Suppose ye that these Galileans were sinners above all the Galileans, because they suffered such things? I tell you, Nay: but, except ye repent, ye shall all likewise perish" (Luke 13:2, 3).
As the apostles witnessed to the Ressurrection of Christ they warned men everywhere to repent.
Paul tells us that the goodness of God should lead us to repentance, and distinguishes between worldly sorrow and godly repentance (2 Cor. 7:10).
The risen Lord says to the church in Ephesus: "Remember therefore from whence thou art fallen, and repent …; or else I will come unto thee quickly, and will remove thy candlestick out of his place, except thou repent" (Rev. 2:5).
God is not mocked: his holiness, love, and judgment continue today. To us he says, "As many as I love, I rebuke and chasten: be zealous therefore, and repent" (Rev. 3:19).
What are we doing about repentance in our own lives? Do we think we can hide our sins from the One of whom it is said, "All things are naked and opened unto the eyes of him with whom we have to do" (Heb. 4:13)?
Repentance is a very personal matter. No one can repent for another, for all stand individually under the condemnation of sin. One may rationalize it, but it remains; deny it, but it continues; ignore it, but it is there.
Repentance involves the recognition of a condition, the admission of guilt, the confession of sin.
Repentance and confession have within them an element of spiritual catharsis; but of infinitely greater importance, they place us in the way of divine cleansing and forgiveness.
Why is a matter of such grave concern so lightly treated today? Why are we so concerned about collective social sins while we ignore the personal sins from which the collective proceed?
Somewhere along the line we find ourselves standing guilty in silence before the sovereign God of all history. Of us the Apostle Paul asks, "Despisest thou the riches of his goodness and forbearance and longsuffering; not knowing that the goodness of God leadeth thee to repentance?" (Rom. 2:4).
Our pulpits again need the voice of truth, calling sin by its name and calling for repentance, confession, and faith in God's Son—his provision for sinning and lost mankind.
Have something to add about this? See something we missed? Share your feedback here.
Our digital archives are a work in progress. Let us know if corrections need to be made.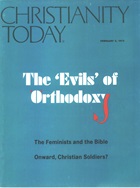 This article is from the February 2 1973 issue.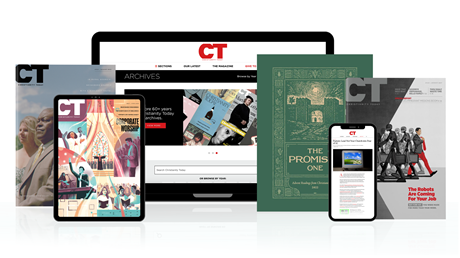 Annual & Monthly subscriptions available.
Print & Digital Issues of CT magazine
Complete access to every article on ChristianityToday.com
Unlimited access to 65+ years of CT's online archives
Member-only special issues
Subscribe
The Imperative of Repentance
The Imperative of Repentance