Some of my acquaintances think that being an editor-or professor-at-large (that is, loosed from captivity) is a life of ease in Zion.
But most of my 750,000 flight miles have been logged en route to conferences, lectures, or editorial duties; none has lifted me aloft for the sheer pleasure of being airborne. Some tasks have carried me within half a day of timeless wonders of the world—the Taj Mahal, for example—with no opportunity for even a glimpse of such tourist delights. Some tasks, however, have afforded memorable lodgings with windows on the Great Pyramid of Cheops, the old city of Jerusalem, the Parthenon, the Swiss Alps, the Bay of Naples, crimson Mount Aetna, to name just a few majestic sights. Almost everywhere, besides the privilege of ministering in Christ's name, there has been the added invigoration of meeting fellow Christians.
The worst frustration I've encountered as a supposedly experienced traveler befell me recently on the way to Australia, where I was scheduled for a busy fortnight. Returning from Tel Aviv to Washington after the World Bible Conference, I hurriedly unpacked, signed and posted literally hundreds of letters, repacked, and two days later was once again airborne, this time for Los Angeles en route to Sydney. When I arrived at the Los Angeles BOAC desk barely an hour before 9 P.M. departure time, I learned with dismay that Australia requires a visa.
This meant an overnight delay in Los Angeles, a morning trip downtown to the Australian consul, and a return to the airport in time for Pan Am's 7 P.M. Friday departure. Allowing for the International Date Line, that would still get me to Sydney at 8:30 A.M. Sunday for an 11 A.M. preaching service (after immigration and customs procedures and transportation from the airport).
I found the Australian consulate courteous, efficient, and even apologetic. For there was another snag: Australia, alas, requires a totally blank page for its visa, and every page of my passport was covered in whole or part by immigration stampings.
The next six hours were as exasperating as they were expensive. The new U. S. passport office, outside suburban Hawthorne, is beyond the reach of effective public transportation and, for efficiency, veritably out of this world. To insert blank pages in my passport took the agency between three and four hours. The brusque office clerk warned me initially that it might take an hour or two; periodically after that she informed me that the process was under way. During the final hour of waiting, I was assured that the assistant supervisor himself was looking to the matter. Knowing something of the high efficiency of the national passport office in Washington, I can only be grateful that in Los Angeles my colossal requirement fell neither to lower nor to higher officials than the assistant supervisor, or I might still be waiting. Had not a young college literature professor—with whom I struck up a conversation about C. S. Lewis's writings—waited to drive me back to the Australian consulate downtown, I would likely not have made it there before closing time for the long weekend.
All this waste of time and energy could have been avoided. For one thing, the Australian travel agency should have told me I would need a visa. But I myself, as an experienced traveler, should have remembered to take nothing for granted, for embarrassment lurks heinously in the wings of human presumption. Moreover, a good personal secretary—which I lack—would omnisciently have saved for the Lord a full day thus despoiled by the prince of the power of the air.
Pan Am, which for many years I preferred to fly abroad but more recently have not—in part because of one unforgettable meal served between Saigon and Singapore—assured me that its Sydney arrival record is excellent. Although we were a half hour late out of Los Angeles and Honolulu, the pilot—a Southern Baptist lay preacher—made up enough time to land us at Sydney only a few minutes late. And my six-feet-two frame had meanwhile providentially inherited a seat at the Boeing 747 exit door where I like to stretch out on the floor for some precautionary rest against a woolly mind.
Traveling is sometimes perturbing, but it also has its pleasant surprises. Once after several busy weeks in Rome my wife Helga and I slipped away to Florence for a few days of rest and registered at a modest but delightful locanda on a small side street. The next morning I sauntered out on a few errands. Helga could hardly wait for my return. "Guess who called, and squeezed a Cadillac through our alleyway," she said, handing me a calling card from the U. S. deputy consul in Florence. An appreciative reader of CHRISTIANITY TODAY (which I then was editing), he invited us and a dozen members of the local missionary task force for dinner with him that night.
I was curious, of course, to know how he had searched us out. As it happened, the deputy consul had recently been in Rome, where a fellow American had mentioned our Rome-to-Florence travel plans. All that was necessary then was to alert the police to watch for names and passport numbers on the city's hotel tourist registrations. Passports, gratifyingly, can bring unexpected pleasures as well as unforeseen problems.
Hanging on to one's possessions while traveling can sometimes be a problem. I recall one member of a particular evangelical tour party who periodically crossed himself like a Catholic, but under the most unpredictable circumstances. Curiosity got the better of me, and I questioned him about the ritual. This triangular maneuver was helpful, he replied, especially when leaving a hotel, to make sure he had forgotten neither his fountain pen, his passport, nor his glasses.
Once I was assigned a room in a first-class Paris hotel for which the desk clerk could supply no key. It had vanished, he explained; the previous occupant had kept it, and there was no duplicate. I protested that the previous occupant could then return, and that I had no intention of surrendering my portable typewriter, among other things, to a new owner. After extended importunity I finally got a different room. The incident so upset me, however, that when I later went for a walk I unwittingly left my wallet containing $200 on the dresser. Frantically hunting down a telephone, I asked the hotel manager to pick up the wallet for safe keeping. Later I rewarded him with a bill that could have bought several dozen duplicate keys but probably didn't.
Have something to add about this? See something we missed? Share your feedback here.
Our digital archives are a work in progress. Let us know if corrections need to be made.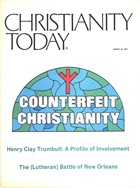 This article is from the August 10 1973 issue.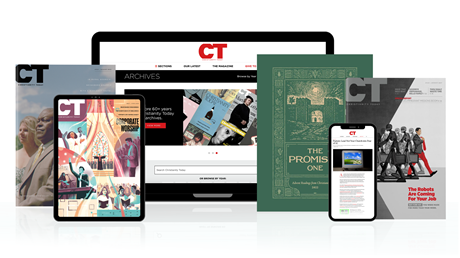 Annual & Monthly subscriptions available.
Print & Digital Issues of CT magazine
Complete access to every article on ChristianityToday.com
Unlimited access to 65+ years of CT's online archives
Member-only special issues
Subscribe
On the Road to Somewhere
On the Road to Somewhere