The St. Joseph Family Almanac Calendar's forecast for October 15 was "unsettled," and as the Viet Nam Moratorium Day approached, people worried that it would be just that. They gritted their teeth in anticipation of war in the streets when M-Day's planners proposed an unsettling of business-as-usual in order to think and talk about peace.
Events in Chicago the week before hadn't helped settle fears. There, the most radical members of the radical Students for a Democratic Society—who had camped at Garrett Theological Seminary and four United Methodist churches in suburban Evanston—battled police in order "to bring the war home.""We looked the other way," said Garrett dean Taylor McConnell, while students arranged for thirty SDS Weathermen to stay in the seminary dormitory. In the four churches, between 200 and 350 more found sanctuary. "The SDS simply used liberal clergy to accomplish their own purposes," said the University of Chicago's Methodist chaplain Philip M. Dripps. Faced with parishioners' disgust and charges of naïveté, the four clerics conceded: "We acted out of our understanding of the nature of the Church, not our understanding of the SDS." Meanwhile a city attorney, Richard Elrod, lay paralyzed from the neck down, victim of a Weatherman beating.
But Moratorium Day events almost without exception were calm; what was perhaps the country's largest peace demonstration may have been its least violent and most patriotic. When construction workers protesting a rally at the Treasury Building in New York's Wall Street area hoisted an American flag, a rally speaker responded, "Hoist it high, for that is the flag we all love." At the West Point Military Academy, Vassar coeds sat on the lawn and sang "America the Beautiful."
Religion blended with patriotism for many on M-Day. In New York City, 5,000 gathered at Trinity Episcopal Church for a sermon by Baptist clergyman Bill Moyers, former aide to President Johnson, and concluded the noon service by singing "America the Beautiful." At a midtown Manhattan park, a crowd estimated at between 40,000 and 125,000 came to hear William Sloane Coffin, Jr., Yale University's pacifist Protestant chaplain, and stayed to sing the national anthem. And an interreligious service on Fifth Avenue outside St. Patrick's Cathedral ended with the crowd lifting candles while they, too, sang "America the Beautiful."
In Washington, D. C., seventeen of seventy-nine events were specifically religious. They included special masses at Catholic and Georgetown Universities and at Trinity College, hourly prayers for peace at the Episcopal Cathedral, and the call by three clergymen for increased visitation of the Viet Nam wounded in hospitals. In a joint statement Protestant theologian Robert McAfee Brown, Notre Dame president Father Theodore Hesburgh, and Rabbi Maurice Eisendrath, president of the Union of American Hebrew Congregations, declared such a ministry is a step on the path toward peace.
In the capital and elsewhere across the country, church bells tolled—in order, said one Moratorium official, to "point to the atmosphere of dignity and solemnity of the occasion"—and church doors were open for prayer, special services, and teach-ins.
Religious convictions also prompted demonstrations of dissent from the Moratorium. American Council of Christian Churches executive John E. Millheim wrote President Nixon: "We … have resolved to back our courageous servicemen fighting in Viet Nam.… May we assure you of our prayers during this critical and crucial time in the history of the world. May God grant you wisdom and strength and may He be your present help in trouble."
In front of the White House on Moratorium Day, President Carl McIntire of fundamentalist Shelton College led a student delegation carrying "It's Not Too Late to Win" signs and chanting, "We Want Victory."
But many more students supported the Moratorium's pleas for peace; in fact, students had precipitated the Day.
A few young people contributed to the occasional lapses of orderliness: three teen-agers who tried to break through a White House gate were held back by police, and a couple of students at a Brooklyn, New York, college exchanged blows. Saddest event of the day was probably the double suicide of two New Jersey high-school students in an anti-war protest.
Moratorium Day on some campuses stirred little (at the University of California at Berkeley, surprisingly) or no (at Washington Bible College in the capital's suburbs) notice. At many more campuses, however, including a number related to church groups, students arranged special observances:
At Bethel College in North Newton, Kansas, a historic Mennonite bell was taken from its place in a museum to the steps of the college administration building. There it tolled every four seconds for more than forty-two hours in memory of the 38,000 Americans killed in Viet Nam.
Students at Wesleyan-run Houghton College in Houghton, New York, started early in the day to read the names of those killed in Viet Nam. Their chapel service focused on peace, and they heard a peace poem written by an English professor.
Southern Presbyterian Davidson College in North Carolina suspended classes for the day so students and faculty members could discuss the war.
A discussion at Eastern Baptist Seminary in Philadelphia between a professor supporting the Moratorium and a student—a former military officer—opposing it lasted most of the day.
Twelve students at Concordia Senior College, a Lutheran Church-Missouri Synod seminary in Fort Wayne, Indiana, took advantage of the occasion to compose a "Christian Manifesto" declaring that the war "more disheartening and far more costly than all the wars of history … is … Satan's war on men's lives and his zeal for possessing men's souls."
At the University of Illinois in Urbana, graduate students, members of the Inter-Varsity chapter at the campus where the organization has held its missionary conferences, sponsored an hour of prayer for peace in Viet Nam and operated a book table outside the student union offering evangelical books and Scripture portions.
Moratorium Day was not at the core a religious event. Yet because religion is deeply entwined in the American Way of Life, the demonstrators—on both sides—employed elements of religious liturgy and symbolism: prayers, confession of sin, hymns, crosses, and even the shofar—the ram's horn Jews blow at the beginning of each new year.
Roman Catholic theologian Michael Novak finds "two different ways of conceiving of America" prevalent in the country today. He sees the middle class beginning to value love and peace, while the lower middle class clings to the virtues of law and order. "What one side sees as the betrayal of American values," he says, "the other sees as patriotism."
The October 15 confrontation of those differing value systems has left many wondering at the peacefulness of it all. Credit for the non-violence is difficult to assign; groups behind Moratorium Day—including many religious ones—have participated in less placid protests. The test of pacific demonstrations may be the longer Moratorium that is expected to concentrate in Washington and San Francisco this month. St. Joseph forecasts "clearing" and "fair" for November 14 and 15.
JANET ROHLER
Have something to add about this? See something we missed? Share your feedback here.
Our digital archives are a work in progress. Let us know if corrections need to be made.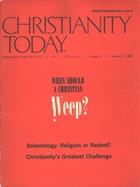 This article is from the November 7 1969 issue.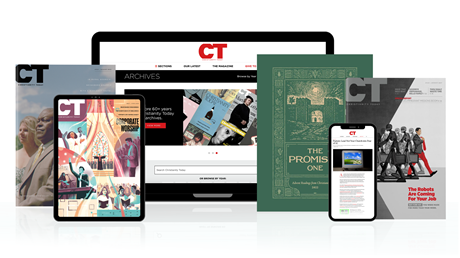 Annual & Monthly subscriptions available.
Print & Digital Issues of CT magazine
Complete access to every article on ChristianityToday.com
Unlimited access to 65+ years of CT's online archives
Member-only special issues
Subscribe
M-Day
M-Day