The canned music had just switched from "Pale Hands I Loved" to a thoughtful rendering of "Mexicali Rose" as the plane taxied to a halt at Tokyo's airport terminal. A tall, fair-haired figure appeared on the gangway and waved up at the spectators' balcony, where many colored flags were being waved. The Salvation Army band launched into "Onward Christian Soldiers."
"Is it Billy Sunday?" asked an American matron on whom the insidious diet of treacly ballads had done its work. But it was Billy surnamed Graham, being met by Dr. David Tsutada and others who had planned the evangelist's October crusade in the Japanese capital.
Here was a place where mention of Billy Graham had generally meant nothing. Twiggy they knew, and British pop singer Cliff Richard (both were also in town). But the Graham name automatically opened no doors. "What is he, a fighter or a miler?" asked the custodian of one hall in this sports-geared nation.
During his eighteen-month preparatory stint, Crusade Director Dan Piatt had talked about a "city of unlimited impossibilities." For this is not Kansas City or London or Copenhagen. The difficulty is not just a matter of the wily Oriental and the utter folly of trying to hustle the East. The East often gets things done just as quickly and effectively, albeit in its distinctive way. (Norman Vincent Peale is said to have found it hard to think positively in a Tokyo taxi.) And this great civilization that is 99.5 per cent outside Jesus Christ has a morality and a courtesy from which the Christian West could learn much. Moreover, there are no street beggars and little unemployment.
Graham's hotel room came equipped with The Teaching of Buddha as well as a bilingual Gideons New Testament. This underlined one of the greatest obstacles to an evangelistic crusade: religions in Japan are not mutually exclusive. One can be both Buddhist and Shintoist. A pre-crusade anxiety was that unless the uniqueness of Jesus Christ were carefully explained, the innate politness of the Japanese might move them to go forward at the invitation, regarding Christ as one more deity to be taken into their system.
A further difficulty is the reserve of the Japanese. They hesitate to confront others on too personal a level, and this naturally affects their attitude toward personal evangelism. Nonetheless, crusade workers visited a staggering total of 3,500,000 homes prior to the crusade to leave literature and an invitation to the meetings. Even before opening night 15,000 cards were returned requesting further information about Christianity.
Another breakthrough by local Christians is financing. Previous mass evangelism in Japan has been subsidized from overseas. "We decided to change all that," said Tsutada. "God has enabled us to raise the necessary money [$140,000]." Those who have worked here for many years regard this achievement as miraculous. Tsutada hopes it will be a "pacesetter" for future policy in other lands.
Team members engaged in a wide variety of pre-crusade activities and unanimously reported an awakening interest in Christianity, not least among high-school and college students. Graham addressed a banquet for 150 tycoons ("their names read like a chunk of Japan's Who's Who," marveled one observer). They listened with rapt attention and appeared to have genuinely valued an address that dealt with the essentials for true peace and the necessity of a John 3 type of rebirth.
Opposition was slow in making itself felt. A crowded press conference docilely accepted Graham's refusal to be drawn in on the Viet Nam controversy, though a major demonstration against the war had taken place at the airport the previous week. One team member recalled that when he participated in Tokyo meetings five years ago Communists secretly ordered large blocks of tickets and greatly reduced the attendance by staying away. Moreover, they got press space to advise the Japanese first to go to the cinema to see "Elmer Gantry" and find out for themselves what a "Christian crusade" was really like.
This was the background when Graham began giving his invitation the first night. Before he had finished a young student with books under his arm walked briskly to stand in front of the platform. Graham finished, and for ten seconds there was no response. Then hundreds suddenly rose as one from all over Budokan Hall, and before long 677 of the 14,000 persons present were down front.
Attendance at the first four meetings—including an afternoon youth rally with Cliff Richard and Bobby Richardson—totaled 62,500. Inquirers at the three regular meetings totaled 2,744, and there were 2,867 more at the youth rally, where filling out of cards replaced coming forward.
Local Christians were amazed at the response. One left-wing newspaper compared Graham's visit with General Booth's sixty years ago and said both spoke with "an imperative Christian voice."
LATE RETURNS
As Billy Graham faced Japan's challenge, words came of after-effects from his first visit to a Communist nation, Yugoslavia. At two baptismal services last month forty-six persons—more than half young people—were baptized into church membership. Both the Roman Catholic and Orthodox press have carried favorable commentaries on Graham's visit. In America, the lovelorn column "Dear Abby" carried a letter from a mother of four who wanted a divorce but hung on. She was glad she did, she said, because her husband's life changed after he accepted Christ while watching Graham on TV.
LEIGHTON, MYRON
Canadian evangelist Leighton Ford held the last of his national centennial crusades last month in Saskatoon, Saskatchewan, with repeated overflow crowds, total attendance of 73,800, and nearly 1,000 commitments to Christ. Even live radio and TV broadcasts of the services did little to cut attendance.
The day Ford's effort closed, President Myron Augsburger of Eastern Mennonite College in Virginia filled the famous Shakespearean Festival Theater in Stratford, Ontario, on the opening night of the first evangelistic series ever held there. The elegant 2,258-seat theater, built ten years ago, has become a major Canadian culture center. The week-long Augsburger crusade was sponsored by local and district councils of churches in an area where many Mennonites live.
EXPO REINCARNATED?
As Expo 67 closed in Montreal October 29, city planners scurried to save many of the buildings for a permanent fair. The city approached the ecumenical Christian Pavilion and the evangelical Sermons from Science about keeping the buildings up, which will save the churchmen thousands in demolition costs. And "Sermons" could even do a rerun of its shows next summer.
Christian Pavilion leader H. E. Bartsch, a Missouri Synod clergyman, said 1.3 million persons visited the presentation of man's plight by Protestants, Catholics, and Orthodox. The budget of $1.3 million is in the black, in contrast to the Protestant-Orthodox effort at the New York World's Fair.
Besides that, Bartsch maintains that the controversial pavilion was "just what we wanted"—something people would "go home and talk over." He said many unchurched people, stimulated by the pavilion, have sought out pastors for counseling and are now in church membership classes. The presentation got one of three awards from Photography Today because it used photos for great impact in showing an "imperfect world" and "man in need of help."
Bartsch said Christians in Japan had asked for beams from the pavilion's ceiling for their 1970 Osaka fair effort, but the city's plans have changed that.
"Sermons" attendance was nearly 840,000 with more than 250,000 persons staying for an evangelistic "after-show." Some 4,200 persons expressed commitment to Christ. Of the $700,000 expenses, met mostly by Canadians, about $100,000 was unpaid as the fair closed, a little better showing than in New York. Fund-raising luncheons in Boston and Chicago this month, plus Thanksgiving offerings, are planned.
COMMUNISTS HARDENING
Czechoslovakia, which is applying pressures on intellectuals, is preparing a new ideological drive against the Church, the New York Times reports. A secret document whose authenticity is denied by the Czech embassy says Roman Catholics have quietly evangelized professionals, including Communist Party officials. The document also notes "some negative movements" among other Christians. The Vatican has carried on long negotiations with Czechoslovakia over appointment of bishops and other disputed points.
Have something to add about this? See something we missed? Share your feedback here.
Our digital archives are a work in progress. Let us know if corrections need to be made.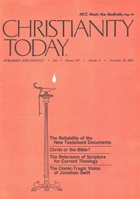 This article is from the November 10 1967 issue.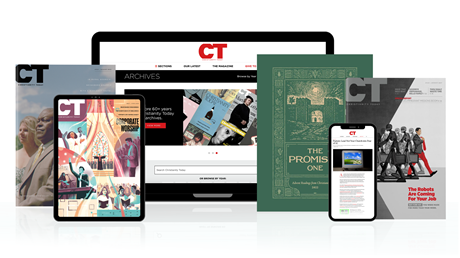 Annual & Monthly subscriptions available.
Print & Digital Issues of CT magazine
Complete access to every article on ChristianityToday.com
Unlimited access to 65+ years of CT's online archives
Member-only special issues
Subscribe
Who's Billy Graham?
Who's Billy Graham?