News of a plane crash that killed two missionaries (see box below) was released last month. Ironically, at about the same time Church of the Nazarene journalist Elden Rawlings, on a trip to Central America, was writing this personal account of missionary aviation anecdotes:
"It is really the safest airline in the world."
With this, the missionaries smirked and began to unfold stories that even the most imaginative of their listeners couldn't top. Missionaries on furlough seldom mention flying in public. Maybe it's because they think that people won't be interested, or that the factuality of their stories will be questioned. But this was in private, and they were not on furlough.
After hearing their tales, I might have suggested they should travel by car—had I not been over some of the roads. The advantage had to lie with flying. Riding antiquated airplanes is occasionally a mite perilous. But the time during which you wonder whether you will reach your destination is gratifyingly shorter.
"These pilots are good," piped one missionary. "They have to be." He told of one who had become a special friend. Then his voice trailed off: "But he crashed recently. They never did know what happened."
One of the older missionaries remembered his first flight twenty years ago: it ended prematurely in a cornfield. The bewildered passengers crawled out and hailed a bus (they are omnipresent in Latin America) to the next town. Legend says the plane, which was soon repaired and on its way again, is still in service.
A vast array of World War II-vintage planes still are hopping the mountains, enduring the violent weather of the tropics, and landing on abbreviated airstrips with a remarkable record of success.
The missionary spun another yarn about three passengers boarding an ancient DC-3 loaded with fourteen gasoline drums. The contents sloshed gently as fumes wafted through the fuselage. As soon as the plane was airborne, the copilot appeared, shaking his finger from side to side in the traditional Latin way of saying "no."
"No smoking, please," he said politely. The instruction was as necessary as telling the passengers not to jump out—which seemed, at the moment, a safer option.
A missionary nurse recalled waiting to board a plane when a jeep brushed the tail of the aircraft. The entire tail section quivered, then plopped unceremoniously on the runway. The ground crew rushed out, picked it up, and carted it away. After a short delay, another equally mature plane was rolled out to take her truncated sister's place.
Milestone Mishap
The crash of a single-engine Cessna 180 in Venezuela last month was the first fatal accident in the twenty-three-year, fifteen-million-mile history of Missionary Aviation Fellowship.
The astounding record, established in the face of the extreme adversities of jungle flying, was broken with the death of Don Roberson, MAF pilot, and Curtis Findley, who served with the New Tribes Mission. Their plane went down October 6 near Puerto Ayacucho, apparently after a fire of undetermined origin broke out in the back of the cabin. The wreckage was found five days later, and the bodies were taken by helicopter to Puerto Ayacucho.
Roberson, a Navy jet pilot during the Korean war, is survived by his wife and three children. Findley is survived by his wife and a married son.
MAF, with headquarters in Fullerton, California, operates forty-one planes in fourteen countries. The accident follows by four months a fatal mishap in New Guinea experienced by MAF's sister organization of Australia (after a sixteen-year fatality-free record).
Another missionary told of a flight with a half-dozen passengers and two tons of fish. The left motor of the twin-engine plane stopped four times during the brief flight. Each time, the co-pilot revived the stricken engine by handpumping fuel into the carburetor with a small pump. During the precarious seconds when the engine was dead the plane would tip, allowing the fish to slide gently across the fuselage. Then the engine would catch, and the craft would lumber on a few minutes more.
My brief experience with such airplanes failed to provide any hair-raising stories. During one flight, however, we crossed four mountain ranges with peaks from 10,000 to 12,000 feet and missed one jagged row of mountain tops by 200 feet, with the aid of a gentle updraft.
As we neared our destination, what the captain assured me was an airstrip appeared to be only a mountain trail. It matched descriptions I had heard from the missionaries. One had recalled a time when a pilot who was attempting to take off, brought his plane to a spinning halt while a pair of elderly Indians made their way across the strip, taking their wares to market.
I watched in amazement as the plane nestled onto the ground far more smoothly than had the jet in which I last had been a passenger. Barefoot Indians clambored aboard to cart away any luggage.
On the return trip, we simply taxied to the top of a hill and let gravity pull us to air speed, with assistance from the propellers. A final bump jolted us skyward and we skimmed the tops of trees, narrowly missing fleeing Indians who were using the runway as a road.
There was nothing to it. It really is the safest airline in the world.
PERSONALIA
Canon Gerald McAllister of San Antonio will perform the Episcopal wedding service next month for Lynda Bird Johnson and Charles Robb at the White House. McAllister has been a fill-in priest at a church in Fredericksburg, Texas, that the Johnsons sometimes attend while at the LBJ Ranch.
The Rev. Delmar Dennis, 27, a Southern Baptist who was an FBI informant during three years as a Ku Klux Klan member, testified at last month's Meridian, Mississippi, conspiracy trial about Klan plans to murder a civil-rights worker. Seven defendants were convicted.
A storm of protest, mainly from students, followed the Rev. Malcolm Boyd's swearing and loose talk to the University of New Mexico Newman Club.
Father Herbert McCabe, fired as editor of a Dominican journal for saying the Roman Catholic Church is "corrupt," is joining the order's study house at Oxford University.
Mary Cardell, 54, lost a libel suit against a London paper that said she participated in a 1961 witchcraft ritual. She must pay $14,000 in court costs.
James Kavanaugh, author of the bestselling A Modern Priest Looks at His Outdated Church, has renounced the Catholic priesthood and plans to marry.
Catholic Archbishop William Cousins refused a mayoral appointment to Milwaukee's community-relations commission.
Valparaiso University (Missouri Synod Lutheran) marked the Reformation anniversary by giving an honorary doctorate to Notre Dame President Theodore Hesburgh.
Priest John Mitchell was the first Roman Catholic to be elected an officer of Seattle's council of churches.
The Evangelical Church in Germany named the Rev. Eugen Stegmann, 40, a roving chaplain to circus and show people.
PROTESTANT PANORAMA
Seventy-five evangelical pastors in West Berlin joined laymen to form the Evangelische Sammlung Berlin, an association committed to proclaiming biblical doctrines in the midst of the present theological situation in Germany.
The Salvation Army's Joystrings musical group agreed to perform in the London Playboy Club. In return, club bunnies will take to the streets to sell bonds for the Salvationists, Reuters reports.
Methodists hope to raise $100,000 toward construction of a Protestant religious and social center in Katowice, Poland.
Individual congregations of the Italian Baptist Union will decide whether to join the new Evangelical Church Federation in Italy, which includes Waldensians, Methodists, and Lutherans.
Pledges to the United Presbyterian Church's Fifty Million Fund for capital needs now total $64,427,659. During the last fiscal year, Methodist financial-crusade experts raised a record $50,443,000 for various construction projects.
The Southern Baptist Sunday School Board joined an equal-employment-opportunity council for Nashville businesses. The board will not lower job qualifications, however, and most professional slots must be filled by Southern Baptists.
The 63,000-member General Association of General Baptists voted to join the intra-Baptist Crusade of the Americas in 1969, and chose the Rev. Glen Lashley of Oakland City, Indiana, as moderator.
Marshall C. Dendy, 66, current moderator of the Presbyterian Church, U.S., will retire next year as top Christian education executive so his successor can follow through on "relationships to be established with other boards and denominations."
MISCELLANY
United States Ambassador Chester Bowles criticized attacks on missionary welfare work in India. And Assam State reversed an earlier decision to deport Catholic Bishop Orestes Marengo.
Education Minister S. N. Eliufoo of Tanzania, a Lutheran, assures churches that the government has no plans to give in to demands for a ban on teaching religion in public schools and government take-over of Christian schools. Lutherans were active in a recent Tanzania crusade by the Revival Movement of East Africa. Festo Kivengere, a Uganda Anglican, spoke.
The Sudan will now admit missionaries from Africa approved by the All-Africa Conference of Churches.
Deaths
GORDON W. ALLPORT, 69, Episcopalian and Harvard University professor who was one of the pioneer psychologists promoting a positive view toward religion, as in The Individual and His Religion (1950); at Harvard, of lung cancer.
CLAUD D. NELSON, 78, Arkansas-born Methodist clergyman, YMCA leader, religious liberty director of the National Council of Churches, and consultant to the National Conference of Christians and Jews; of a heart attack in New York City.
FRIEDRICH GOGARTEN, 80, Göttingen professor whose demythologizing outdid Bultmann and whose historicized view of the creation doctrine bolstered those Germans who saw Nazism as a heavenly gift.
ARTHUR T. MORGAN, 66, general superintendent of the United Pentecostal Church; of a heart attack while presiding at the UPC national meeting in Tulsa.
Delegates from sixteen nations are expected to attend the West African Congress on Evangelism at the University of Ibadan, Nigeria, next July. It is a follow-up to last year's world congresses in Berlin and in Wheaton, Illinois.
The Greek military regime rescinded a requirement that evangelical publications be stamped "Protestant." Now, after censorship, an "Evangelical" imprint will be used.
A chat between Christians and Marxists endorsed by top British church officials produced no conclusions or decisions.
Forty tons of electronic equipment flown to Quito, Ecuador, last month will enable Christian radio station HCJB to triple its power. The Seychelles Islands in the Indian Ocean will let Far East Broadcasting Company build transmitters there beamed at India and Pakistan.
All major religious bodies in Kingston, Jamaica, are uniting to raise $280,000 to build six basic schools, a training center, and a community center in the western slum area of the city.
Christian Business Men's Committee International added members from Ireland and Australia to its board, previously all from the United States and Canada. Ted DeMoss of Chattanooga, Tennessee, is chairman. Last month's convention in Winnipeg, Manitoba, drew about 1,500 persons. Alma College, Jesuit seminary for the West Coast, hopes to raise money to move to Berkeley, California, for closer ties with the Graduate Theological Union, which involves Jews, Unitarians, and four Protestant denominations.
Moody Bible Institute is scheduled for a free full-page ad in Time on its missionary-aviation program under the magazine's offer to boost "unique" college offerings.
The ubiquitous James A. Pike represented Christianity at last month's centennial of the Baha'i faith in Chicago. Followers of Baha'u'llah, who believe in the unity of religion and mankind, now meet in some 30,000 localities.
Planned Parenthood formed a council to raise $ 18 million and offer birth control to low-income couples.
The Roman Catholic weeklies in Chicago and St. Louis came out against the bombing of North Viet Nam. But the Anglican Synod of Sydney, Australia, gave U. S. policy strong support.
Because of the White House's usual late proclamation of the National Day of Prayer, Orthodox Archbishop Iakovos could give his priests only six days' advance notice.
Have something to add about this? See something we missed? Share your feedback here.
Our digital archives are a work in progress. Let us know if corrections need to be made.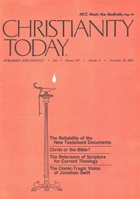 This article is from the November 10 1967 issue.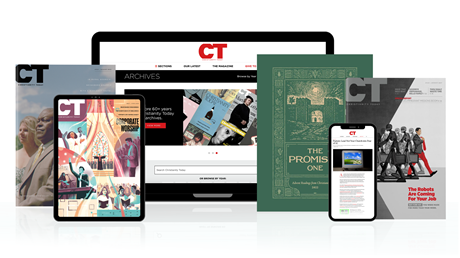 Annual & Monthly subscriptions available.
Print & Digital Issues of CT magazine
Complete access to every article on ChristianityToday.com
Unlimited access to 65+ years of CT's online archives
Member-only special issues
Subscribe
Most Missionary Tales Have a Happy Landing
Most Missionary Tales Have a Happy Landing