Although their average income has risen steadily in recent years, many of the 350,000 Protestant ministers in the United States and Canada still push to make ends meet. They generally have so small a financial cushion that a jump in food costs such as the one in recent months can throw the manse into debt. Not one clergyman in a hundred nets as much as $10,000 a year.
The underpaid pastor is probably the church's biggest material problem. Membership continues to climb, and parishioners are better equipped to serve the church than ever. Building facilities by and large are more than adequate, religious book sales are booming, plenty of periodicals and educational materials are available, gadgets abound, and new avenues of communication are opening up regularly. Yet clergy salaries still lag.
The reason for the problem is easy to discover. Most ministerial salaries are fixed by boards of local churches.The Southern Baptist figure is said to he higher than the true median because a disproportionately high number o£ large Southern Baptist churches were included in the sample. Thus a substantial part of the prosperous laity is telling the pastor, in effect, that he is not fully worthy of his hire. Fewer than one out of five ministers report that they get an annual raise, and fewer than two out of five report receiving even an annual salary review. Church boards apparently prefer to approve increases only when necessary to lure a new pastor.
Ross P. Scherer, church management expert formerly with the National Council of Churches, suggests that "probably no other institution leaves the compensation of its professionals to such a sporadic, quixotic, and laissez-faire system of patronage."
Undoubtedly, some young men see the ministry as a vocation that is lucrative if the right strings are pulled. A few clergymen do live luxuriously, and some reach a high-income bracket through politicking, if not by sheer hook and crook. Others, though honest, are poorly suited for their work and don't deserve professional wages. But these types, dramatized in countless books and movies, are outnumbered by dedicated, efficient ministers who are woefully underpaid.
MEDIAN SALARIES OF MINISTERS
Successful ministers rarely expose their diaries, so few laymen realize what a ministerial candidate must sacrifice on the altar of ordination. He yields a lifelong measure of privacy, selection of property and geographic region, assured time of his own, perhaps even his choice of a life partner—if, as sometimes happens, she refuses to be a minister's wife. In addition, he invites the financial problems that have traditionally been the pastor's lot.
Most clergymen take the lumps in silence because they count some compensating factors and, infinitely more important, because they feel their life work is a divine commission. They are generally reluctant to appeal for wage hikes, and their timidity has been exploited. The average North American clergyman with wife and children draws an estimated cash salary of less than $6,000 a year, about as much as a lazy salesman. No other vocation involving graduate study is on such a low pay scale.
Critics say pastors enjoy numerous benefits that make them much better off financially than their cash salaries indicate. But this argument has not been borne out by statistical data. The most comprehensive survey ever made of the total compensation of local Protestant clergymen showed that, contrary to common opinion, the American minister receives little in fees, perquisites, free goods and services, discounts, and so on. Indeed the study, conducted by the NCC in 1963, showed that the typical minister subsidized his ministry out of his own salary by $685 each year because he was inadequately repaid for professionally incurred car expenses.
Another drain on the minister's wallet is his need to continue his education; he is expected to be a jack-of-all-trades with expert knowledge of everything from publicity to psychiatry. Moreover, his family must strive to look well-dressed and must be ready to entertain at a moment's notice. Few other workingmen are on call twenty-four hours a day; yet there is no overtime pay for a pastor.
Salary size is generally related to church size, but not as directly as might be expected. The income level of the congregation is sometimes more determinative. Size of the community is another factor. There are variations between denominations, but these are not great. As in other occupations, salaries tend to increase as academic training and amount of experience increase.
Negro churches pay their pastors on a much more informal basis than do all-white and integrated congregations and thus defy statistical analysis. Many Negro storefront and rural churches are unable to support a minister full-time. Big ghetto churches, on the other hand, can be the sources of comfortable incomes. It is not uncommon for pastors of Baptist churches in Harlem to get $250 a week. In some places the congregation annually celebrates the pastor's anniversary by collecting a dollar from each member for every year he has been there, and the total sometimes goes as high as $20,000. One church supplies a new Cadillac every other January and a six-week paid vacation.
After the 1963 survey, the National Council of Churches published an attractive twenty-page guidebook for local churches, "How Well Do You Support Your Minister?" It has since been revised, and a new copyrighted edition will be available in a few weeks.
It will say that "the adequacy with which a church supports its minister is the measure of the seriousness with which it takes its mission." It offers a rebuttal to those who dismiss better remuneration of the clergy by saying, "After all, he's not in this work to make money—it's supposed to be a 'calling.' "
"A major hardship," the booklet notes, "is inflicted when churches withhold merited and badly needed salary advances 'until the church building debt is paid.' This levies against the minister's salary an additional forced contribution to the building fund campaign."
The earlier, edition asserts that "to fail to give the minister adequate compensation is an uneconomical 'economy' that the church can ill afford. It impairs his effectiveness. It often forces him to accept 'promotion' in the form of a call to a larger church that pays a higher salary as the only possible solution to his financial difficulties, when he would prefer to remain in his present charge."
The minister has been called "the last unorganized man." No labor union or trade association protects him from exploitation. He trusts the Christian spirit and fairness of the laity. If he has integrity, he will seek to be the prophet and to reprove and rebuke, if necessary, even though the situation may involve sincere differences of opinion on theological and racial issues.
A big question is whether the churches will get less when they pay more. If clergy incomes should rise substantially, some say, the ministry would be more attractive to mercenaries. Perhaps so, say others, but higher salaries might also attract to the ministry some better-qualified applicants who for financial reasons now choose to witness as laymen. Upgrading the salary level would also discourage the mediocre, who could not compete on the higher scale.
About one thing there is little doubt: today's ministerial candidates are concerned about salary and other material benefits. One leading pastor recently gibed, "When I interview an applicant for an assistant pastorate, the first thing he wants to know about is the pay, the vacation allowance, the retirement plan, and the opportunities for participation in demonstrations."
The Top Salaries
The distinction of having the best-paid clergy post belongs to New York's historic Trinity Parish (Episcopal), where the rector is reported to receive about $50,000 annually. A handful of Presbyterian and Episcopal churches give their ministers between $30,000 and $35,000. At least four Southern Baptist churches and two congregations of the Reformed Church in America run to $25,000. Among Lutherans and Methodists, the top is about $20,000. The United Church of Canada's highest-salaried preacher makes $20,000.
Pension Board Confronts Inflation
Conventional pension plans are at the mercy of inflation. As pension funds accumulate, they are usually salted away in so-called "safe" securities that yield relatively low but fixed returns. The pensioner is thus assured a specified income. By the time he retires, however, dollar value has dwindled so much that the guaranteed income is inadequate. Clergymen, most of whom scrape through life on low salaries, get hit particularly hard in their retirement years.
Now comes the Lutheran Church in America with an optional plan to offset the effects of inflation by gearing the retirement income of pastors directly to the value of common-stock investments. The pensioner won't know exactly how much he will get, but in the long run the amount is likely to be considerably higher than what he would get from the present fixed-income securities base.
According to LCA pension chief L. Edwin Wang, there have been many requests from prospective pensioners in recent years for a common-stock tie-in. Because traditional plans have not given effective protection against inflation, a number of ministers have balked at church pensions and turned to private investment programs.
Under the new variable-income pensions based on common stocks, says Wang, "dividend income alone will probably provide a higher yield than that produced currently from fixed-income securities." But the pensioner will also stand to benefit from increased stock values expected under modern economic trends.
LCA pastors enrolled in their denominational pension program contribute 4 per cent of their salaries. Their churches kick in another 7 per cent, and it is this that beginning next July 1 can be channeled into the common-stocks pool. Pastors can designate half, three-quarters, or all of the congregational contribution for common-stock investment. Or they can stick with fixed-income securities as in the past. If a minister doesn't decide for himself, the money will automatically be divided, 75 per cent to common stocks and 25 per cent to fixed-income securities. A similar variable-income pension has been worked out for lay employees of the LCA.
Wang expects three-fourths of the pastors to choose to put 100 per cent of the congregational contribution into common stocks.
What difference will be made by this year's protracted stock-market decline? "There will be very little effect in the long run," says Wang. Risks will be minimized by allowing each minister to reconsider his choice from time to time. At 65 he will have his last chance to change common-stock investments into fixed-income securities.
Wang describes his board's plan as the first to make a variable-income pension retroactive to an existing common-stocks portfolio. Between one-fourth and one-fifth of LCA pension resources is now invested in common stocks. The rest is in fixed-income securities.
Southern Baptist Convention pension plans also have a common-stock link, but only on a supplementary basis. So do the American Baptist plans, but that denomination has the good fortune of a strong endowment that makes possible a floor for variable-income pensions. The Episcopal pension plan, though regarded as the best among plans of the major denominations, is not tied directly to the result of its common-stock investments.
Will Pope Paul Retire?
In August, Pope Paul recommended that Roman Catholic bishops and pastors resign by age 75, and this month he made a pilgrimage to the Castle of Fumone near Rome to honor the only pope who ever resigned, Celestine V. The thirteenth-century pope returned to his hermit existence after only five months at the Vatican.
It could have been a symbolic hint that older men should step down, but some wondered whether Paul himself might follow Celestine's example. Paul celebrates his sixty-ninth birthday this week and in 1972 will reach the retirement age he has set for his colleagues.
The retirement recommendation came in the August 6 document Ecclesiae Sanctae, which implements certain decrees of Vatican Council II. Article 21 of the council's decree on bishops said that when bishops and others "have become less capable of fufilling their duties properly because of the increasing burden of age or some other serious reason, they are earnestly requested to offer their resignation.…"
One of the first to respond was Giacomo Cardinal Lercaro, once a candidate to succeed Pope John XXIII, who will be 75 on October 28. Other resignations came from bishops in Italy, Spain, and Germany. Another to submit a resignation was Archbishop Edward D. Howard of Portland, Oregon, who will be 89 in November. It is up to the Pope to decide whether to accept the resignations, and Ernesto Cardinal Ruffini, 78, said the Pope had asked him to stay on.
Implementation of the decree could have great effects in aiding the young liberals of Catholicism. When the decree becomes valid October 11, it will affect sixty bishops and at least 1,500 priests in conservative Italy alone. Calendar-watchers in America noted that it covers or soon will cover Cardinals Spellman, Ritter, and McIntyre, and four archbishops besides Howard.
South Africa After Verwoerd
An estimated 250,000 people jammed Pretoria, South Africa, for the funeral of Prime Minister Hendrik Verwoerd, knifed to death by an assassin September 6 (see previous issue, page 44).
In the huge amphitheater below the government's Union Building, 10,000 whites and nineteen representatives of black tribes listened to the funeral oration by Moderator J. S. Gericke of the Dutch Reformed Church of the Cape, a personal friend of Verwoerd.
Religious News Service said Gericke compared segregationist South Africa under Verwoerd to the Israelites, who wanted to "maintain good relations with other nations" but because of "an evil propaganda campaign" had to defend against "vicious attacks from outside.…
"If it is thought that Dr. Verwoerd's death will break the South African people," he warned, "then those who think so do not know the strength of a people who have produced a Hendrik Verwoerd."
This sentiment was echoed days later when the Nationalist Party chose as Verwoerd's successor a man with an even harder line on race, Justice Minister J. B. Vorster.
Meanwhile, RNS said the accused assassin, Dimitri Tsafendas (previously spelled Stafendis), was a member of a small Buddhist group in Capetown. Earlier reports said the white South African of Portuguese-Greek origin had been an avid Bible-reader.
Young Anglican Bishop Clarence E. Crowther, an integrationist currently touring America, predicted Verwoerd may become a "martyr" and feared tightening of segregation and repression. He said "Mr. Vorster is not so nice and not so gentle a man as Mr. Verwoerd. I believe it will be worse. Mr. Verwoerd was a nice man with a blind spot."
Pike'S Successor
The Rt. Rev. C. Kilmer Myers, suffragan bishop of Michigan, was elected sixth bishop of the Episcopal Diocese of California September 14 to succeed controversial Bishop James A. Pike, who resigned last May. In a grueling election battle that went well past midnight in San Francisco's Grace Cathedral, some 180 clerical and 500 lay delegates gave Myers a majority on the ninth ballot. He won over the Rt. Rev. G. Richard Millard, Pike's suffragan bishop, and the Rev. Morris F. Arnold, director of the urban pilot program of the Diocese of Southern Ohio.
Myers's victory was brought about by a coalition between the young liberal clergy who admire his strong social concern and the more theologically conservative clergy and laymen who regard him as sound in the faith and who respect the sacramental emphasis of his ministry. The candidate of the latter group was the Rev. Lesley Wilder, rector of St. Matthews Church, San Mateo, California. Election of Myers was assured when Wilder withdrew after the seventh ballot.
Myers, who is 50 years old, is married and has three children. He graduated from Rutgers University in 1937 with a B.A. degree, earned an S.T.B. in 1940 from the Berkeley Divinity School, New Haven, and holds two honorary doctorates. He has won acclaim throughout the Episcopal Church for his work in the slums and with youth gangs. He pioneered the first Episcopal inner-city group ministry at Grace Church, Jersey City, and served as vicar of the Lower East Side Mission of Trinity Parish, New York City, for eight years. After three years' service as vicar of the Chapel of the Intercession at Trinity Parish, in 1963 he became first director of the Urban Training Center for Christian Mission in Chicago. This is an ecumenical institution created to train both clergy and laity for mission in urban society. Myers left this post to become suffragan bishop of Michigan two years ago. Besides contributing essays to On the Battle Lines and What's Ahead for the Churches?, he has written Light the Dark Streets and Behold the Church.
Myers's election (which depends upon his consent and ratification by a majority of the denomination's bishops and diocesan standing committees) probably indicates a continuation of the vigorous social concern expressed by Pike but a return to a more traditional theological position in the diocese. Throughout the Anglican Communion the most effective work among the culturally and economically deprived is being done by the more biblically and sacramentally oriented branches of the church, and this may be the direction of the diocese.
Pike was named an auxiliary bishop by the convention and will serve in this role as requested, while spending most of his time in his new post at the Center for the Study of Democratic Institutions in Santa Barbara.
JEROME F. POLITZER
Orthodox Strategy On Anglicans
Strategy for upcoming negotiations with Anglicans was determined at a pan-Orthodox conference the first fifteen days of the month. The conference took place at the Belgrade headquarters of the Serbian Orthodox Patriarchate. It was a follow-up to the November, 1964, conference in Greece, at which Orthodoxy decided to press ecumenism with Anglicans, as well as Old Catholics.
The Archbishop of Canterbury, who is especially interested in looking East, said on his April trip to Jerusalem that he hoped future attempts to resolve Anglican-Orthodox doctrinal differences would be successful. On his current tour of Canada, the archbishop said announcement of an Anglican-Roman Catholic unity commission is imminent.
Archbishop Athenagoras of Thyateira, leader of Greek Orthodoxy in Britain, is chairman of the committee on Anglicans. Other groups represented in Belgrade were the Ecumenical Patriarchates of Istanbul, Moscow, Jerusalem, and Egypt, and the churches of Bulgaria, Romania, Czechoslovakia, Poland, Greece, Cyprus, and Finland.
Eastern Orthodoxy held talks with Anglicanism in 1930, 1931, 1935, and 1956. Church of England orders are accepted by the Romanian church.
Have something to add about this? See something we missed? Share your feedback here.
Our digital archives are a work in progress. Let us know if corrections need to be made.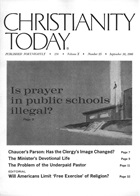 This article is from the September 30 1966 issue.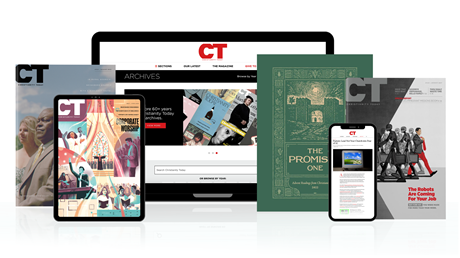 Annual & Monthly subscriptions available.
Print & Digital Issues of CT magazine
Complete access to every article on ChristianityToday.com
Unlimited access to 65+ years of CT's online archives
Member-only special issues
Subscribe
The Problem of the Underpaid Pastor
The Problem of the Underpaid Pastor