My united states passport suggests not so much a peripatetic theologian as an active Agent 007. In 1964 the self-styled "Deutsche Demokratische Republik" gleefully stamped its multicolored visa into my passport on the occasion of a personal study trip into East Germany; this summer a second and even more gaudy DDR visa was added when I took the members of the Trinity Evangelical Divinity School's European Seminar into East German Luther country.
As a political and social liberal who is convinced that his views in these areas are fully compatible with theological conservatism, I receive a certain perverse pleasure from the contradictory state of my passport: it contains visas from a country which for us does not exist as a political entity. But East Germany has a very real existence, and contact with it offers a sobering corrective to loose thinking about the relation between the Gospel and political freedom. Personal experiences are a dangerous form of argument, but I shall run the risk.
My 1964 pilgrimage took me to the partially extant Erfurt cloister where Luther had lived as a monk, flagellated himself in a vain effort to become right with God, and felt the hopelessness of Rome's way of self-salvation; next to the former cloister (now a small Protestant practical seminary) are ramshackle church offices, testifying only too well to the economic plight of the church in a religiously hostile state. This summer the hospital across the street from the cloister sported a large propaganda sign reading: "Fight U. S. Aggression in Viet Nam. Give Blood."
Not even the small towns are free from disfiguring political mottoes—far more sinister than those that prompted the parody on Joyce Kilmer, "I think that I shall never see/ A billboard lovely as a tree." On my first trip to East Germany I said to a prominent theologian: "I see many signs proclaiming Freiheit (freedom) here." "Yes," he replied, "and that's the only place you'll find Freiheit here—on the signs. I hope you can come back someday and bring genuine Freiheit with you." I came back; but Freiheit was little closer than before.
The Wittenberg Schloss, on whose church door Luther posted his Ninety-Five Theses, now also serves as a cultural museum (with bi-lingual German and Russian plaques) and provides meeting rooms for a Communist youth organization. The regime brashly appropriates Luther—as one who smashed medieval church authority and prepared the way for the modern secular era. Objective history is of little consequence to an ideology that in principle allows the end to justify the means.
Both trips to East Germany yielded an unforgettable gallery of faces: the young couple who in 1964 insisted on buying me Russian "champagne" at the Wartburg Castle, lambasted Walter Ulbricht, and said that I could not imagine how bad the restrictions of freedom really were (cf. my article, "A Day in East German Luther Country," Christian Herald, June, 1965); an official chauffeur who wistfully spoke of his desire to travel beyond the confines of Eastern Europe; a waiter who told me that I must be sure to "look in the corners" while in the DDR and that he personally yearned for unmanaged news and a true view of America; a graduate student who sought an honest picture of the U. S. racial situation; a citizen of Wittenberg who insisted that I not get the impression that "we are all Communists here"; a Christian believer who described the economic and personal sufferings of his countrymen and of his own family and longed for better days; etc., etc.
My students were particularly struck by the general tone of life in the East: the deadness and abnormal silence of the towns and cities and the subdued if not hopeless faces of the people. Even the children seemed listless. To move across the mined and pill-box controlled borders from East to West was like entering a different world. Leipzig and Munich could not be more different in vitality, warmth, and joie de vivre. It is no exaggeration to say that in East Germany vast numbers of people have been reduced from living to mere existing.
What are the theological implications of this sad political situation? In general, there must be a rejection of the incredible naïveté that has typified whitewashings of East German Communism by many American religious liberals, and that has also characterized the neutralist judgments of Karl Barth on the East German situation. In point of fact, the DDR is a political abomination and deserves no more commendation than Papa Doc's rule in Haiti.
But it is not just the theologically liberal and neo-orthodox who tend to cry peace, peace, when there is no peace. Advocates of a strict Reformation theology have more than once allowed the principle of the Schöpfungsordnungen (Orders of Creation) to justify the political status quo, and Romans 13 has been falsely employed as a charter of political indifferentism. Some theological conservatives have even had difficulty in rationalizing the American Revolution, since revolution for the sake of freedom seems incompatible with "subjection to the higher powers."
As evangelicals we need to reappropriate the biblical insight into the essentiality of freedom. The very proclamation of the Gospel requires the freedom to decide for or against it; and where human restrictions are placed on man's free choice, the result is a closing-off of the way of salvation. Historically the "free churches" have seen this truth most clearly, for they have recognized that to force religious values on a people through state influence is actually to cut men off from the Gospel. How much more is this the case when a regime restricts free will in the interests of an anti-Christian religion!
We are indeed to render unto Caesar the things that are Caesar's, but freedom of choice is not one of them; it is a divine gift, and no government has the right to remove it. This was the persuasion of the Christians who supported the American Revolution (they did not need a deistic "natural rights" theory to ground their action); and their biblical conviction should be ours as we endeavor to evaluate present-day Communist rule.
All forms of totalitarianism approach in principle the thought-control that is described by Orwell in 1984, and we must work and pray for the liberation of peoples whose lives are reduced to a sub-human level through the removal of their decision-making powers.
Although the "American way of life" and the Gospel are separate, distinct, and not infrequently at odds, freedom and the Gospel are intimately bound together, since the former is a condition of the latter (Rev. 3:20) and the latter is essential to the full manifestation of the former (John 8:31–36). Julia Ward Howe was not a bad theologian when she juxtaposed the two poetically: "As He died to make men holy, let us die to make men free."
Have something to add about this? See something we missed? Share your feedback here.
Our digital archives are a work in progress. Let us know if corrections need to be made.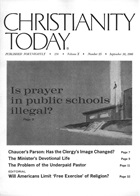 This article is from the September 30 1966 issue.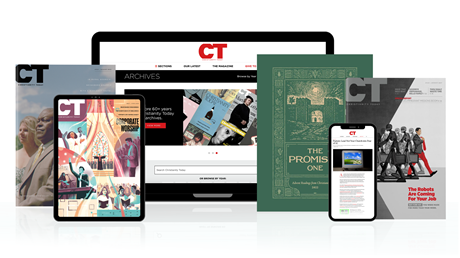 Annual & Monthly subscriptions available.
Print & Digital Issues of CT magazine
Complete access to every article on ChristianityToday.com
Unlimited access to 65+ years of CT's online archives
Member-only special issues
Subscribe
Freedom and the Gospel
Freedom and the Gospel