DIEMEN, THE NETHERLANDS August 23, 1966
DEAR MISS STEPHENSON:
Your letter reached me yesterday after its trans-Atlantic voyage, and I propose to answer you directly. Your request touches on a problem I have been thinking about for a long time. Maybe what follows can be of help to you. I'd like to approach the matter in a schematic way, pointing out some principles.
Your questions concern your wish to paint—that is, to work as an artist—as a Christian. It really is remarkable that you decided to do this when you were just converted. Many times new Christians just drop their artistic careers because they think painting and art today are incompatible with being a real Christian. I'm glad you made this decision and hope to help you by suggesting the following principles for Christian artists:
1. If God has given us talents we may use them creatively—or rather, we must use them creatively. A Christian artist is not different from, say, a Christian teacher, minister, scholar, merchant, housewife, or anybody else who has been called by the Lord to specific work in line with his or her talents. There are no specific rules for artists, nor do they have specific exemptions to the norms of good conduct God laid down for man. An artist is simply a person whose God-given talents ask him to follow the specific vocation of art. There may be circumstances when love toward God would forbid certain artistic activities or make them impossible, but the present moment in history does not ask for such a sacrifice. Quite the contrary. We—the Christian world and the world at large—desperately need artists.
2. To be God's child means to be offered freedom—the Christian freedom Christ himself and Paul in his letters say much about. This freedom is most important for anybody who wants to do artistic work. Without freedom there is no creativity, without freedom no originality, without freedom no art, without freedom even no Christianity. This freedom can exist only if it is based on love toward God and our neighbors, and if we become new men through the finished work of Christ and the Holy Spirit is given to us. Without this base, freedom may easily mean being free from God and consequently free to indulge all the cravings of the sinful heart of unredeemed man. (For more on this matter of freedom, see Paul's letter to the Galatians).
Christian freedom is different from humanistic freedom, the freedom man gives himself to build a world after his own devising (as was tried by the Enlightenment and the humanist development after that time in the Western world). Humanistic freedom leads to all kinds of problems, as our Western world is now learning from experience. Freedom in the biblical sense is in no way negative—shun this, don't do that, you must leave that alone, keep away from this. Christian freedom has nothing to do with a set of rules by which you must bind yourself; indeed, such rules may easily be pseudo-Christian. Freedom is the necessary basis for creativity, for creativity is impossible when there is timidity, when you allow yourself to be bound by narrow rules. Do not think the modern art world is free—but we will turn to that later.
Freedom is positive. It means being free from tradition, from the feeling that everything you do has to be original, from certain fixed rules said to be necessary in art—but also from the thought that to be creative you must break all kinds of rules and standards.
Freedom means also that there are no prescriptions for subject-matter. There is no need for a Christian to illustrate biblical stories or biblical truth, though he may of course choose to do that. An artist has the right to choose a subject that he thinks worthwhile. But non-representational art provides no more freedom than the most involved allegorical or storytelling art.
Freedom includes the right to choose your own style, to be free from tradition but also from modernity, from fashion, from today and tomorrow as well as from yesterday. Yet there is no need to slap the contemporary in the face, as some streams of art nowadays deem necessary. Christian freedom also is freedom from the sinful lust for money, from seeking man's praise, from the search for celebrity. It is the freedom to help a neighbor out and give him something to delight in.
3. There are norms for art that are a part of God's creation. Without them art would be an empty name without sense. To say a person has been given a feeling for art and beauty (everybody has, to a certain extent), that he has been granted a strong subjective sense of artistic rightness, is but another way to say that he has been given an understanding of certain norms God laid down in his creation, the world in which we live. We call this taste, a feeling for design and color, the ability to grasp the inner harmony of a complex of forms and colors, the understanding of the inner relationship among elements of the subject-matter, the ability to recognize the indefinable dividing lines between poor and good art, between worn-out symbols and fresh ways of saying things that are important to man.
These norms do not stand in the way when we want to live in Christian freedom; they are a part of our world and our nature. Only when man revolts and does not want to be a creature, when he wants to be God and not man, does he feel bound by these norms. For those who love the Lord and rejoice in his good and beautiful creation, these norms provide the opportunity to live in freedom and to create. As one cannot act and live free as a woman if one is not a woman and has not the possibilities of a woman, so the norms for beauty and art are at the same time the opportunities to see beauty and create art.
4. When God created—and in that way made the perception of beauty and the human creation of art possible—he gave art (or any artistic endeavor) a place in this world in which we live; and that world he called good. (I added artistic endeavor because we have to think not only of the rarefied museum type of art called Art with a capital A today but also of all other types, including ceramics, dance-music, pictures used in Sunday schools, and so on. We shall come back to this.) Art is here because God meant it to be here.
So art has its own task and meaning. There is no need to try to justify one's artistic activity by making works with a moralistic message, even if one is free to emphasize moral values. Nor is there any need to think one has to serve as a critic of culture, or always provide eye-openers to the non-artists, or teach, or evangelize, or do whatever other lofty things one can think of. Art has done its task when it provides the neighbor with things of beauty, a joy forever. Art has direct ties with life, living, joy, the depth of our being human, just by being art, and therefore it needs no external justification. That is so because God, who created the possibility of art and who laid beauty in his creation, is the God of the living and wants man to live. God is the God of life, the life-giver. The Bible is full of this.
Art is not autonomous. "Art for art's sake" was an invention of the last century to loosen the ties between art and morality, that is, to give art the freedom to depict all kinds of sins as if they were not sinful but simply human. The human understanding of depravity, of morality, of good and bad was thereby undermined or erased. The results we are seeing today, in our century. The meaning of art is its being art; but it is not autonomous, and it has thousands of ties with human life and thought. When artists cease to consider the world in its manifold forms outside the artistic domain, their art withers into nothingness, because it no longer has anything to say.
Much abstract art today is art, yes; but it has little meaning because it is only art. All its ties with reality have been cut. This applies as much to a ceramic product as to a painting. Art has its own meaning and needs no excuse. But it loses its meaning if it does not want to be anything but art and therefore cuts its ties with life and reality, just as scholarly work loses its importance and interest if learning is sought for its own sake. Art and science become aestheticism and scholasticism if made autonomous. They become meaningless idols.
The artist's work can have meaning for the society God put him in if he does not go to live in the ivory tower, or try to play the prophet or priest, or—turning in the other direction—in false modesty consider himself only a craftsman. He has to make art while thinking of his neighbors in love, helping them, and using his talents in their behalf.
5. Most art today expresses a spirit, the spirit of our age, which is not Christian. In some ways it is post-Christian, in others anti-Christian, in still others humanistic. Here and there there are Christian artists who try to do their work in a godly spirit. But often their brethren leave them alone, distrusting their creativeness or doubting that they are Christians. False art theories that have pervaded the Christian world—the artist as an asocial being, a non-conformist in the wrong sense, a dangerous prophet, an abnormal being who lives in an alien world—are often responsible for this attitude. But some Christian artists themselves hold these false views and look down with contempt at their fellow Christians. Anyway, there is a lot of confusion.
That the art of the world at large is also in a deep crisis does not make things easier. We live in a society where there is a break manifest between the mass of men and the elite, and another break between the natural sciences and technical realities on one side and religion (most of the time rather mystical) of a completely subjectivistic and irrationalistic type on the other. We who live in this world cannot act as if these deep problems did not exist.
There is no real Christian tradition in the arts today to turn to. If an artist wants to work as a Christian and do something that he can stand for and bear responsibility for, he has to start with the freedom based in a true faith in the living God of Scripture. He has to make art that is revelant to our day. Therefore he has to understand our day. And, in order to gain from all that is good and fine today and yet avoid being caught by the spirit of our age and its false art principles, he must study modern art in all its different aspects deeply and widely. He must try to analyze the language modern artists use, their syntax and grammar, in order to be able to hear correctly the message they profess to speak. To analyze, understand, and criticize lovingly, loving man but hating sin, in order to avoid their mistakes but gain from their achievements—that is the Christian artist's task. A new Christian tradition, as a fruit of faith, can grow only if artists who understand their work and task, their world and its problems, really set to work.
6. But what has the Christian artist to offer the world? He has a freedom to do something, not just the freedom for freedom's sake. What should he aim at? Let's be careful not to lay down new rules—there are no biblical laws that art must be realistic or symbolic or sentimental, or must seek only idealized beauty.
The artist as a Christian is free, but not with a purposeless freedom. He is free in order to praise God and love his neighbors.
These are basic laws. What do they mean in practice? May I refer, this time without comment, to Philippians 4:8—"Finally, brethren, whatsoever things are true, whatsoever things are honest, whatsoever things are just, whatsoever things are pure, whatsoever things are lovely, whatsoever things are of good report; if there be any virtue, and if there be any praise, think on these things." Here we read what a Christian standing in freedom as a new man, in God's strength and with the help of the Holy Spirit, must search for. This also applies to the Christian as an artist. It is up to him to work, to pray, and to study, in order that he may realize as much as he possibly can of these truly human and life-promoting principles.
In the Lord,
H. R. ROOKMAAKER
Have something to add about this? See something we missed? Share your feedback here.
Our digital archives are a work in progress. Let us know if corrections need to be made.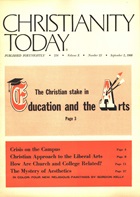 This article is from the September 2 1966 issue.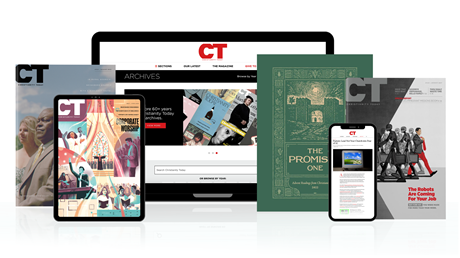 Annual & Monthly subscriptions available.
Print & Digital Issues of CT magazine
Complete access to every article on ChristianityToday.com
Unlimited access to 65+ years of CT's online archives
Member-only special issues
Subscribe
Letter to a Christian Artist
Letter to a Christian Artist