Presbyterian Life rushed to the defense of a proposed new confession last month after a flurry of protests over a phrase on political priorities.
An article appearing under bold red lettering, "One Criticism of the Confession Is Irrelevant," sought to characterize the issue as loyalty to God versus loyalty to country. The article was signed by the new stated clerk of the United Presbyterian General Assembly, William P. Thompson.
At issue are six words in the so-called Confession of 1967, a statement of faith now being voted upon by presbyteries. General Assembly offices have been getting numerous letters arguing that the six words "even at risk to national security" may compromise members' loyalty to the United States.
The phrase became a major concern for denominational officials this summer after it was learned that at least three military legal officers had advised servicemen who are United Presbyterians that under the present wording they would have to resign their church offices. Some actual resignations were reported, and church officials appealed to the Defense Department to overrule the legal officers.
The phrase appears in the following context:
"God's reconciliation in Jesus Christ is the ground of the peace, justice, and freedom among nations which all powers of government are called to serve and defend. The church, in its own life, is called to practice the forgiveness of enemies and to commend to the nations as practical politics the search for cooperation and peace.
"This requires the pursuit of fresh and responsible relations across every line of conflict, even at risk to national security, to reduce areas of strife and to broaden international understanding."
Through an apparent typographical muff, quotation marks were left off the last paragraph in the quoted section, which may further confuse Presbyterian Life readers. The article contends that "the church has always proclaimed that man's first loyalty belongs to God, and that all human institutions are under His judgment as well as under His providential care. If the church were to consent to silence in deference to the presumed primacy of 'national security,' as an overwhelming number of churches did in Nazi Germany, then the church would be guilty of the idolatry forbidden in the Second Commandment."
Other Presbyterian observers assert that reducing areas of strife and broadening international understanding, however desirable, are neither mandates of the church nor tests of loyalty to God. Indeed, they say, the freedom and standards of the church at times conflict with harmony among nations, as has been the case with Spain and Colombia and, at present, with Southern Rhodesia and South Africa.
The article, published in the August 15 issue, seeks to play down the importance of the question: "Quite regardless of the demands of faith, both waging war and waging peace always entail risk to the nation." Moreover, "Presbyterians are not required to accept every detail of any confession of the United Presbyterian Church."
The controversial phrase was debated vigorously at last May's General Assembly in Boston. A Presbyterian employee of the Pentagon succeeded in toning down the phrase a trifle, but the change failed to satisfy many.
The Confession of 1967 won initial approval at the May assembly and comes up for a final General Assembly vote next year.
Labor Day Notes
Last month President George Meany of the AFL-CIO interrupted surveillance of the airline and newspaper strikes to send to union officials across the nation copies of the Labor Day statements from America's three major religious groups.
Meany wrote, "I suggest that you discuss these statements with church and synagogue leaders in your area as soon as possible. You may be able to arrange for joint participation in Labor Day ceremonies or for joint discussions this fall of labor and church programs."
The National Council of Churches' message, recommended for reading in services September 4, is a summary of an economic declaration from its General Board last February. It heralds the end of the dogma of "confident individualism," states that legal ownership of resources doesn't "confer unlimited right to their use," urges economic policy assuring an "adequate income" for all, and urges "reappraisal of the role of government and its budgets."
The Synagogue Council of America has a similar recitation of generalizations. But the National Catholic Welfare Conference came up with some gutty material. Along with quoting the Bible (something the Jews also did and the Protestants didn't), the statement takes a few potshots at organized labor.
NCWC says friends of the unions suspect that "success may have spoiled Big Labor" on doing something about employment bias. It suggests that labor "take a self-critical and ruthlessly honest look" at the growing rift between unions and Negroes, "which is largely of its own making." (The statement admits management's record is no better and "may not be quite as good.")
The Catholic statement also praises union organization among farm workers, a drive that has strong clerical support in the California grape country and has lately spread to the melon lands of Texas. The NCWC theory is that America's economic balance of various major interest groups is distorted when many Americans such as migrant workers or Negroes are outside the power blocs like Big Labor, Big Business, Big Agriculture.
Abortion At Issue
The abortion trial of nine San Francisco Bay area doctors this fall will highlight a controversy with complicated religious and political overtones that has been smoldering for some time in the nation's most populous state.
The major issue: Should a doctor perform an abortion when there is a high probability the baby will be deformed? Episcopalians and many other Protestants are lining up on the "yes" side. Roman Catholics and Missouri Synod Lutherans are by and large in opposition.
The present furor began May 20 when the State Board of Medical Examiners filed charges of illegal abortion against Dr. John Shively, obstetrics chief at St. Luke's Hospital (Episcopal), and Dr. Seymour Smith of non-sectarian St. Francis Hospital. Since then, seven other highly reputable Bay area doctors have been charged.
They are accused of arranging, approving, and performing abortions illegal under the present California law, which permits only those "therapeutic abortions" deemed necessary to save the life of a mother in critical condition.
State prosecution by Attorney General Thomas Lynch, a Roman Catholic now running for re-election, was provoked by recent candor of the medical profession in admitting that some women are aborted for reasons other than life-saving.
Doctors largely favor a more liberal law that would permit abortions if mental health is endangered by continued pregnancy, if pregnancy resulted from rape or incest, for girls under 16, or if there is a substantial risk that the child will be born with serious physical or mental defects.
Hearings last year on the Beilenson Bill to liberalize abortion laws brought to light the increasing number of therapeutic abortions performed by doctors on women who, while pregnant, had contracted German measles in the epidemic that broke out in California a year ago. The disease causes deformed babies in many cases. That bill died in committee, but the current furor should help a new version in the next legislative session.
Delegates to the March convention of the California Medical Association gave overwhelming approval to a resolution supporting a new law "taking into consideration the health of both the mother and the product of conception." They added that a new law should provide proper control of abortions through established medical staffs or medical society committees.
Those supporting the nine men accused of unprofessional conduct rest their case on a liberal interpretation of the present law and on growing public acceptance of abortion for reasons other than life-saving.
"The public wants this," said Dr. Edmund Overstreet of the University of California Hospital. "A vast majority of physicians want it. Only a small, organized, die-hard group opposes liberalizing the law."
His opinion is bolstered by a survey made last year by San Francisco State College. It found 79 per cent of "representative adults" polled favored abortions for women who had German measles in early pregnancy. About 72 per cent favored abortions for women psychologically upset by their pregnancies; 83 per cent favored abortions for victims of rape or incest.
The major target of medical anger expressed all over the state is Dr. James V. McNulty, a member of the state medical board and a leading Roman Catholic figure in Los Angeles. McNulty vehemently opposes any law changes.
Last March, as the medical association appealed for liberalization, McNulty threatened the state's doctors with a state board crackdown if they persisted in interpreting the present statute loosely.
Several doctors under investigation charge McNulty seeks to push the views of a small minority and thereby dictate an essential aspect of medical practice to a majority of the state's physicians. They feel McNulty not only has appointed himself a watchdog for his church's point of view, but also is piqued at the medical association's determination to push for reform of the law.
McNulty's defenders point out that the Board of Medical Examiners does not make or interpret the laws. Its legal responsibility is to see that the laws are enforced, and only open and repeated violations caused the board (unanimously) to bring the charges.
"Those who want to change the law have lost the consciousness of life as God's creation," says Monsignor Timothy O'Brien, director of health and hospitals for the Roman Catholic Archdiocese of San Francisco. Mainstream Roman Catholic thinking regards life as beginning at the moment of conception; therefore, any interference with the process of pregnancy is regarded as the unlawful taking of life.
The Northern California Conference of Ministers of the Lutheran Church—Missouri Synod agrees. Conference public relations director Arnim Polster, a Daly City pastor, said "human life does begin at conception, rather than birth. To kill that life is murder."
Polster approves of abortion following rape or incest, because in these cases pregnancy is imposed contrary to consent. But he believes abortion because of the possibility of deformity is a starting point toward euthanasia—the taking of the life of weak, deformed, or suffering persons after birth.
Episcopal Bishop James A. Pike appointed a priest to work for a new abortion law full-time and declared abortions to prevent deformed babies are a "commendable form of civil disobedience." He advocates such massive, open disobedience of the law that the attorney general and medical board would be deterred from applying the statutory penalty—revocation of license—to so many practitioners.
Joseph L. Zem, administrator of St. Luke's Hospital, emphasized that the accused doctors were not trying to test the law or engage in civil disobedience. Rather, they were acting under the conviction that the present law permits abortions for women whose mental health is seriously threatened. He said the abortions were performed with the approval of the hospital committee on abortions, and that the police department was notified of each operation.
The attorney general's hearings against the nine doctors have been held up pending a Supreme Court ruling on a technicality, which is not expected before next month. That would conveniently put the trial after the November elections. Governor Pat Brown, a Roman Catholic seeking re-election against movie star Ronald Reagan, is maintaining silence on the volatile abortion question.
JEROME F. POLITZER
Have something to add about this? See something we missed? Share your feedback here.
Our digital archives are a work in progress. Let us know if corrections need to be made.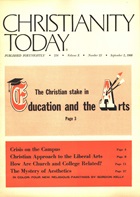 This article is from the September 2 1966 issue.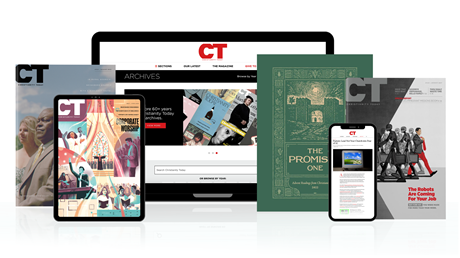 Annual & Monthly subscriptions available.
Print & Digital Issues of CT magazine
Complete access to every article on ChristianityToday.com
Unlimited access to 65+ years of CT's online archives
Member-only special issues
Subscribe
Confession Sets off Dispute with Military
Confession Sets off Dispute with Military