The film The Gospel According to St. Matthew, which opened in New York City last month, could not have been made in America. Its lack of the spectacular, the sentimental, and the lurid is separated from Hollywood by a gap as wide as the ocean dividing Europe from America.
It is an outsider's endeavor to follow Matthew's presentation of Christ. The director, Pier Paolo Pasolini, is a Communist who, while confined to an Assisi hotel by crowds and traffic during a visit by Pope John XXIII, picked up a Gideon Bible and read the first Gospel.
The unusual absence of theatricality is achieved by the use of non-professional actors. A Spanish student (Enrique Irazoque) portrays Christ, an Italian student is the Virgin Mary, Pasolini's mother is the older Mary, an Italian lawyer is Joseph, and a truck driver portrays Judas. Filmed in southern Italy near the Mediterranean, where the terrain resembles that of Israel, this picture is bluntly but reverently realistic and done with a minimum of crowds and with restraints (as in Salome's dance).
From the opening scene, where Joseph realizes his betrothed is with child and the angel appears to tell him of the miraculous conception, the picture reminds the viewer of classic art, sometimes the Italian masters, sometimes El Greco. The dialogue is thoroughly biblical, spoken in Italian with English subtitles that, because of the swift and often impassioned speech, linger on the screen only briefly. The English used is apparently from a Roman Catholic version.
The black-and-white film underlines the stark reality of the narrative and helps give a sense of the burning Oriental sun and the harshness of the terrain. The music (Bach, Mozart, Webern, Prokofiev, and others) is appropriate and not over-obtrusive.
Aside from the problem that inevitably arises when an actor portrays the incarnate Lord, Irazoque is remarkable. Not physically robust, he conveys a sense of moral strength and complete control, and at times suggests the majesty of divinity. He smiles rarely, and only in the presence of children, who appear often. Some scenes are outstanding: Christ healing a loathsomely disfigured leper, cleansing the temple, matching wits with the scribes and Pharisees, and instituting the last supper. The crucifixion is brutally realistic, somewhat in the spirit of Grünewald's great painting.
How faithful is this film to Matthew's Gospel? The dialogue is grounded in Matthew's text. There are omissions, notably the transfiguration, and liberties are taken with Matthew's order of events. In the scene in which disciples and then Jesus are baptized by John, those baptized kneel as John scoops up a handful of water and puts it on their heads—a procedure even non-Baptists might question on historical grounds. The trial emphasizes Jewish leaders; Pilate appears only briefly. Strangely, none of the Jewish leaders appears at the crucifixion. Toward the end one feels that Mary, the mother of the Lord, gains prominence quite beyond what biblical evidence allows.
Nevertheless, the picture carries the power of understatement. It corrects the sentimental concept of Jesus fostered by inferior art and misreading of the Scriptures.
Despite its faults—and any attempt to portray the Lord Jesus Christ inevitably fails to do justice to its subject—there is enough of the plain truth of the gospel record in this picture that it might well turn empty-hearted viewers to the Lord of life. In New York where this reviewer saw the film, the sophisticated audience watched in rapt silence.
The Gospel According to St. Matthew shows what can come about when a serious attempt is made to follow the gospel record, even though the attempt be that of an unbeliever. It is thus a tribute to the inherent power of Scripture and of the Lord whom Scripture sets forth.
Iowa: Amish Truce
Iowa's Governor Harold Hughes has spent about as much time on the fate of fifty Old Order Amish schoolchildren as on anything else in recent months. Late in February he arranged a truce between Amish leaders in Charity Flats and local school officials.
The Amish had persisted in running two one-room schools whose teachers were not certified, as the law requires, because they had only eighth-grade educations (see editorial, December 17, 1965, issue, page 24). The Danforth Foundation helped break the log jam by offering §15,000 to pay for the accredited teachers the Amish said they could not afford, and to make a start toward bringing building facilities up to state standards.
Officials will seek teachers "satisfactory to the Amish," continue German instruction, and tone down the teaching of evolution and other touchy scientific topics. Because of Amish beliefs, no teaching aids such as TV or movies will be used.
The Danforth-Hughes plan is a stopgap, and next year the state legislature will be asked to provide state aid in place of the Danforth money. Hughes admits this could open the door to state aid for other religious groups.
Theologians In The White House?
Politician Brooks Hays thinks "one of the great needs of this age is the theological education of politicians," and lay churchman Brooks Hays thinks "another great need is the political education of theologians."
This dictum from the former Arkansas congressman and White House adviser opened a lecture at a centennial conference of the Pacific School of Religion in Berkeley, California, oldest seminary on the West Coast.
Hays, a Baptist, said that Jefferson and Lincoln were "two of the great theologians of the nineteenth century" and that Pope John was one of the great politicians of the twentieth.
The Church, he said, must send its children into government, both as professionals and as voters. He advocated civil disobedience in circumstances such as those of Nazi Germany, but warned that "respect for authority is a vital rule for conduct.… Aggrieved people have more to be obtained by upholding law than by disregarding it." Asked whether a layman should withdraw support from a church if he disagreed with his minister on politics, Hays replied with an emphatic no. But he urged restraint on ministers in lobbying for specific legislation unless "there is a clear moral foundation for the action and substantial unity on the matter. And seldom, if ever, is there any reason for a clergyman to preach for or against an individual candidate or proposition in the pulpit."
About 850 clergymen (ranging from Assembly of God to United Church of Christ) attended the PSR's three-day conference.
Professor D. Gerhard Ebeling of Zurich, who was a fellow student of the late Dietrich Bonhoeffer, said the now famous theologian's term "religion-less Christianity" referred to the religion of the nineteenth century. As for Bonhoeffer's teaching about man's "coming of age," Ebeling said it is nonsense to say man is autonomous in relation to God. He is, however, autonomous concerning religious tradition.
Dr. William G. Pollard, an Episcopal priest who directs the Oak Ridge Institute of Nuclear Studies, predicted Christianity "will have a message of hope and truth about the nature of reality which will be peculiarly meaningful" after current social and scientific revolutions are past. "It will grow and flower with great power in a world from which all alternative religions will have died out and no viable alternatives other than a sterile secularism will be contending against it."
JEROME F. POLITZER
Brief Pact With Black Muslims
As muscular members of the "Fruit of Islam" stood guard, the Rev. Dr. Martin Luther King, Jr., called for an hour at the Chicago home of Black Muslim chieftain Elijah Muhammad. After their first meeting, a "common front" against Negro slum conditions in the city. King's current project, was announced. King said "there now appear to be some areas, slums and areas other than slums," in which he can cooperate with black supremacists.
But if there was a pact it lasted less than a day. At the Muslims' national convention, Elijah lashed out at King during a four-hour diatribe. To shouting, applauding accompaniment, he called the civil rights leader a "lover of white folks" and a "white man's black man." King is "a nice, friendly man" who has "fallen in with unfriendly people," explained the 69-year-old Elijah. But King is also a "deceiver" who will "have another meeting, and another meeting, and another meeting."
Among Elijah's fans was the movement's best-known convert, heavyweight boxing champion Cassius Clay, who wore a Fruit of Islam uniform. Clay recently caused a furor by making anti-American remarks when informed he had been reclassified and was eligible for the military draft.
Pastor Loses The Klan Vote
John Buchanan, ordained Baptist and Republican congressman from Alabama, earned the wrath of the Ku Klux Klan for his part in the recently completed Klan investigation by Congress.
On the last day of hearings, Georgia lawyer J. B. Stoner took the Fifth Amendment when asked if he was in town the day a Birmingham Negro Baptist church was bombed, killing four girls. But after the hearing, Stoner was suddenly talkative and declared Washington was "full of Communists" and that "loyal white people" would defeat Buchanan and other investigators up for election this fall.
One unbeatable exception was Georgia Representative Charles Weltner, who originated the Klan hearings. Stoner explained he has "the Jew bloc, the black bloc, and the idiot bloc."
Buchanan contends that a Klan ally "couldn't be elected dogcatcher" because the Klan has brought "scorn upon the head of the people of the South" and an overwhelming majority of Southerners have only contempt for the organization.
Quebec'S Sectarian Dollars
It is the ultimate in church fund-raising. The Benedictine monastery of St. Benoit du Lac. Quebec, got itself incorporated as a town back in 1939. As a result, it has raked in $369,000 in federal and provincial aid in the past five years.
As construction on a $240,000 auditorium and other projects proceeds at the community seventy miles southeast of Montreal, the government is beginning to groan. Seventy-five monks working on construction get unemployment insurance, and the "town" is eligible for public works subsidies as well.
Quebec Minister of Municipal Affairs Pierre Laporte said that when the federal government approved the payments "I started to believe in miracles."
Meanwhile, McGill University in Montreal claims discrimination in Quebec Province's distribution of $17 million in new federal aid for colleges, since it is getting a smaller percentage increase than five French universities. McGill is English-speaking and has 12,000 students. Its staff includes an accredited, ecumenical divinity faculty composed of Anglican, Presbyterian, and United Church of Canada personnel.
The dispute reflects a long-standing rivalry between Quebec's British and French populations (see December 18, 1964, issue, page 44), and the channeling of college aid through the provincial government is a concession to Quebec's drive for more autonomy.
Academia In Acadia
Baptist control of Acadia University in Wolfville, Nova Scotia, is under attack from proponents of academic freedom. They are sponsoring a bill in the provincial legislature to cut the Atlantic Baptist Convention's representation on the school's board to 25 per cent.
The ABC, eastern third of the Baptist Federation of Canada, now names all thirty board members, and ABC President Kenneth Spencer says the change "would deprive this convention of its historic rights."
The battle began last summer when the ABC recommended that non-Christians be barred from the faculty, which made Jewish and agnostic teachers uneasy, and that board members' terms be cut from nine to six years, which was seen by some as a move to weed out liberals.
The bill's backers claim the ABC provides only 1 per cent of the revenue at Acadia, which was founded in 1838 and has 1,500 students.
Britain: More School Aid
Britain's Labor government, which has called for a national election March 31, wants legislation to provide 80 per cent construction aid for new church-related school buildings. Education Minister Anthony Crosland said the proposal falls short of requests from churches which face rapidly growing enrollments. Government aid now goes to 7,300 Anglican and 2,200 Roman Catholic schools, plus 430 others, largely Methodist and Quaker.
Greek Prelate Convicted
A long-standing controversy between the Orthodox Church in Greece and the Greek government was climaxed in Athens last month by the first civil court conviction of an Orthodox prelate in the nation's history.
Charged with illegally "usurping" administrative powers of the Diocese of Piraeus, Metropolitan Chrysostomos, formerly of Argolis, was given a suspended two-month sentence.
The prelate was one of fifty-one bishops who in November voted the election of new bishops and permitted transfer of others. Transferability of bishops is banned under Greek law.
The government had called on the church to halt action on election of bishops until a long church-state crisis could be settled with legislation satisfactory to both.
Metropolitan Chrysostomos was one of two bishops transferred to other sees. Lay Orthodox critics charged that he had been reassigned to a wealthy diocese, noting that the law barring transfers had been enacted to prevent the move of prelates into wealthy sees.
Have something to add about this? See something we missed? Share your feedback here.
Our digital archives are a work in progress. Let us know if corrections need to be made.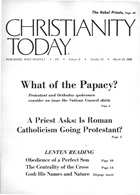 This article is from the March 18 1966 issue.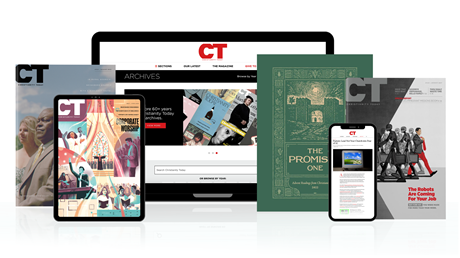 Annual & Monthly subscriptions available.
Print & Digital Issues of CT magazine
Complete access to every article on ChristianityToday.com
Unlimited access to 65+ years of CT's online archives
Member-only special issues
Subscribe
Matthew Minus Hollywood
Matthew Minus Hollywood