These days a lot is made of this sentence from Melanchthon: Christus cognoscere est beneficia eius cognoscere ("To know Christ is to know his benefits"). Rudolf Bultmann has a famous penchant for putting all theological knowledge this way, and uses it to recall another well-known statement, this one by Wilhelm Hermann (nineteenth century): "We never know God as he is in himself, but only as he acts on us." For Bultmann, statements like these crystallize what he is trying to say in his hermeneutics.
In all talk about God, Bultmann contends, man must be taken into account as the one addressed by God. Kerygma and existence must go hand in hand. The message is always conditioned by the person who hears and responds to it. Melanchthon, then, is said to have seen the real problem of interpretation when he insisted that knowledge of Christ is knowledge of what he is for us.
Unfortunately, Melanchthon's famous words are usually plucked out of their context. In his Loci Communes of 1521, he is talking about the true knowledge of Christ in terms of a contrast between wisdom and folly, the words Paul uses in First Corinthians 1. He is directing a complaint against the scholastics and their method of disputation, a method by which the personal, urgent demands of the Gospel were lost in intellectual abstraction. In contrast, he insists that the mystery of God must be, in the first place, not an object of speculation, but an object of worship. Melanchthon's admonition about knowing Christ in his benefits is not an indictment against the Church's dogma; it is a cautionary word in view of scholastic penchant for objectivizing Christian truth in a way that beclouds the vision of Christ's redemptive action and effects.
Melanchthon's words are worth listening to. We find the same sentiments in Luther's opposition to scholasticism. Ebeling has reminded us that this anti-speculation motif within the Reformation is not to be misunderstood as a rejection of the traditional confessions of the Church. Bultmann clearly sets Melanchthon in a new context that in turn changes the intent of his words. Within Bultmann's existentialist hermeneutics and his demythologizing program, the words of Luther's disciple take on a wholly different color.
The "for us" (Christ's benefits) did play a large role in Melanchthon's thinking. But they do in the ecumenical creeds, too. For example, the Nicene Creed speaks of Christ's becoming man for us sinners and our salvation. And Paul himself wrote that Christ was delivered for our transgressions and raised for our justification (Rom. 4:25). According to the Heidelberg Catechism, the work of Christ was all directed to our behalf; most of its questions ask what all this means for us. What does it mean for us that Jesus was born of a virgin (Quest. 36)? What value does it have for us that he arose from the dead (Quest. 45) and ascended into heaven (Quest. 51)? The for us motif is reformed and biblical.
The Gospel is not a list of abstract truths; it always has to do with us. But the phrase "for us" is not something that can become a hermeneutical principle. It is not a key for interpreting the Gospel in terms of human existence. Recently new voices have been heard in Germany warning against the tendency to define the structure of the Gospel by means of its significance for us. Such voices are encouraging.
Whenever we let theology become anthropology, we are in trouble. We know about Ritschl's interpretation of the Gospel in terms of human value judgments, and how he thus rejected all metaphysical reality. This sort of approach left theology defenseless against Feuerbach's dogmatic thesis that theology is indeed only anthropology, only a construction of man's religiously oriented self-projection.
Feuerbach too appealed to Luther, incidentally, because Luther stressed the significance of salvation for us. But anyone who read Luther seriously knew that Luther never put salvation's significance for us in place of the objective reality and glory of God. Today the approach taken by Feuerbach has been revived, and many are again making our experience of salvation the key to what is important about Jesus Christ. More, they are again making the same appeal to the Reformers that Feuerbach made.
The Reformation was against speculative objectivism in regard to the Gospel of Christ. It was concerned to say that the Gospel was directed at us and was proclaimed for us. The pro me theme is a legitimate and essential aspect of the Gospel; it is not a principle of interpretation. Luther fought against what is called the theologia gloriae back in 1518 because of its concentration on what God was in himself apart from the cross (theologia crucis). He knew that theological issues were deeply involved in the fact that no one could come to the Father except through Jesus Christ. But this is a far cry from building a theological system in terms of our existence.
Bultmann relates Melanchthon's words to his own criticism of the doctrinal basis of the World Council of Churches. He says that the faith of man in Jesus Christ is a matter not of his natures but of his significance for us. Bultmann's critique is simply a miscalculation of the deepest motives of the confessions of the Church. Chalcedon, for example, was not speculating in the air when it confessed that Jesus Christ was "true God and true man." It was dealing with the person and work of the Saviour, and so with a genuine "for us" motif.
It must be clear to anyone with a sense of the Gospel that it is unwarranted to find historical precedent in the Reformation for reducing the pro nobis aspect of the Gospel to a hermeneutical principle for understanding the Gospel. The approach must be from the other direction. The Gospel sees a relation between seeking and finding the truth (Ps. 27:8; Amos 5:4; Matt. 7:7). But we must not forget the other dimension, that God was and is there to be found even before we seek him (Isa. 65:1; Rom. 10:20). The answer of grace can not be deduced from the question we ask before the answer is given.
The relation between question and answer is the problem we find in Tillich's theology. It is also the problem in many new approaches to hermeneutics. In them all, the real priority of grace and revelation is sacrificed to the basic interpretative significance of the human question. In view of this, we must see that Barth's (and Gollwitzer's) attack on the question-answer hermeneutics is biblically justified and demanded. Whenever the priority of revelation and grace is abandoned to the priority of anthropocentric experience, the Church and its theology are in deep trouble.
Have something to add about this? See something we missed? Share your feedback here.
Our digital archives are a work in progress. Let us know if corrections need to be made.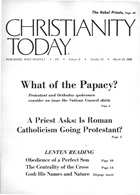 This article is from the March 18 1966 issue.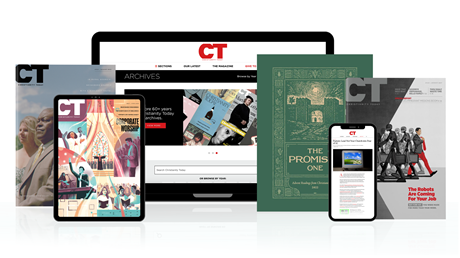 Annual & Monthly subscriptions available.
Print & Digital Issues of CT magazine
Complete access to every article on ChristianityToday.com
Unlimited access to 65+ years of CT's online archives
Member-only special issues
Subscribe
Christ 'For Us'?
Christ 'For Us'?