Demands for public services are increasing, and taxing agencies are wondering where next to turn for the needed revenue. One obvious temptation for them is the many billions of dollars worth of church-owned property, virtually all of which is tax-exempt. From time to time the suggestion is made that the churches ought to begin kicking in a share.
The United States Supreme Court could have a lot to say about the matter. The court has been asked to hear cases that seek to end, as unconstitutional, state and local tax exemptions for houses of worship on the basis that such exemptions amount to public aid to religious institutions. One of the complaintants is Madalyn E. Murray O'Hair, who figured prominently in the court's Bible-reading and prayer decisions. The court recessed for the summer without saying whether it would rule on the litigation.
In the ten-county Episcopal Diocese of New York, meanwhile, a group of young lawyers organized as the Guild of St. Ives are undertaking a study of church tax exemption. An aide to Bishop Horace W. B. Donegan has told the group that taxes would be a "considerable drain" on the diocese. He added, however, that "a lot of clergy feel the churches should pay taxes regardless."
A few church groups here and there are beginning to volunteer contributions to their local governments as a return gesture for services received. In one case, a Unitarian church in Montclair, New Jersey, donated $1,000 to the town treasury. In another, the American Jewish Congress gave the city of New York $1,200 as a token tax on its Manhattan headquarters, the Stephen Wise Congress House.
In Toronto, city officials moved ahead with a plan to levy taxes against property sold by churches and universities. Controller Margaret Campbell has suggested a tax equal to what the property tax would have been in the five years preceding the sale, based on the price obtained for the property.
Mrs. Campbell said high sale prices for some church, university, and slum properties result from the subways and other services built around them with public funds. When such tax-exempt lots are sold at greatly enhanced prices, she said, the city should be able to claim five years of retroactive property taxes.
She cited the sale of People's Church in Toronto, a large, independent congregation founded by the noted evangelical Canadian Oswald Smith. An old church was purchased for $75,000 in 1934 and sold five years ago for $650,000. Using the proceeds of the sale, the church moved to a Toronto suburb and built a huge plant.
The Rev. Paul Smith, minister of the church and son of the founder, said that singling out his congregation was discriminatory. Alluding to the fact that some churches and denominations get tax-exempt income on money that is not in the use of religious causes, he said:
"I would like to point out the fact of what the $75,000 initial investment would have compounded to be, had it been invested thirty years ago in some investment syndicate."
In the United States, the courts will probably rule soon on such situations. Americans United has lent its support to a suit challenging the constitutionality of unrelated business income to churches. Such income is derived by some churches through a variety of methods besides financial investment. Most common are car washes, second-hand stores, and Christmas tree sales. Perhaps the most obnoxious church business enterprise is the effort of a Catholic group in Chicago to operate a garbage dump.
Personalia
Franklin Clark Fry was elected to a second and last four-year term as president of the Lutheran Church in America. Fry got 489 votes on the first ballot—27 more than the three-fourths necessary for election. Dr. Robert J. Marshall of Chicago was second with 70 votes. Dr. Malvin Lundeen of New York was third with 19. Fry, now 65, will be ineligible for another term because cause of his age.
Dublin-born Geoffrey Deane Johnston, 59, pastor of Central Presbyterian Church, Brantford, Ontario, was chosen moderator of the 92nd General Assembly of the Presbyterian Church in Canada.
A retired Army chaplain, John W. Sparks of San Antonio, Texas, was elected president of the Cumberland Presbyterian Church at its 136th General Assembly in Memphis.
The Rev. Raymond Beckering, pastor of the Second Reformed Church of Zee-land, Michigan, was elected president of the General Synod of the Reformed Church in America.
The Rev. Theophilus J. Herter was consecrated a bishop in the Reformed Episcopal Church. Herter teaches at the Reformed Episcopal Theological Seminary, Philadelphia, and has been rector of St. Matthew's Reformed Episcopal Church, Havertown, Pennsylvania.
Dr. Samuel J. Mikolaski will rejoin the faculty of New Orleans Baptist Theological Seminary this fall as professor of theology, following a year of teaching at the Baptist seminary in Zürich, Switzerland.
Reportedly acting on the advice of his physician, Dr. Joost de Blank turned down an appointment as Anglican Bishop of Hong Kong. The 57-year-old churchman, known for his opposition to apartheid during six years as Archbishop of Capetown, South Africa, has more recently served as a residentiary canon of Westminster Abbey. There was some feeling expressed that the Hong Kong bishopric should go to a Chinese.
The Rev. Alan Jackson, whose advocacy of God-is-dead theology caused a furor among fellow Anglicans, resigned his chaplaincy at the University of British Columbia.
The new Reformed Theological Seminary at Jackson, Mississippi, appointed Dr. James C. De Young, a Christian Reformed minister, as professor of New Testament theology.
Miscellany
A freight train struck a church bus loaded with children in Dwight, Illinois, and dragged it 870 feet. Thirty of the bus riders were injured. They were on their way to a summer camp.
The San Francisco Presbytery withdrew a formal invitation to Saul Alinsky to organize the Bay Area poor. The door was left open for the controversial neighborhood organizer, however, in a loosely worded resolution that calls for such projects "upon invitation of the people indigenous to the poverty community areas."
Evangelicals are losing the use of a prime outlet for gospel radio programs in Europe. Radio Luxembourg will no longer transmit English-language religious broadcasts as it has been doing since the end of World War II. No official reason was given for the change of policy.
A court in Seattle turned down the demand of two Bible Presbyterian ministers for discontinuance of a University of Washington course, "The Bible as Literature." The ministers contend the course enables advocates of higher criticism to attack the Scriptures at public expense.
Former President Dwight Eisenhower presented his stamp collection, amassed during his eight years in the White House, to fellow philatelist Francis Cardinal Spellman. The collection will be turned over to the Cardinal Spellman Philatelic Museum at Regis College.
Suggestions for the convocation of a "Protestant Vatican Council," offered by some non-Catholic churchmen in Germany, were rejected by Evangelical Bishop Hanns Lilje. In an address on the West German radio, Lilje said such proposals serve only to create the impression that a "vacuum" exists in Protestantism.
Deaths
WILLIAM ERNEST HOCKING, 92, religious philosopher and author regarded as the last of the influential idealists (see editorial, page 26); in Madison, New Hampshire.
MRS. CHARLES E. FULLER, 79, known to millions of "Old Fashioned Revival Hour" listeners for her weekly reading of letters, introduced by her preacher husband's familiar "Go right ahead, honey"; in Pasadena, California.
Have something to add about this? See something we missed? Share your feedback here.
Our digital archives are a work in progress. Let us know if corrections need to be made.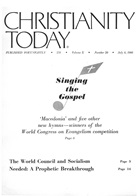 This article is from the July 8 1966 issue.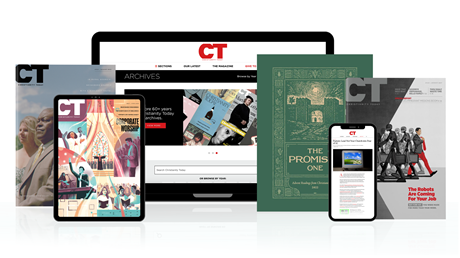 Annual & Monthly subscriptions available.
Print & Digital Issues of CT magazine
Complete access to every article on ChristianityToday.com
Unlimited access to 65+ years of CT's online archives
Member-only special issues
Subscribe
Will Churches Pay Taxes?
Will Churches Pay Taxes?