Protestants who reject biblical infallibility renounce the formal principle of the Reformation, said the retiring president of the Evangelical Theological Society, Dr. Gordon H. Clark. They have no legitimate historical claim, he declared, to the name "evangelical."
The 63-year-old Clark was to have delivered his presidential address at a banquet highlighting the seventeenth annual ETS convention in Nashville last month. His speech was delayed a day, however, when en route to the dinner he fell on an unlighted stairway and fractured two ribs.
Gathered in the spartan surroundings of Free Will Baptist College (the Society of Biblical Exegesis met the same week at the more affluent Vanderbilt University campus nearby), ETS exhibited characteristic interest in biblical authority. More than 175 members, mostly teachers in seminaries and church colleges, attended, and chose Houghton College President Stephen W. Paine to succeed Clark as president. The society reported 482 members, a gain of 35 in the past year, with associate and student affiliates raising the total to 749.
Clark challenged Protestant scholars who do not accept a fully authoritative Scripture to state their non-biblical criterion of acceptance and rejection of this or that segment of the Bible. "The ideals of scholarship are abandoned, and the ground of faith is disguised," he said, "unless the criterion is plainly stated."
In a panel on biblical inerrancy, scholars noted continuing modernist misunderstanding and misrepresentation of the conservative view as a "mechanical" or "dictation" approach. Dr. John Walvoord, president of Dallas Theological Seminary, said belief in inerrancy carries with it belief in the great evangelical doctrines. Dr. Kenneth Kantzer, dean of Trinity Evangelical Divinity School, admitted that belief in inerrant inspiration is not a requirement for salvation, and that Christianity could be true without it. But he said its importance lies in several considerations: it brings men into immediate contact with an objective Word of God objectively recognizable: it allows the average Christian to know doctrinal truth without scholarly research and equipment; it provides assurance in details of doctrine and practice; it provides a test of personal orthodoxy and faithful preaching; it makes possible a consistent and enduring Christianity.
Other members of the panel were Dr. R. Laird Harris of Covenant Theological Seminary, Dr. Robert L. Saucy of Talbot Theological Seminary, and Paine. Saucy-said that empirical data are often called an obstacle to belief in inerrancy, but that modern discoveries have repeatedly substantiated the Scriptures. "At the front of today's attack on inerrancy," he asserted, "is the modern actualistic concept of revelation and the subjectivist-existential notion of truth. The contemporary scene is so charged with the irenic mood of ecumenism that the doctrine of inerrancy is seen as a useless addendum to unity in the person of Christ and his proclamation."
Kantzer said belief in infallibility is a test of obedience to the example and admonition of Christ.
The society's firm stand on the inerrancy of the original Scriptures has produced spirited debate over the years, but few members have been lost through "neo-evangelical" defection. Instead, membership shows an annual growth. The society publishes a quarterly journal and occasional monographs and books on theological themes.
CARL F. H. HENRY
The Decline Of Theology
When the Evangelical Theological Society was founded in 1949, nobody dreamed Protestant theology in general "would so swiftly deteriorate to its present shameful plight." Reflecting on the decline, Editor Carl F. H. Henry of CHRISTIANITY TODAY said in an ETS convention symposium, "Never has theology as a science stood in more public disrepute than today, when ecumenical dialogue accords a prominent platform to secular theologians, to linguistic theologians, to existential theologians, to dialectical theologians, and to death-of-God philosophers, while evangelical theology—the theology of historic Protestantism and of multitudes in the churches—is seemingly boycotted as if it were heresy, and the sole surviving heresy at that."
Personalia
Dr. Arthur Michael Ramsey, Archbishop of Canterbury, told reporter Willmar Thorkelson of the Minneapolis Star that Vatican II has brought Anglicans and Catholics closer together. The chief ecumenical obstacles, he said, are "the claim of the Roman Catholic Church to be in itself in toto the Christian Church in this world," the doctrines of Mary that are matters of faith, and the dogma of papal infallibility "as currently understood."
Martin Niemöller, survivor of Nazi persecution, leading German churchman, and one of the co-presidents of the World Council of Churches, assailed the Evangelical Church in Germany (EKID) for too much cooperation with the West German government. Writing in an EKID journal that opposes the government, Niemöller said that since 1950 the EKID had become "a silent servant of the Federal Republic and its chancellor," reminiscent of the situation when Hitler first came to power in 1933.
Globe-trotting James A. Pike, Episcopal bishop from California, was barred from visiting a bishop in Rhodesia and ordered out of the country. Later, Pike predicted a "bloodless coup" in the rebel country ruled by its white minority. The latest missionary expelled by Rhodesia is an American, the Rev. Donald K. Abbott, assistant leader of the United Church of Christ mission in the country.
Joseph Cardinal Ritter of St. Louis said the Protestant and Orthodox observers at Vatican II did more than "just sit around and listen"—they joined closed sessions of commissions and offered advice, much of which was taken when documents were written.
Indonesia's President Sukarno, who recently survived a Communist-backed revolution, told a Protestant-Catholic meeting in Djakarta that Jesus Christ was "one of the greatest revolutionaries in mankind's history" but "did not need weapons to drive home his revolutionary teachings." If domestic turmoil in his country continues, Sukarno said, not only the government will collapse, but also the religions of its people.
William Berntsen, a music professor and doctoral candidate, is "interim president" of Northwestern College in Minneapolis. The board appointed him in November, but publicity has been withheld.
Dr. T. William Hall will become dean of Syracuse University's Department of Religion this July, leaving a similar post at Stephens College in Missouri.
The Rev. George W. Peck, native of Australia and former American Baptist missionary in India, was named dean of Andover Newton Theological School.
The Rev. Raymond E. Maxwell, former associate executive secretary in the United States for the World Council of Churches, was appointed executive secretary of the Episcopal Church World Relief and Interchurch Aid agency.
The Rev. Theophilus J. Herter, New Testament professor at the Reformed Episcopal Theological Seminary, was elected assistant bishop of the church's New York and Philadelphia Synod.
The Rev. George Todd, United Presbyterian Church urban specialist formerly with East Harlem Protestant Parish, will head the denomination's newly merged overseas and domestic urban mission agency.
Miscellany
Southern provinces in Sudan are starting to resemble the chaotic Congo of last year, reports Crusade, a British magazine of The Evangelical Alliance. The article said that Bishop Gwynne Theological College was burned to the ground, and that at least five persons were murdered when the Church Missionary Society station and hospital at Lui were destroyed by government troops. All hospitals, clinics, and schools in the south are reported closed because of missionary pull-outs. At the same time, some 4,000 refugees from the Congo's "Simba" rebel army have infiltrated the Sudan and stepped up trouble.
The East Asia Christian Conference, meeting in Ceylon, expressed "deep concern" over continuing tension between India and Pakistan in statements to the leaders of both nations.
A fire that hit downtown Sitka, Alaska, destroyed a historic Russian Orthodox cathedral completed in 1850, when the state was Russian, and a Lutheran church.
University of Chicago archaeologists, digging in an area soon to be covered by waters from the United Arab Republic's Aswan Dam, came up with a prayer book that contains a prayer attributed to Christ shortly before his crucifixion, and a conversation he purportedly held with Peter and other disciples after the resurrection.
The World Jewish Congress reports there are 13.887,000 Jews in the world, with the largest concentrations in the United States (5,612.000), the Soviet Union (3,000,000), and Israel (2,273.000).
The World Council of Churches reports North American churches have contributed $500,000 to the Theological Education Fund, designed to raise the number of nationals on African seminary staffs from the present 27 per cent to 50 per cent.
Ministers of several denominations have formed the Evangelical Fellowship of (Northern) Ireland, headed by the Rev. Donald Gillies of Belfast. The group is concerned about ecumenism at the expense of traditional doctrines and the need for cooperation among evangelicals.
Oberlin College's Graduate School of Theology will merge with the Vanderbilt University Divinity School this June and move to Nashville. Both seminaries are accredited and nondenominational. Oberlin decided last summer to phase out its seminary over three years, citing lack of students and claiming that good theological education these days is possible only within a major university.
The American Lutheran Church's Augsburg Publishing House, which had paid 875,000 in annual property taxes, was ruled exempt as "church property" by a county judge in Minneapolis.
Pacific Christian College in Long Beach, California (177 students), proudly announced "the launching of the newest of the family of Christian seminaries" in a press release that looked toward a four-year Doctor of Ministry (D.Mn.) program. Days later, red-faced college President Kenneth A Stewart reported the seminary wouldn't open next fall after all, because of unspecified "legal problems."
An interfaith chapel for the mentally ill, said to be the first, will be built at a state hospital in Warren, Pennsylvania.
There was some religious flak when John Lindsay was inaugurated as New York City's mayor. Episcopal Bishop Horace W. B. Donegan was chosen for the opening prayer without consulting the Protestant Council of New York, and he was introduced as bishop, rather than Protestant representative, which sparked some criticism. Others who prayed on behalf of the subway-struck mayor were Catholic Auxiliary Bishop Fulton J. Sheen and President Max Schenk of the New York Board of Rabbis.
The Fargo. North Dakota, school board denied Gideons International permission to distribute Bibles to fifth and sixth graders whose parents approved. The board decided this widespread program of the Gideons (see News, August 7, 1965, page 48) was unconstitutional, despite appeals from several Lutheran ministers.
A federal survey reveals that 13 per cent of America's pupils attend private schools, mostly Roman Catholic, and that these students draw 10.7 per cent of the new school aid for low-income families.
At year's end, the Gallup Poll asks Americans what man they admire most. Three politicians (Johnson, Eisenhower, Robert Kennedy) head the list of ten, but three churchmen come next: Billy Graham, Pope Paul, and Martin Luther King, Jr. All six were on last year's list, which included three men who died during the year: Winston Churchill, Adlai Stevenson, and Albert Schweitzer.
Deaths
BRIAN M. DUNNE, 25, a nurse at the Seventh-Day Adventist mission on Malaita in the Southeast Solomon Islands; on December 21, two days after being speared in the back while treating patients.
REV. RALPH ODMAN, 44, general director of the Unevangelized Fields Mission; at Bala-Cynwyd, Pennsylvania, where he had been convalescing after a June operation for removal of a brain tumor.
DR. HENRY SCHUH, 75, last president of the American Lutheran Church and honorary president of the merged denomination that assumed its name; in Columbus, Ohio, of a heart attack.
REV. RICHARD H. JOHNSON, 62, a Negro who was named superintendent of the Methodist Church's newly integrated Baltimore Northwest District last June; in Baltimore, of a cerebral hemorrhage complicated by pneumonia.
DR. DANIEL C. TROXEL, 82, New Testament professor for twenty-seven years at Lexington Theological Seminary when it was The College of the Bible; in San Diego, California.
Have something to add about this? See something we missed? Share your feedback here.
Our digital archives are a work in progress. Let us know if corrections need to be made.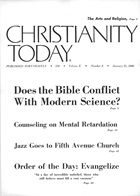 This article is from the January 21 1966 issue.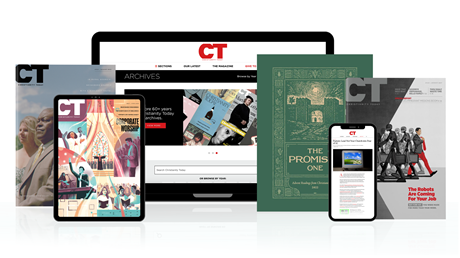 Annual & Monthly subscriptions available.
Print & Digital Issues of CT magazine
Complete access to every article on ChristianityToday.com
Unlimited access to 65+ years of CT's online archives
Member-only special issues
Subscribe
Bible Infallibility: Important or Essential?
Bible Infallibility: Important or Essential?