After a venerable history dating from the founding A of Harvard College in 1636, the church-related colleges of America are being required once again to reassess their purposes. Rarely have any of these colleges gone down to financial disaster. But many have surrendered their distinctively Christian mission in order to maintain a viable internal economy. The spiritual dimension has been either eroded or completely denied in many prestigious schools that were founded on the clear conviction that the Christian heritage must be transmitted along with the arts and sciences. This defection has had two main causes: the failure of the supporting churches to recognize their urgent obligation to support a distinctively Christian program in higher education, and the infiltration of secularistic approaches to the academic disciplines.
Today the population drift to cities, the explosion in scientific information, and the dramatic extension of technology into all of life are accompanied by a burgeoning demand for a college education. And the demands of personal security and the national economy, as well as the demands of the nation's military security, bring pressures upon our young people to gain more and more education.
Yet with our phenomenal gains in higher education, the average American college student achieves a measure of intellectual maturity in complete isolation from the spiritual values that have been the basic dynamic for our free society. Any conscious attention to the Christian heritage more often takes the form of ridicule than of intelligent evaluation. It should sober us to think that Soviet universities require the same kind of ridicule of religion as part of their curricula. And judging by the behavior on some widely known American campuses, we are also failing in citizenship education. Civil disobedience as an almost compulsive pattern of protest suggests that many college men and women are ignorant of, or even hostile to, our own constitutional and democratic processes. Many years of secularism in higher education have brought us to the place in our national life where we are powerless to transform the great society into the good society at the personal level. With the notable exception of the Christian colleges, the spiritual understanding necessary to the good society is either ignored or denied on the campuses.
The responsibility of the Church of Jesus Christ is to confront the whole secular order with biblical, timeless truth. To do this, it must train its youth within a broader framework than that offered on a secular campus which inhibits free expression of the Christian faith. It is particularly in the church-related colleges that have not defected to secularization that lively discussions can take place between biblical theology and the academic disciplines. When the critics of Christian higher education—most of whom are neither teachers nor administrators—deplore the defects of Christian colleges, they should be sure they have a valid alternative to this necessary debate among Christian scholars.
What is needed for the fullest interdisciplinary dialogue is the total witness of a Christian university in which a faculty of dedicated scholars would represent the full spectrum of academic fields. Out of the best Christian thinking in such a university there would emerge a new direction for evangelical intellectuals. Here also believing scholars would be trained at the doctoral level to staff church-related colleges or to reinforce the remnant of courageous Christian teachers who on almost every campus are still a challenge to the seeking student. A university of this kind would work against mediocrity and lead Christian education and the Church to a new day by sending out a stream of committed Christian scholars and leaders.
For the present, however, the church-related colleges face both hazards and opportunities that are unprecedented. The population of the nation's colleges now totals more than 5.3 million, with an estimated 7.3 million by the fall of 1970. The present enrollment is an increase of 10.8 per cent over 1963–64. With sixty per cent of the middle and upper-income groups anticipating college matriculation and with the new loan and scholarship provisions extending the opportunity to nearly every intellectually competent citizen, the colleges are operating in a rising market.
Yet church-related colleges cannot project their development programs on an unbroken, rising curve. For sixty years, two-year colleges have been expanding in enrollment and influence. They are now to receive a dramatic push from the federal government. The vision of "the great society" includes a community college within commuting distance of every American citizen. This will mean that many evangelical pastors will encourage their college-age young people not to leave the community and the local church. Moreover, the cost of a two-year education in a community college will be attractive to parents. As a result of the community-college explosion, church-related colleges may have to develop convincing recruitment programs if they are to fill their dormitories.
The national average cost for each student is now $1,560 in public senior colleges and $2,370 in private colleges. But a rise of 20 per cent is expected in the next five years, and a rise of 50 per cent in the next decade. As the federal and state governments increase their subsidies to public higher education, the private colleges may find themselves unable to meet mounting costs by continuing to increase fees. Unless church constituencies can be convinced that higher education within a distinctive framework of Christian philosophy is necessary and is a worthy objective for serious stewardship, church-related colleges may well be confronted with a difficult plateau existence, followed by declining-influence and enrollments.
No group in America's history has shown a more persistent will to live than the evangelical colleges. In spite of the requiems that have been prepared for them, they continue to grow in strength and in number. The strong response to the Danforth Foundation's study of church-related colleges and the statement of the "faith-affirming colleges" that emerged from the subsequent discussions are evidence of their convictions and their vitality (see Sept. 10, 1965, issue, page 25).
Most church-related colleges are continually re-evaluating the philosophy upon which their communities of learning are based. Clearer understanding of their purposes is providing criteria for curricular structure, faculty recruitment, student admissions, and methods of instruction.
Vital to this re-evaluation is not only the revelational truth of God in Jesus Christ but also a biblical anthropology. Secular education is defective from the Christian standpoint because it lacks a theology and because it is based on a view of man and his goals that is not above the biological level. But for Christian education, man is still "a little lower than the angels and crowned with glory and honor." The Christian educator is not narrower in his view of man and reality than his secular counterpart. On the contrary, he is open to the whole cosmic panorama of truth. Contemporary secularized intellectualism has not only brought us to a denial of God and the erosion of the values from which our freedoms came; it has also led man as a complex of sensate appetites into an existence devoid of transcendent meaning. Uniquely in higher education the evangelical colleges affirm the sovereignty of God, the infinite worth of the person, and the liberating and redemptive grace manifest in Jesus Christ.
In the biblical view, man cannot achieve his destiny in rebellion against God or in flight from him. Only in God's presence does he truly find himself. And he fulfills himself only as he is reconciled to God through the cross of our Lord Jesus Christ. Is not this the axis of all meaning for man and his world? As such, it is the central focus of concern in Christian higher education. And it is precisely because contemporary man needs to be confronted with the full spectrum of truth—both noumenal and phenomenal, natural and supernatural—that men will continue to strive for an intellectual witness through a Christian college.
Concerned Christian educators should be fully aware of efforts on the large independent and state campuses to recognize religion as an aspect of human behavior so universal in history and in contemporary society that it cannot be ignored. A case for a department of religion was made at Princeton University as far back as 1935. The faculty committee responsible for the proposal separated the curricular and academic approaches from the extra-curricular practice of religion. This pattern has been spreading across the educational scene in the past decade. Presumably the academic approaches to religion will be historical, comparative, sociological, and psychological. The practice of the Christian faith will be continued through campus chaplains, student interest groups, and church ministries near the campuses.
The church-related colleges welcome the opportunity to train undergraduate religion majors for university departments of religion. But there are few places where these students can pursue a doctoral program apart from an atmosphere wholly intolerant of the revelational postulates of the evangelical faith. In spite of this, however, evangelical educators must face the strategic challenge to prepare students for this vocational opportunity on secular campuses. They must also face the more subtle implications for the biblical faith of this acceptance by secular higher education of responsibility for reducing religious illiteracy.
The proliferation of Christian colleges and the problem of finding funds for capital facilities, compounded by the burgeoning of instructional and general costs, also call for strategic evaluation. In some instances, evangelical interdenominational colleges established in the same regions as evangelical denominational colleges compete for financial support from the same sources. Without coordination, the pattern becomes uneconomical. The evangelical cause cannot indefinitely afford the luxury of duplication and competition. To offset it, administrators and trustees could enter into cooperative ventures. Colleges could by mutual agreement divide their fields of major emphasis. They could share distinguished guest professors. They could form a group for cooperative fund-raising. They could share cultural and lecture programs, foreign seminars, and faculty interdisciplinary exchange, and articulate their common biblical philosophy convincingly.
The church-related colleges are pioneering in how to live in the new world technology has given us. Extension and continuation educational programs are being enriched by genuine spiritual dimensions. The devaluation of persons in the sprawling "megalopolis," the erosion of authentic community, and the disappearance of transcendent meanings for life are of primary concern for evangelical Christian colleges. The burden falls on those who can communicate the Gospel in a way that will interest and reach the educated man.
The Christian colleges in this urgent time know that they must train men and women who will have the commitment, the courage, and the intellectual competence to meet the secular challenge head on. The colleges cannot do this as tradition-bound prima donnas. But their potential is unlimited if they can find new ways to add strength to strength in cooperative adventures. Such a turn of events will attract scholars of stature, students of first-rate potential, and support of the necessary size. And what is this but another way of saying that if we "seek first the kingdom of God and his righteousness, all these things shall be added"?
Have something to add about this? See something we missed? Share your feedback here.
Our digital archives are a work in progress. Let us know if corrections need to be made.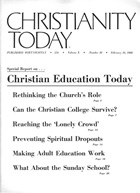 This article is from the February 18 1966 issue.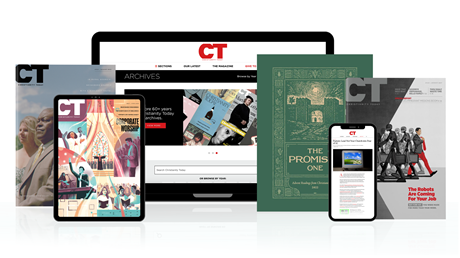 Annual & Monthly subscriptions available.
Print & Digital Issues of CT magazine
Complete access to every article on ChristianityToday.com
Unlimited access to 65+ years of CT's online archives
Member-only special issues
Subscribe
Helping the Colleges to Survive
Helping the Colleges to Survive