The dismissal of Ibrahim Elmalí, director of religious affairs, has brought to the fore the resurgence of militant Islam in Turkey. Religion has gotten such emphasis in press and politics that such problems as economics, education, and health rate only second place.
The press and the people divide into two groups. One espouses the interests of Islam and seeks a Koran-governed Islamic state. The other seeks salvation through nationalism, supports the official secularism of the present constitution, and detests the thought of mosque-state ties.
Intellectuals generally fall into the latter camp, and the School of Political Studies in Ankara, which trains most of Turkey's future administrators, spearheads the movement against the Islamic revival. The religion question is splitting the whole university system, but the youth of Turkey, except for students of the Faculty of Islamic Studies, neither believe in Islam as a challenging religion nor have much interest in pursuing its requirements.
The religionist cause attracts the vast Turkish peasantry, whose votes undoubtedly elected Prime Minister Suleyman Demirel a year ago. Religionists, accused of "dark reaction," respond with charges of "Communism," and recently broke up a leftist meeting at the Ankara school.
Religionists among the university community held a big rally in Istanbul earlier this year, with bearded, capped elders from the extreme Muslim segment much in evidence. Those who opposed making Islam the official state ideology were accused of being Communists and threatened. Marchers demanded that the Byzantine Cathedral of St. Sophia be reinstated as a mosque. The liberals, who want to preserve mosque-state separation, claimed the rally was organized by the government, which footed the bill.
At the recent opening of the Islamic Institute of Izmir (Smyrna), Education Minister Orhan Dengiz announced Turkey will import Islamic professors to help train future priests. He didn't say where they will come from, but the source most likely will be conservative Arab lands like Saudi Arabia, which longs for an Islamic pact—anathema to Turkish liberals.
A liberal legal expert, Vasfi Rashit Sevig, said recently that the republic is gravely threatened and that things are worse now than when the caliphs, spiritual prelates of Islam, ruled. The caliphs were thrown out in 1924 by President Ataturk, founder of modern Turkey.
Elmalí stirred bitter reaction by saying that Turkey's salvation lies in reintroducing the caliphate. The bearded, bespectacled Elmalí went too far even for Demirel's religion-oriented Justice Party. Anticipating that dismissal of Elmalí would be a bête noire to religionists, the government is trying its best to portray it as a simple administrative shift.
But the religionists are railing in reaction, and petitions are widely circulating across Turkey to reverse the dismissal. Some petitions warn: "If you abstain from signing, you participate in the blasphemy of the Masons."
In the meantime, Muslim clubs are mushrooming all over Turkey—nearly 7,000 to date—with a common aim of infusing Turkish national life with Islam and infusing Islam with nationalism. They believe state secularism impedes Islamic propaganda.
Demirel is caught between the two fires. In a recent speech at Tokat (where missionary Henry Martyn is buried), he tried to straddle the fence: "Religious freedom cannot be utilized as an excuse for pressure and exploitation.… To think of Turkey as a theocratic state or entertain this notion is wrong.…"
Liberals, dissatisfied with such fatherly chit-chat, shudder at the thought that the populace probably would approve a constitutional amendment to make Turkey an officially Islamic nation.
Islam'S Zealous Spin-Off
Some 100,000 members of the Ahmadiyya community—often the most powerful competitor Christians face in Islamic lands—are meeting this month at Rabwah, West Pakistan. Their purpose: to make plans for world evangelization, which their new leader has envisioned in a special revelation.
The leader of the movement's three million adherents, and administrator of the main mosque and government-like offices at Rabwah, is Mirza Nasir Ahmad. He became caliph a year ago upon his father's death. His grandfather, founder of Ahmadiyyat, claimed to have received auditory revelations that led him into his work—and into trouble with orthodox Muslims. His claim to the gift of prophecy was heresy to the Muslims, who believe Muhammad was the last of the prophets. But his spiritual "reform" movement spread from its origins in late nineteenth-century India to every continent.
The current caliph, who turned 57 last month, has a full grey beard, slightly portly frame, full cheeks, and an infectious smile. He lacks the mystical, sliteyed look characteristic of his two predecessors. A good-natured, dedicated man, he holds an M.A. from Oxford. His rigorous daily schedule includes much prayer, a simple home life, and a spartan diet built around soya beans. Although the Koran permits four wives, he has only one.
Ahmadiyyat will spread to illumine the world, according to a revelation reported by the caliph. It has made one of its best starts on this in Ghana, where most converts come from paganism. But the inroads in Sierra Leone are at the expense of Christianity, while converts in Indonesia and Nigeria usually come from mainstream Islam.
The caliph said his movement is freest to grow in lands that had nominally Protestant colonial governments, since there is more religious tolerance than in Roman Catholic colonies.
If Ahmadiyyat has had any effect on relations between Christianity and Islam, it has widened the gulf between them by spurring Islam to more active proselytism. It teaches that Christ died and was buried in Kashmir. The founder claimed to be the Messiah, and the movement's polemics and tracts against Christianity are harsh. There are few, if any, Christian converts from Ahmadiyyat, whose zeal is matched by few Christian organizations.
E. R. REYNOLDS, JR.
Arabic Baptists In America
The 200,000 Arabic-speaking people in the eastern United States, tourists, and employees of thirteen Arabic embassies in Washington, D. C., are the target of a $70,000 church being built in Washington by Evangelical Baptist Missions, Inc.
Pastor Esper Ajaj, a native of Syria, says Arabs "are more open to the Gospel here than in their own countries." Since many are not fluent in English, he said, the Baptists decided to open an Arabic language "embassy for the King of kings."
During construction, the church is meeting at the home of Sami Hamarneh, a native of Jordan who is curator of the Division of Medical Sciences at the Smithsonian Institution.
Ajaj said, "See this mosque down the street? It is built to the glory of man!" The beautiful Islamic Center twenty blocks away took ten years to build, with money from twenty-three nations, and a spokesman there replied that such dedication "could come from nowhere else but from Allah." But, he laments, "we have a congregation of 300,000 in this country, yet only about 100 worship here each week."
O. WILSON OKITE
Have something to add about this? See something we missed? Share your feedback here.
Our digital archives are a work in progress. Let us know if corrections need to be made.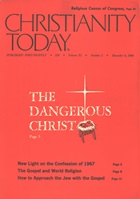 This article is from the December 9 1966 issue.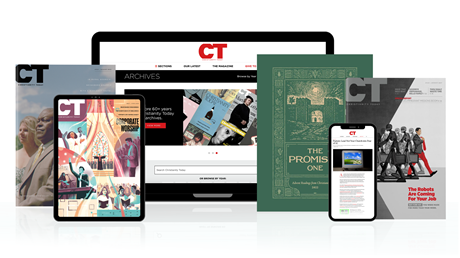 Annual & Monthly subscriptions available.
Print & Digital Issues of CT magazine
Complete access to every article on ChristianityToday.com
Unlimited access to 65+ years of CT's online archives
Member-only special issues
Subscribe
Turkey: Resurgence of Militant Muslims
Turkey: Resurgence of Militant Muslims