The Beatles—bless their shaggy heads—have plunged into the murky and turbulent waters of theology. Headlines trumpeted John Lennon's belief that the Beatles have become more popular than Jesus Christ. Some think this is a correct observation. But the real contribution of the Beatles and of other popular singers to theological dialogue is their songs. Listen to the words. Listen and you will learn how lots of people look at life.
As the father of five children, I have become, perforce, a student of popular music. At latest count, five radios are to be found from the basement to the attic of our parsonage. At almost any time of the day or night, "pop" music (or so they call it) pours from one if not all of these radios.
For a long time I tried to shut my ears to the caterwauling and the frenetic beat, beat, beat. But after a while my middle-aged eardrums capitulated, and I began to listen. What I heard caused me to listen seriously. For the "go-go" music that blares from millions of radios proclaims a popular philosophy of life—and sometimes a theology as well.
Evangelical Christians need to be listening, painful as this suggestion may seem, because pop music reveals what many, many people are thinking; what sort of values they admire; what idols are worshiped by the pagans in our midst. Pop music gives us an important clue to where the action really is—or should be—in our apologetics these days.
Take the perennial favorite, "I Believe":
I believe for every drop of rain that falls,
A flower grows.
I believe that somehow in the darkest night,
A candle glows.
I believe for everyone who goes astray,
Someone will come to show the way.
I believe. I believe.
Here we have the essence of religion for many, including, alas, not a few church members. What counts is belief—any kind will do. The object of belief doesn't matter. You just have mystical faith in (fill in the blank for whatever seems important to you). This popular concept of belief gropes and stumbles in a swamp of subjectivism, where it matters not whether one believes in the girl next door, America, or the "Man Upstairs."
What has caused this theological vacuum? How have so many people gotten the idea that belief has no fixed, proper object? This sort of mellifluous heresy could achieve popularity only in a Christ-less culture, where the world's Saviour has been forgotten or relegated to the Sunday school quarterly.
Listen closely to the radio, evangelicals. Listen and shudder:
Every time I hear a newborn baby cry,
Or touch a leaf, or see the sky—
Then I know why I believe!
Who says all the pagans live in darkest Africa?
Not long ago, the disc jockeys were spinning a little number that contained these lines:
The purpose of a man is to love a woman;
The purpose of a woman is to love a man.
Is that so? Is eros the real reason for human existence?
According to this philosophy of life-a-go-go, man's destiny is fulfilled when two lovers meet, kiss tenderly, and live together happily ever after. Having each other, they need nothing else.
But eventually the honeymoon ends. And in the daily task of shared existence the couple face the grim reality of unpaid bills and nasty tempers. The challenges and tensions mount as the years roll by. Eros wears mighty thin by age fifty. And agape never gets in the front door. For divine love comes into a home as God's gift, and who needs God in the dreamland existence of popular music?
The purpose of a man is to love a woman;
The purpose of a woman is to love a man.
That millions hear and apparently heed such drivel goes far to explain why divorce courts are busy. Why mental institutions bulge and psychiatrists have waiting lists. In this inane ditty we can perceive the tragedy of secular man, living in total oblivion to the reality of God. But then we are advised that "God language" is no longer relevant. We learn that man, in his advance toward intellectual freedom, has left far behind such antiquated ideas as that of Man's purpose being to glorify God and to enjoy him forever.
The plaintive words of one Beatle favorite go like this:
Yesterday, all my troubles seemed so far away.…
I believe in yesterday.
A broken romance is the occasion for the singer's lament. But the nostalgia over lost love broadens to a "looking backward" view of life as a whole. Today is nothing; tomorrow contains no possible hope or joy. Yesterday and its memories—this is all that matters. As I was listening for the hundredth time to the Beatle exaltation of "Yesterday," another set of words came to my mind. Whether or not Paul, by inspiration, foreknew the Beatles, his words do diagnose their basic problem:
"… you were living utterly apart from Christ; you were enemies of God's children and He had promised you no help. You were without God, without hope" (Eph. 2:12, Living Letters).
The Christian looks to yesterday—but with gladness, not mourning. For yesterday God sent his Son. Yesterday his Son came, spoke everlasting peace, and died on the cross so that my sins, even mine, might be cleansed by his blood. Yesterday I was forgiven. So I rejoice in yesterday. I also rejoice in today. For this same Christ—now ascended in glory to the Father's right hand—sends his "loving Spirit into every troubled breast." The presence of his Spirit illuminates today and promises a tomorrow of glorious liberation and freedom. Today I am with him. And tomorrow. And all the tomorrows. But without Christ, tomorrow is a blurred question mark. Without Christ, I can only weep about yesterday's memories—along with the Beatles.
A POEM FOR MY FATHER
I heard your feet on the stair
Come slowly, slowly,
And the sound knocked at my heart.
For I remembered them
Swift and sure, treading
A sure way, the true way
For my feet to follow.
And I remembered how
Nothing could hold you,
Divert or ensnare you
From the sure straight way
That led to God's Throne.
Those were the years
Of battle, and strength for it.
Now the years lie heavy,
And now we praise God
For courage that never
Quailed at a reckoning,
For a heart that never
Grew cankered and cold
In the bitter world,
And for feet still treading,
But slowly now, the same path,
And leading me still
Toward where the light grows brighter
Around the Throne of God.
EVANGELINE PATERSON
For months, the radio has been emitting the nasal voice of a young man stridently declaring,
"I cain't get no satisfaction!
I cain't get no girlie action!"
This puts it a bit crudely. But the young man with the twanging guitar has articulated the material orientation of our culture. Satisfaction, it seems, comes from gratification of the senses. Cigarettes. Cars. Boats. Ranch houses. Color television. "They satisfy"—or do they? Never has any culture known so high a level of satisfaction of material wants. But where is the fruit of this satisfaction? Its fruit is borne in jam-packed divorce courts, in decaying structures of authority in home, classroom, and community.
"I cain't get no satisfaction!"
So Watts erupts in an orgy of anarchy.
So Charles Whitman becomes the mad marksman on a Texas tower.
So a couple come to my study wanting to be married—he for the fourth time, she for the third.
"I cain't get no satisfaction!"
Naturally. You are looking in the wrong place. You are looking for satisfaction of the wrong sort. Long, long ago God gave his children some wise counsel about satisfaction:
"Stop loving this evil world and all that it offers you, for when you love these things you show that you really do not love God. For all these worldly things, these evil desires—the craze for sex, the ambition to buy everything that appeals to you and the pride that comes from wealth and importance—these are not from God. They are from the evil world itself. And this world is fading away, and these evil, forbidden things will go with it, but whoever keeps doing the will of God will remain forever" (1 John 2:15–17, Living Letters).
We dare not chew our fingernails and lament about popular music as an affront to the soul and the senses. We have to hear the loneliness, the despair, the awful futility and triviality of which popular music is but a symptom. "Pop" music may be God's way of telling us how desperately millions of people need Jesus Christ. Who else can fill the terrible vacuum this music reveals?
Have something to add about this? See something we missed? Share your feedback here.
Our digital archives are a work in progress. Let us know if corrections need to be made.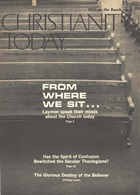 This article is from the December 23 1966 issue.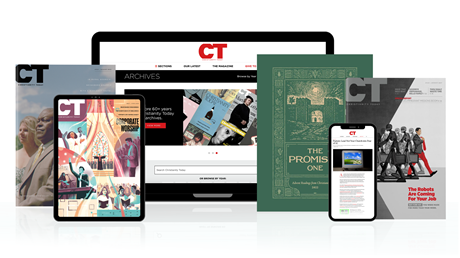 Annual & Monthly subscriptions available.
Print & Digital Issues of CT magazine
Complete access to every article on ChristianityToday.com
Unlimited access to 65+ years of CT's online archives
Member-only special issues
Subscribe
What Is 'Pop' Music Really Saying?
What Is 'Pop' Music Really Saying?