A man is lost in the desert, desperately in need of water, food, and a way out. He has with him a two-way radio in perfect condition. By it he could learn where to find water, food, and a compass to lead him home.
But the man does not use the radio! He pays no attention to the clearly printed instructions on how to turn it on, tune in, and maintain a two-way conversation. The batteries are fully charged, and at the other end there is an operator always on the job; but because of his utter foolishness, the wanderer remains lost, parched, and famished.
Christians must acknowledge that they are "strangers and exiles on the earth" (Heb. 11:13, RSV) and constantly need God's help and guidance. Strange indeed how often we are confused, lost, spiritually thirsty and hungry, despite the promise: "If you abide in me, and my words abide in you, ask whatever you will, and it shall be done for you" (John 15:7).
We are told that our Lord "marveled" at the unbelief of those who should have heard and obeyed him. Isaiah tells us of God's reaction to man's blind perversity—he "wondered that there was no one to intervene" (Isa. 59:16b).
Certainly one of the strangest things in all the world today is the Christian's failure to avail himself of the privilege and power of prayer! True, the prayer-less Christian is not "lost" in terms of eternity. But all of us experience daily need for spiritual blessings that come only through communion with God.
Prayer is not using God for our own ends. It is not, "O God, do this or that for me." Prayer is something infinitely higher and more precious than that. Prayer is two-way communion with God, praising his name, glorifying him for what he is and what he has done. Prayer is bringing our worship to him and seeking his glory in all circumstances of life.
Some may say, "How pietistic." "How far removed from our world and its problems." "How impractical in the face of the demands of the twentieth century." "How utterly removed from the real problems that trouble men in this space age."
But wait a minute. Does any problem ever take God by surprise? Is any issue of today too big for him to solve? Has he made promises to his children that he is now unable to fulfill? Has the space age left God behind? Are we living in a maze of problems from which even the Creator and Sovereign God of the universe cannot extract us?
Perhaps the best way to answer these questions is to take God at his word and give him a chance to make it good.
Jesus has made us a tremendous promise: "Ask whatever you will, and it shall be done for you." Are there conditions? Of course; otherwise prayer would prove to be our destruction, not a blessing. But there are only two conditions, our abiding in him and having his words abide in us. Abiding in Christ means resting in him, obeying him, having our old lives replaced by lives filled with his presence.
The Apostle Paul expresses this thought of "abiding" in Christ in words all of us can understand: "I have been crucified with Christ; it is no longer I who live, but Christ who lives in me; and the life I now live in the flesh I live by faith in the Son of God, who loved me and gave himself for me" (Gal. 2:20).
Is this something too high for us? Did Paul have an experience with Christ denied to others? Can we have our old natures crucified with Christ and live by a new and supernatural power—the power of the crucified and risen Christ? Yes, we can. And in this experience we become new creatures, spiritually born again, with a new line of communication with the living God opened to us.
How can his words "abide in" us? Jesus simply meant that his teachings, his truth, his revealed will, must be kept fresh in our memories and be the basic motivation in our lives. Christianity is not a dreamy, mystical religion. It is a faith to be believed and a life to be lived according to God's revealed truth.
In the time of Ezra there came upon the people a mighty conviction of sin. They had neglected the Word of God and disobeyed its teachings, and we are told that they "trembled" when they realized what they had done. It would be well for us to tremble also at the way we have neglected, ignored, and disobeyed the revelation God has given us in his written Word.
Every Christian can fulfill these two conditions, abiding in Christ and having his words abide in us. Then why live as beggars in the midst of plenty? Why neglect the privilege and opportunity God has opened to each of his children? Some day, in heaven, we will look back in amazement at our present failure to use prayer as we should.
For Christians the horizon of prayer is unlimited—not simply for us to get things from God but for his will to be done both in our individual lives and in the circumstances of life.
We do not pray alone. Paul tells us that Christ "is at the right hand of God" and "intercedes for us." And "likewise the Spirit helps us in our weakness; for we know not how to pray as we ought, but the Spirit himself intercedes for us with sighs too deep for words" (Rom. 8:34 and 26).
Prayer is intensely practical. There is not an hour of the day that we don't need the wisdom, strength, and guidance God alone can supply. There is not a problem, a concern for others, a sorrow, or a joy that should not be shared with the One who has the answer, the hope, the balm.
Because prayer is such a power for good, Satan hates it. He and all the real though unseen demons of hell conspire to keep us from communing with God.
First of all Satan would interpose between us and God sin that we have not confessed and repented of. "If I had cherished iniquity in my heart, the Lord would not have listened" (Ps. 66:18). Satan tries to make us doubt the love and power of God and to make our thoughts and desires selfish. Pride, one of his most frequently used weapons, is often our downfall. Or it may be an unloving heart or an unwillingness to forgive that stands between us and God. We must not forget that as Christ has forgiven us to the limit, so we must forgive others to the limit.
Let me conclude on a note of personal witness. I know that God hears and answers prayer, sometimes before we pray, in the way that is best, and for his own glory.
There are times when the answer seems to take a long time coming, but God knows best. And there are times when the answer is so miraculous that one's heart nearly bursts with wonder and praise.
Prayer is more powerful than nuclear fission, and as wonderful as creation itself. Little wonder that Paul tells us to "pray without ceasing"—that is, to keep communications open all the time.
Have something to add about this? See something we missed? Share your feedback here.
Our digital archives are a work in progress. Let us know if corrections need to be made.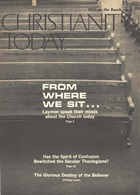 This article is from the December 23 1966 issue.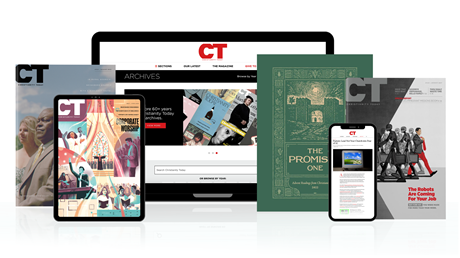 Annual & Monthly subscriptions available.
Print & Digital Issues of CT magazine
Complete access to every article on ChristianityToday.com
Unlimited access to 65+ years of CT's online archives
Member-only special issues
Subscribe
A Willful Black-Out
A Willful Black-Out