William Cowper is known to many only as the author of the words of the hymn "Praise for the Fountain Opened," based on Zechariah 13:1. But he wrote a significant number of hymns and religious poems, and even his secular poetry frequently reveals his personal faith in Christ's redemptive power. The gentle piety and humanitarianism of his poetry appealed to many readers among the Anglican evangelicals and the Methodists of the late eighteenth and nineteenth centuries. But the quiet warmth of his verse was a marked contrast to the inner turmoil of his life. Obsessed by fears of failure, Cowper suffered a mental breakdown that terminated his preparation for a legal career in London. He was forced to spend the rest of his life in rural retirement.
During the period following his collapse, he was slowly able to gain a sense of inward confidence and hope under the guidance of his Christian physician. In a letter to his cousin, Lady Hesketh, dated July 4, 1765, Cowper describes the peace he experienced after reading the third chapter of Romans:
How naturally does affliction make us Christians! And how impossible it is, when all human help is in vain, and the whole earth too poor and trifling to furnish us with one moment's peace—how impossible is it then to avoid looking at the Gospel! It gives me some concern, though at the same time it increases my gratitude, to reflect, that a convert made in Bedlam is more likely to be a stumbling-block to others than to advance their faith.
Two main aspects of Cowper's religious faith are brought out in this quotation. He often felt the peaceful confidence and serenity expressed in the opening two sentences. At other times, however, especially after fits of madness, he was assailed by doubts and fears of being "a stumbling-block," actually believing he had been cast off by God for committing the unpardonable sin against the Holy Ghost.
Some critics have felt that Cowper's strict religious beliefs were the cause of his neuroses; but the happiest years of his life were spent under the influence of his pious friends—the family of the evangelical clergyman, Morely Unwin, with whom he lived, and the fervent converted slave-trader and neighboring clergyman, John Newton. These friends did their best to keep Cowper occupied in order to prevent recurrences of his fits of depression and madness. They encouraged him to write poetry, and this poetry is the best answer to those who blame Cowper's mental problems on his religious faith. For the poetry gives a clear picture of his religious faith, a picture that is sometimes clouded when one reads the details of his life.
Cowper collaborated with Newton on the Olney Hymns (1779), a collection popular among the Methodists and other Non-conformists. Most of Cowper's sixty-seven contributions were based upon Bible verses; "Walking with God," for example, takes its opening line from Genesis 5:24: "And Enoch walked with God: and he was not; for God took him." The poet's periods of religious doubt are reflected in several places, such as stanza two:
Where is the blessedness I knew
When first I saw the Lord?
Where is the soul-refreshing view
Of Jesus and his word?
But the hymn illustrates how Cowper resolves his doubt as he progresses from stanza to stanza until he finally discovers the assurance he seeks:
So shall my walk be close with God,
Calm and serene my frame:
So purer light shall mark the road
That leads me to the Lamb.
His fits of insanity made Cowper realize how much he needed a close relation to the Lord. In a hymn entitled "Dependence" he attacks those who overconfidently boast of their faith:
Beware of Peter's word,
Nor confidently say,
"I never will deny thee, Lord,"
But, "Grant I never may!"
Cowper had a very real sense of humility and recognized how far his own ways were from those of God. In "Jehovah Our Righteousness" he shatters the bubble of human merit:
Let others in the gaudy dress
Of fancied merit shine;
The Lord shall be my righteousness,
The Lord forever mine.
In writing these hymns, the poet sought the Scriptures for an answer to his religious doubts and mental turmoils. That these lines are forged in the furnace of bitter experience has made them come alive to generations of Christians. Cowper feels he is an unworthy recipient of divine favor and searches for assurance. In "Praise for the Fountain Opened," Christ's forgiveness of the crucified repentant thief gives him renewed confidence.
Lord, I believe thou hast prepared
(Unworthy though I be)
For me a blood-bought free reward,
A golden harp for me!
The deep spiritual thirst the poet feels can be compared to that expressed in Psalm 42:1: "As the hart panteth after the water brooks, so panteth my soul after thee, O God." The same sense of urgency can be seen in "My Soul Thirsteth For God." The poet demands to be flooded because the plant that represents his spiritual life is dying.
Dear fountain of delight unknown!
No longer sing below the brim;
But overflow and pour me down
A living and life-giving stream!
Partial measures will not suffice; this must be a complete cleansing experience. He asks the fountain to "overflow and pour me down" much as in the hymn "Praise for the Fountain Opened" sinners must be "plunged beneath that flood." Cleansing streams or fountains are frequently used images in Cowper's hymns. "The Covenant" describes God's grace as a flowing stream "to wash … filthiness away, and "Dependence" defines grace as "the living stream" supplied by "the Lord's unsparing hand."
The Christian faith of Cowper is expressed in his secular poetry as well as in his religious verse. The poem Conversation contains a paraphrase of Luke's account of Christ and the two disciples on the road to Emmaus, which is praised as an illustration of good dialogue.
Now theirs was converse, such as it behooves
Man to maintain, and such as God approves:
Their views indeed were indistinct and dim,
But yet successful, being aim'd at him.
Christ and his character their only scope,
Their object, and their subject, and their hope.…
The Task was written during a period of depression after Cowper had complained to a charming friend, Lady Austen, that he had no subject to write about. She suggested he write a poem about the sofa in his parlor, and he used this as an occasion for a long meditative poem in blank verse. In it are many vivid descriptions of landscape and natural scenery that have led literary critics to label Cowper a preromantic poet. However, Cowper is careful to make it very clear that he is no pantheist—God is not in the mountain, tree, or flower. In Book VI he states that "Nature is but the name for an effect/Whose cause is God." Cowper talks of many subjects, both religious and secular, in The Task. But his own religious position is clearly stated, especially in Book VI, in which he describes the millennial kingdom and inveighs against the false clergy of his generation.
Cowper's religious poetry illustrates how he frequently was able to find assurance in periods of doubt and anguish through the words of Scripture. Far from being the cause of his neuroses, his faith was a source of refuge and comfort, and the resolution of many fears can be seen in the poetic movement of his hymns. In his secular poetry, Cowper makes it very clear that he feels Christian faith is necessary in every aspect of life. Many of the problems of his generation are attributed to the sycophantic clergy who deny the Godhead and preach Christ as a man. And it is Book III of The Task that contains the most poignant poetical statement of Cowper's personal religious experience, his own encounter with Christ:
I was a stricken deer, that left the Herd
Long since; with many an arrow deep infixed
My panting side was charged, when I withdrew
To seek a tranquil death in distant shades.
There was I found by one who had Himself
Been hurt by the archers. In his side he bore,
And in his hands and feet, the cruel scars.
With gentle force soliciting the darts,
He drew them forth, and healed, and bade me live.
The Pennsylvania State University
University Park, Pennsylvania
Have something to add about this? See something we missed? Share your feedback here.
Our digital archives are a work in progress. Let us know if corrections need to be made.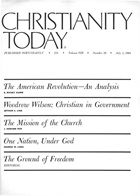 This article is from the July 3 1964 issue.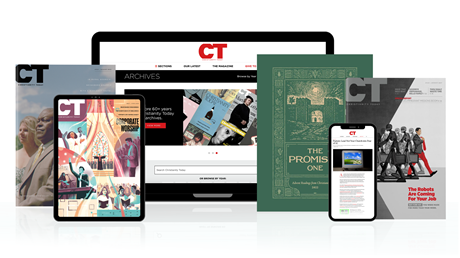 Annual & Monthly subscriptions available.
Print & Digital Issues of CT magazine
Complete access to every article on ChristianityToday.com
Unlimited access to 65+ years of CT's online archives
Member-only special issues
Subscribe
The Religious Faith of William Cowper
The Religious Faith of William Cowper