Freedom is a heritage—a priceless one—but where it is not understood, it may be lost. On the Fourth of July the American people ought not only to celebrate their freedom but also to give some thought to its source and nature.
Freedom is the power of self-determination. This power of self-determination is a dimension of the human spirit. Freedom, therefore, is not the absence of authority but a peculiar form of its exercise. A free man is not one who does whatever his whims dictate but one who determines the character and the direction of his life. He governs himself. The Book of Proverbs describes the free man as one who governs his spirit, and it asserts that such a man is better than he who takes a city. A free society is a people that determines the form and the function of its government and of the structures of its social life.
Since freedom is an aspect of the human spirit, no people on the face of the earth is wholly devoid of freedom. So long as men remain in control of their spirits, they are a threat to every form of totalitarian government. Collectivistic governments are aware of this and therefore attempt to control the spirits of men, to determine the form, direction, and goal of their lives.
Americans ought to know and appreciate the singular glory of their tradition of liberty. They should know and remember with excitement that their experiment in creating a free government and a free society was the first such democratic experiment in the whole of human history. The ancient Greeks experimented with democratic city-states, but even this limited experiment in democracy was built on the foundation of slavery. It is actually true that the experiment in liberty that produced the free American society and its free government had never before been attempted by any people anywhere.
National liberty, however, is not free. It is bought with a price and maintained at the cost of continuous vigilance. We are always in danger of having it taken from us, and wars are the price we have sometimes paid to retain it. It is a sobering thought that our free way of life has cost the lives of hundreds of thousands of America's young men. Even today this price is being paid in Viet Nam. We are free because some men die. Remembering this, a people that is more free than any other people on earth ought to celebrate the Fourth of July thoughtfully and with a measure of sobriety.
The greatest danger to our national freedom, however, is not from the threat that comes from without but from that which arises within. Freedom is that quality of the human spirit that desires to exercise self-determination. The free man wants to take care of himself, make his own decisions, shape his own life, make his own living. Only insofar as he cannot care for himself, his family, his future does he look to his city, his state, his national government for aid. Similarly, he wants his city and his state to rule themselves by their own acts of self-government. To the extent that he surrenders his powers of self-determination to his city, to his state, to his national government, he surrenders his freedom.
An even greater threat to true freedom is that corruption and debilitation of spirit whereby men lose the ability to rule their own spirits. When this happens, men have lost the power to govern themselves. This has come about through human sin, with the result that men have become the victims of their own habits and weaknesses of their lusts and passions; and it constitutes a profound threat to a democratic form of government. Freedom means self-determination, and democratic government is self-government. Democratic governments as free societies can endure only so long as their citizens retain the ability to govern their own spirits. The society that loses self-discipline cannot long retain a form of free self-government. It is of the essence of a democracy that certain areas of life not be covered by laws. When, for example, obscenity in books and movies must be governed by a network of legislation because society has lost the moral power of self-discipline, the democratic society is losing its freedom.
It is at this point that Christianity has made, and must continue to make, its profound contribution to free society. There are forces within and outside the human spirit that bring it into bondage. In biblical thought, these forces making for bondage are sin and its uncontrollable passions. It is the message of Christianity that Jesus Christ alone can set men's spirits free by delivering them from the power of individual and social sin, and from the ultimate threat of death.
Jesus said, "If the Son shall make you free, you shall be free indeed." The Christian is the free man in Christ, and he is essentially free within his own spirit—which is the citadel of freedom—even if he lives in external" bondage. Christians in totalitarian societies are essentially free, as Paul was free in a Roman prison and John Bunyan in an English jail. A Christian is free even in a world of sin, as his confession and rejection of sin reveal. He is free even from death, in his liberating assurance of the resurrection and the life eternal. Through justification by faith he is a free man; being justified he is free to live. Because his past is canceled out, he has an authentic future.
Without Christianity, the grand, historic American experiment in democracy would not have been possible. The continuance of democracy in America depends on the degree to which Christianity flourishes in our land. Our liberty as a free society is grounded in religious freedom. As our national hymn asserts, God is the "author of liberty."
Freedom is a deep and mysterious thing. It belongs to the very essence of the spirit of man. Misused, it turns into bondage. If it is to be understood, it can be understood only in terms of itself. The ground of freedom—by God's creation and redemption—lies in itself. Freedom, therefore, presupposes itself. In its deepest aspects one cannot obtain it; one can only possess it. To have freedom, one must be free. It is, therefore, a gift from God—one that comes through Christ. For as Paul said, "For freedom did Christ make you free."
As we celebrate our national freedom, let us think through the depths of the source and nature of our freedom until we see that every form of our freedom is grounded on that freedom which Christ alone can give. Where this is acknowledged, we can sing with confidence, "Long may our land be bright with freedom's holy light."
Peril On The Highways
With the approach of July Fourth, Americans need to think beyond the commemoration of battles and heroes. Recent history presses hard upon the national consciousness a form of blood-letting unforeseen in 1776. On Independence Day we celebrate our liberty and remember those who lived and died for it. In the Revolutionary War some 4,435 gave their lives in battle. But in our weekend celebration the number of traffic fatalities alone will come to between 450 and 550, according to the estimate of the National Safety Council. Thus it takes at the present rate only about nine annual celebrations of our independence to incur fatalities equivalent to the number who died in the war itself.
The gruesome irony does not end there. Last Memorial Day weekend 431 persons were killed on the roads. We were commemorating the fighting men who gave their last full measure. And they were many: since 1917, 53,402 in World War I, 291,557 in World War II, and 33,629 in the Korean War. But in 1963 alone 43,600 of our people were killed in motor vehicle accidents. The total number of such accidents reached a staggering 11,500,000. They resulted in 1,600,000 disabling injuries. They cost $7.7 billion. Experience shows that even now we are enlarging these figures for the statistician who will be giving us a report in 1964.
Twenty-five centuries ago the prophet Habakkuk looked out over his land in the last days of Judah and cried unto God about the violence he saw. Today there is ground for believing that centuries hence our own era will be called "The Violent Age." Some say that our Western civilization is in its death agonies. If it is, surely one of the signs is our callous unconcern for the carnage on our highways. A calamity taking 43,000 lives would go down in history. But we continue to kill tens of thousands on our roads with comparatively little concern.
A great nineteenth-century hymn voices the prayer:
O hear us when we cry to Thee
For those in peril on the sea.
We need now to pray as well for the many more in peril on the road, as automobiles in statistical effect assume the destructive capability of rockets.
Twenty years ago some 9,000 Allied fighting men died at Normandy for the cause of freedom, which was in the balances. For what did last year's 43,000 traffic fatalities in this nation die? For a faster society? Must this toll be paid for the affluent society? Do we have to watch silently and helplessly? Are we to rationalize highway casualties into a kind of population control, albeit a heartbreaking and bloody one? And this in contrast to great strides in life-saving through the healing arts!
The social gospel has had surprisingly little to say about the problem. Yet we must ask what implications the Gospel itself has in face of this social evil of increasingly stunning proportions. The Bible says that we hold the gift of life as stewards of God, its giver. A recovery of this truth would bring a needed reformation of Christian responsibility for safety on the highways. Christians are concerned, and rightly so, about civil rights. But what of the basic right to live? Life as God's gift is precious beyond words. One who regards its extinction with apathy dishonors his Creator.
In recent months CHRISTIANITY TODAY has spoken editorially on the stewardship of life in connection with cigarettes and with alcohol. Concern for this kind of stewardship also points as a signpost to the highways. As we said in a previous editorial, special studies have indicated that as many as half the victims of fatal highway accidents had been drinking. One of the nation's largest insurers of automobiles reports that over 80 per cent of traffic deaths and injuries can be traced directly to violations of rules of the road. Speeding and failure to yield right of way are also major causes.
Fatalism in the face of such a problem of our society as continuing carnage on the highways is a betrayal of the vigorous spirit which built that society. But there are ameliorating solutions. To see them we have but to look. Perhaps we should do well to look at a country like Norway with its strict regulations against drunken drivers. And why not? Has not a drinking driver turned himself into a potential killer, risking the lives of others for his own convenience—as well as risking his own life?
We need stricter traffic laws and stiffer penalties impartially enforced. Our civic leaders should lead in this area, and they should enjoy the enthusiastic support of their communities. The automobile industry should become involved in programs to awaken public conscience about safety and law enforcement. Additional safety devices must be developed. Seat belts alone, universally used, would save more than 5,000 lives annually.
With their God-given stewardship, Christians should be in the vanguard of such endeavors. The major finding of a test of airmen at the University of Colorado School of Medicine is that those who had suffered accidents were consistently less oriented toward religious values than those who had not. One psychiatrist declares that we drive as we live. Another suggests that speeding may be explained as the desire to recapture the delights of infancy, such as being rocked, tossed, or swung. Speed mania, he says, could be a form of belated revolt resulting from certain childhood problems never resolved.
The Christian is under divine mandate not to kill. But more, his is the priceless heritage of the law of love, which commands not only love for God but also love for neighbor equivalent to love for self. The most basic solution to traffic fatalities is changed men. And it is time for Christians to live like the changed men they profess to be. It seems that the acid test of the law of love in this century may well be located behind the steering wheel of a car. What is it about that wheel which seems to scrape off a code of ethics as one slides behind it? What strange alchemy in the driver's seat transforms a gentleman into an egocentric menace? Does the traffic intersection negate the Pauline injunction: "Be kindly affectioned one to another with brotherly love; in honor preferring one another"?
With traffic in mind, it would be well for Christians periodically to review the biblical teaching about love especially as it relates to the highways. Love is patient at intersections, and not envious of the driver who got through the light while we were left. It does not seek its own right of way, regardless of the other driver who reached the intersection first. It does not behave itself discourteously. It is not easily provoked, but bears even traffic snarls and endures mistakes that the best of drivers make. Even behind the steering wheel … love is kind.
The Kennedy Mementos
The drugstore in our office building sells a night-light for fifty cents. It is an ordinary night-light, about an inch and a half in diameter. What distinguishes it is the picture of John F. Kennedy on its surface. Advertised as an "Eternal Flame," it will allegedly burn continuously for six years for about three cents per year.
Kennedy mementos are big business, if show windows in Washington are any indication. One person found the following articles on sale (in addition to the many books, magazines, records, and postcards): a demitasse and saucer; an ashtray with a picture of President Kennedy in the middle; a coffee mug; a beer mug; a miniature JFK rocking chair, with and without a figure of the President seated in it; a medallion incorrectly inscribed with the phrase that, in the inaugural speech, ran, "… ask not what your country can do for you—ask what you can do for your country" (on the medallion, the second "ask" was replaced by "but"). There were salt and pepper shakers, pitchers, plates, plaques, playing cards, busts, and picture puzzles. There was a "key to the city" with a representation of Mr. Kennedy and a "guaranteed thermometer."
The distressing thing about these mementos is that one has to be reminded of something so inexpressibly sad in such vulgar and essentially loveless fashion. Perhaps the whole trend indicates a basic human inability to find suitable expression for feelings about death, especially when it is the death of someone whose life meant so much. Perhaps the customers at the drugstore counters who reach for these things they can hold in their hands arc really seeking something else: a way to gather up the fragments of a shattered image, or a message, a word of some kind.
In Christ, God has offered men the final word: "Death is swallowed up in victory."
Have something to add about this? See something we missed? Share your feedback here.
Our digital archives are a work in progress. Let us know if corrections need to be made.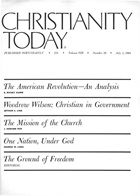 This article is from the July 3 1964 issue.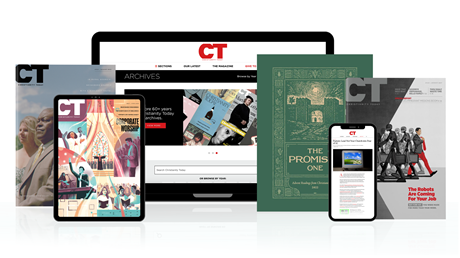 Annual & Monthly subscriptions available.
Print & Digital Issues of CT magazine
Complete access to every article on ChristianityToday.com
Unlimited access to 65+ years of CT's online archives
Member-only special issues
Subscribe
The Ground of Freedom
The Ground of Freedom