In Alaska on Good Friday, one minister was among the estimated 200 killed by the severest earthquake ever measured on the North American continent.
The minister, 33-year-old Duane Carricker, pastor of the Assemblies of God Church in Valdez, was swept to his death in a tidal wave following the earthquake.
Reports from Alaska indicate that people in the hardest-hit areas were able to be evacuated and cared for by rescue agencies. Damage to church property was widespread but in most places was not severe.
Easter services were held in churches without heat or electricity, or in garages, shops, and homes.
The Rev. Floyd R. Brause, pastor of St. Mark's Lutheran Church in Anchorage, said:
"Our Easter services … didn't set any attendance records, but we had the most thankful people ever to attend any Easter Sunday services."
Here is a breakdown by denomination compiled from the sketchy reports available:
—Assemblies of God: unestimated property damage.
—Lutheran (Missouri Synod): damage to Anchorage Lutheran Church estimated at 40 to 50 per cent.
—Methodist: total cost of repairs estimated at $500,000. Damage to Alaska Methodist University estimated at $100,000. Also damaged: the Jesse Lee Children's Home and the Wesleyan Hospital for Chronic Diseases, both in Seward.
—Protestant Episcopal: one member of the denomination among the known dead; church, rectory, and parish hall at Valdez destroyed. Damage in Valdez estimated at $60,000.
—Southern Baptist: many churches damaged; total loss apparently not extensive.
Reports on other denominations were either not available or inconclusive; the full extent of the damage to all church property is still in doubt. Denominational offices tried to keep abreast of the situation by telephone and amateur radio. Denominations associated with the National Council of Churches are helping through the Red Cross; in addition, denominations and churches are helping independently and have announced special collections.
According to the latest estimate, it would cost $500 million to put everything back into working order in the state.
Protestant Panorama
The American Lutheran Church's Commission on Research and Social Action will ask delegates to the ALC biennial convention next fall to approve a policy statement on "the issues of war and peace." The document says that Christian doctrine does not require the belief that war is inevitable.
The Church of Scotland's Yearbook for 1964 gives the number of communicant members as 1,281,559 at the end of 1962, a decrease of 11,058 from the previous year's total.
The National Benevolent Association of the Christian Churches (Disciples of Christ) is opening a new home for helping mentally retarded and physically handicapped children at Columbia, Missouri. The home will be dedicated during a series of ceremonies, May 3–10.
Miscellany
The U. S. Roman Catholic hierarchy has approved the use of English in the mass, sacraments, and breviary. The action now goes to the Ecumenical Council's Commission on Liturgy in Rome for final confirmation.
Deaths
THE REV. THEODOR FLIEDNER, 85, said to be the oldest Protestant pastor in Spain; in Madrid.
BISHOP GRADY R. KENT, 54, of The Church of God; in Cleveland, Tennessee.
DR. JOHN HAYNES HOLMES, 84, noted Unitarian minister; in New York City.
DR. WILLIAM J. GALLAGHER, 70, first general secretary of the Canadian Council of Churches; in Toronto.
Plans were announced for the establishment at Suva, Fiji, of an interdenominational "theological college." It is a projected outgrowth of the Conference of Churches in the Pacific, called by the World Council of Churches in 1962. It is scheduled to open in January, 1966.
Reversing a previous stand, Vermont's House of Representatives voted, 118 to 86, to kill a bill that would have permitted sale of beer and wine on Sundays.
The Society of Catholic College Teachers of Sacred Doctrine called on the American hierarchy to support at the Second Vatican Council proposals that would "reform thoroughly" the church's Index of Forbidden Books.
Plans were disclosed in Rapid City, South Dakota, for the establishment of a two-year Christian community college sponsored by evangelicals. Tentative opening date is the fall of 1965.
Emmanuel Bible College, operated by the United Missionary Church, will open its new eleven-acre campus in Kitchener, Ontario, this fall.
The Back to the Bible broadcast will mark its twenty-fifth year on the air next month. A special silver anniversary program is scheduled for May 1.
East German churchmen were denied exit permits by Soviet Zone authorities to attend the enthronement in Hamburg of Pastor Hans Otto Woelber as Bishop of the Evangelical Lutheran Church of Hamburg.
Three young people in Minneapolis were given long sentences in the workhouse for harassing a noted church historian and his family. They said they had decided to "get" Dr. Timothy L. Smith because, they claimed, he had prayed during classes at the University of Minnesota. Smith said he merely asked students to join him in a brief moment of meditation, and later dropped the practice.
The American Institute of Holy Land Studies will inaugurate a master's degree program this summer. Students who complete the course will be awarded the M.A. in Palastinology.
Pastor Lewi Pethrus, leader of the Pentecostal movement in Sweden, came under fire from church leaders for suggesting formation of a "Christian political party."
A visit to the United States by Ecumenical Patriarch Athenagoras, originally scheduled for this fall, was postponed until next spring.
Mrs. Madalyn Murray, whose suits precipitated the Supreme Court ban on public school devotions, demanded this month that the Baltimore Board of Education eliminate the words "under God" from the Pledge of Allegiance when recited by school children.
Personalia
Recurring symptoms of Parkinson's disease will force the resignation of the Rt. Rev. Arthur Lichtenberger as presiding bishop of the Protestant Episcopal Church. A successor will be elected at the denomination's General Convention in October.
Dr. E. Theodore Bachmann elected executive secretary of the Lutheran Church in America's Board of Theological Education.
Dr. Charles S. Duthie appointed principal of New College (Congregational), London.
Dr. Frank Stagg elected to the chair of New Testament interpretation at Southern Baptist Theological Seminary, Louisville.
The Rev. Kenneth G. Prunty named national youth director for the Church of God (Anderson, Indiana).
The Rev. James L. Johnson named executive secretary of Evangelical Literature Overseas.
The Rev. Harald Soeby, a pastor of the Danish Lutheran Church, was suspended by the government for "intolerable conduct in preaching politics from the pulpit." Soeby reportedly had urged his congregation to join a march against NATO.
Dr. Jack S. Wilkes, a Methodist minister, resigned as mayor of Oklahoma City to become president of Centenary College. Wilkes has completed only one year of a four-year term in the mayoralty.
Dr. Harold W. Richardson named executive secretary of the American Baptist Board of Education and Publication.
They Say
"The Catholic Church's official policy regarding interconfessional encounters does not allow us to rid ourselves of the apprehension that for Rome the word 'ecumenicity' is just another expression for a reunion movement conducted by friendly means and which comes very close to a conversion campaign."—Lutheran Bishop Hermann Dietzfelbinger of Munich.
Have something to add about this? See something we missed? Share your feedback here.
Our digital archives are a work in progress. Let us know if corrections need to be made.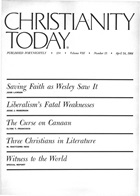 This article is from the April 24 1964 issue.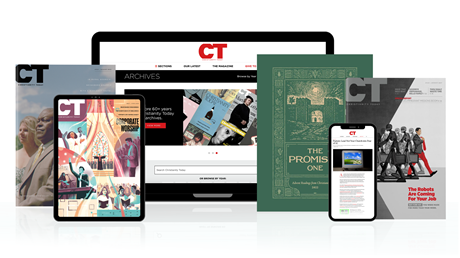 Annual & Monthly subscriptions available.
Print & Digital Issues of CT magazine
Complete access to every article on ChristianityToday.com
Unlimited access to 65+ years of CT's online archives
Member-only special issues
Subscribe
Church Damage in Alaska
Church Damage in Alaska