Only once have I seen an audience walk out on a dramatic performance. In the second act of Waiting for Godot, by Samuel Beckett (written 1952), there weren't enough people in Lydia Mendelssohn Theatre to choose sides for a ball game. The question weighing on my mind—"Am I witnessing trash or genius?"—kept me glued to my seat. Alternately sportive and serious, the play keeps faith with our twentieth century feeling of futility over the meaning of life. What do you see?
Your eyes fall upon a bare stage, bare except for a thin leafless tree. As the lights come up, two tramp figures appear—Vladimir and Estragon. They are here to wait for a Mr. Godot. Not being "eggheads," they spend their time devising ways to fill the passing moments with activity. One removes his shoes with laborious effort. Then the boots are carefully placed at the center of the stage and now strenuously put on again. The other actor removes his hat, examines it carefully, dusts it off, peers inside the hatband, and shakes it. Not finding anything, he replaces the hat on his head.
Desultory conversation goes on amid the action. But the two continually come back to their great aim in life: they're here to wait for Godot! One suggests this is unfair; they have rights. "Rights?" says the other; "we got rid of them." One gets an idea. "Suppose we repented?" But nothing affirmative comes of that suggestion. In fact, the line "There's nothing to be done," spoken four different times, concludes each thread of conversation. Says one to the other six times, "I'm going," and he doesn't move. Says the other five more times, "Let's go," but neither man moves off the stage. They are, after all, waiting for someone—Godot!
Suddenly a boy appears and walks over to them. Obviously he wants to say something. The men are hesitant about letting him speak. Finally he blurts out his message: "Mr. Godot can't come today, but surely tomorrow!" The two derelicts show great distress at the news. Their misery increases when the boy asks, "What shall I tell Mr. Godot?" After a bit of desultory talk, Vladimir instructs him, "Tell him you saw us."
The two men, remorseful, lament the fact they have no rope with which to hang themselves. The play ends with these lines:
Vladimir: "We'll hang ourselves tomorrow, unless Godot comes."
Estragon: "And if he comes?"
Vladimir: "We'll be saved. Well, shall we go?"
Estragon: "Yes, let's go."
And they do not move.
So it's over. There are few memorable lines, no climactic scenes, only faltering, fruitless, desultory waiting for a person who never comes.
THE MASKED FACE
What does one think about as the play transpires? The presentation reminds one of a modern painting. A theatergoer naturally searches for meaning in a performance. I will say that you get as much in seeing "Waiting for Godot" as you bring to it.
Write your own tragicomedy. Put all you want into it. Take away what you please. Make Godot anyone you choose. He can be a symbol for anything: Kismet, Fate, or what-have-you. It still means all things to all people; to some it is one of the most profound and amusing plays ever written. There is scarcely a metaphysical, political, or social question that can't be read into 'Waiting for Godot." As those two tramps stand there before us, shuffling and sighing and wondering where they are and why, we can easily experience a sense of bleakness. The whole thing is a mystery wrapped in an inexplicable enigma. You hear melancholy truths about the hopeless destiny of the human race. You see Mr. Beckett's acrid cartoon of the story of mankind.
It has its tantalizing promises that never come. The play is a veil rather than a revelation. It wears a mask rather than a face. But 'Waiting for Godot" cannot be laughed off. In some elusive fashion it is concerned with the suffering of mankind. But it plays a dirge; it tells us that salvation is not going to come.
Beckett tells us life is a large joke being played on all of us. Reward will arrive on a certain tomorrow which will always be tomorrow. Those who loiter by the withered tree are waiting for salvation, but it never comes. Except for an illusion of faith flickering around the edges of the drama, faith in God has vanished. It is as though Mr. Beckett sees little reason for clutching at that, and yet is unable to relinquish it entirely. The play gropes toward faith but never finds it. Beckett impresses us as being a cynical Saroyan. Whereas the amiable Armenian has genuine affection for people, the sardonic Samuel seems to despise them. His story offers no hope; its central figures want to hang themselves on a semblance of a tree. Is he laughing at us or is he pitying us?
A SPARK OF DIVINITY
What does Godot mean? "Ot" added to God could make the word mean small-sized God. Is this the meaning?—waiting for a small-sized God? Is the author making buffoons of us as we look for a small God when we ought to be looking for a huge God? You name the right interpretation. I played with various ones and finally came up with this. You can find many interpretations.
Samuel Beckett is telling us that man is waiting for a God who isn't there. Poor gullible man! Man waits for God to save him from his predicament but God won't do it because God isn't there. We don't even have the proof of Kilroy's footprints. We just wait for God. Having no assurance that he has been here, meeting only with a little boy who comes to tell us that he will be here tomorrow, are we then to base our hope on the message of the little boy? Is the little boy Jesus? Is the author saying that man is a gullible fool waiting for God? Is he telling us that man must sit and wait, rotting in his tracks? Man is just a tramp muttering a plethora of words, basking in indolence, waiting for a God who never will come.
Where have I heard Beckett's philosophy before?
As for man, his days are as grass: as a flower of the field, so he flourishes. For the wind passes over it and it is gone; and the place thereof shall know it no more (Ps. 103:15, 16).
Where have I read this?
All flesh is grass, and all the beauty of life is like the flower of the field. The grass withers, the flower fades.… Surely the people is grass (Isa. 40:6, 7).
And this?
For what is your life? It is even a vapor that appeareth for a little time and then vanisheth away (Jas. 4:14).
And where did I read these words?
Man that is born of woman is of few days and full of trouble. He comes forth like a flower and is cut down; he flees also as a shadow and continues not (Job 14:1, 2).
Or where does such pessimism as this come from?
There is one fate for both man and beast, the same fate for them; as the one dies so dies the other. Man has no advantage over the beast. For vanity, vanity, all is vanity. All go to one place. All are from the dust, and all return to the dust (Eccles. 3:19, 20).
Beckett is giving us nothing new. The Bible gave us these meaningless philosophies 2500 years ago. Beckett sings the praises of the folly of life and merely echoes the words of philosophers who have gone before him. Did he need to repeat this sort of nihilism? Yes. In a day when religion is popular, as we find it in 1960, and people accept whatever comes to them blindly, we need such plays to shake us out of our lethargies.
TIME OF FULFILLMENT
What shall we say? Are we convinced that "life is a tale told by an idiot full of sound and fury signifying nothing?"
Here the words of Isaiah. Isaiah, in a pessimistic mood, playing the Beckett role, says "Surely the people is grass." But this same Isaiah in high moments cries out again tidings that have gladdened the hearts of men for 2500 years:
Ho, every one that thirsteth, come to the waters, and he that hath no money; come ye, buy, and eat; yea, come, buy wine and milk without money and without price.
Incline your ear, and come unto me: hear, and your soul shall live; and I will make an everlasting covenant with you, even the sure mercies of David.
Seek ye the Lord while he may be found, call ye upon him while he is near:
Let the wicked forsake his way, and the unrighteous man his thoughts: and let him return unto the Lord, and he will have mercy upon him; and to our God, for he will abundantly pardon (Isa. 55:1, 3, 6, 7).
Now Isaiah tells us why it is difficult for mere man to understand the ways of God.
For my thoughts are not your thoughts, neither are your ways my ways, saith the Lord.
For as the heavens are higher than the earth, so are my ways higher than your ways, and my thoughts than your thoughts (Isa. 55:8, 9).
And to all who follow this way is the promise of God given:
For as the rain cometh down, and the snow from heaven, and returneth not thither, but watereth the earth, and maketh it bring forth and bud, that it may give seed to the sower, and bread to the eater:
So shall my word be that goeth forth out of my mouth: it shall not return unto me void, but it shall accomplish that which I please, and it shall prosper in the thing whereto I sent it.
For he shall go out with joy, and be led forth with peace: the mountains and the hills shall break forth before you into singing, and all the trees of the field clap their hands (Isa. 55:10–12).
Isaiah clarifies and augments our hope; he foretells the coming of the Christ:
For unto us a child is born, unto us a son is given; and the government shall be upon his shoulders and his name shall be called Wonderful Counsellor, the Mighty God, the everlasting Father, the Prince of Peace (Isa. 9:6).
And again,
Behold the Lord God will come with strong hand, and his arm shall rule for him; behold, his reward is with him, and his work before him. He shall feed his flock like a shepherd. He shall gather the lambs with his arm and carry them in his bosom, and shall gently lead those that are with young (Isa. 40:10, 11).
Beckett is right in giving us a picture of men waiting for God, because for 500 years after Isaiah men were still waiting for him to come. Finally, "in the fullness of time, Christ was born."
The trouble with Beckett's play is that it does not realize Christ was born. He is the God men "waited for." But men did not believe God would debase himself by appearing as a human so they labeled the story a Jesus-myth. Others believed the story but they manhandled this Jesus and made him fit their patterns of thinking. Still others divided him into sects and denominations until life went out of him.
Multitudes are still waiting for God. Their waiting is fruitless, for some of us know that that waiting period is ended. Godot appeared 20 centuries ago in the form of a child. Is it not written that
… there were in the same country shepherds abiding in the field, keeping watch over their flock by night. And, lo, the angel of the Lord came upon them, and the glory of the Lord shone round about them; and they were sore afraid. And the angel said unto them, Fear not, for behold, I bring you good tidings of great joy.… For unto you is born this day in the city of David a Saviour which is Christ the Lord (Luke 2:8–10).
In our day, many will sit idly by, foolishly waiting for Godot to come. We shall not be waiting. The Book hath revealed that he has come. Let us accept him today.
God's Unlimited Love
The universe trembled
As a celestial sigh of passion
Echoed from the bosom of its Creator.
Then the almighty hand of God reached down
And with finger dipped in the ink
Of the blood of the sacrificed One,
Wrote out in bold, clear script
The plan of the salvation of man.
Man, bruised, sore and miserable,
Was lifted from his squalor
And self-inflicted death
Into the glorious hallway of heaven.
Though unworthy and not deserving
An ounce of compassion from God,
Man was cleansed in a shower-bath of love
And invited into the chambers of eternal life.
MERLE CROUSE
Jacob J. Vellenga served on the National Board of Administration of the United Presbyterian Church from 1948–54. Since 1958 he has served the United Presbyterian Church in the U.S.A. as Associate Executive. He holds the A.B. degree from Monmouth College, the B.D. from Pittsburgh-Xenia Seminary, Th.D. from Southern Baptist Theological Seminary, and D.D. from Monmouth College, Illinois.
Have something to add about this? See something we missed? Share your feedback here.
Our digital archives are a work in progress. Let us know if corrections need to be made.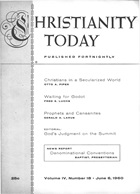 This article is from the June 6 1960 issue.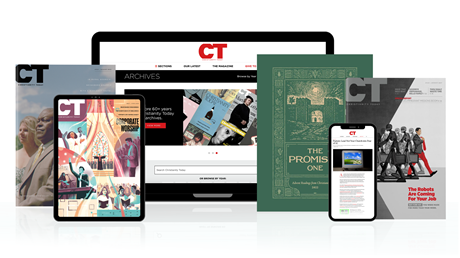 Annual & Monthly subscriptions available.
Print & Digital Issues of CT magazine
Complete access to every article on ChristianityToday.com
Unlimited access to 65+ years of CT's online archives
Member-only special issues
Subscribe
Waiting for Godot
Waiting for Godot