Christianity in the World Today
When President Eisenhower takes his second term oath of office at a private ceremony in the White House at noon on January 20, he will become the first President of the United States ever to be sworn in on a Sunday.
The decision against waiting until Monday, prompted by the tense international situation, will prevent the nation from being without a President for 24 hours. (Religious leaders, generally, are in complete accord with the decision.)
President Eisenhower will repeat the oath at noon on Monday, January 21, in a public ceremony on the steps of the Capitol. The Monday ceremony will be broadcast and televised throughout the world.
20th Amendment
Under the 20th Amendment to the Constitution, adopted in 1933, the term of the President ends at noon on January 20. If a President has failed to qualify, the Vice President-elect shall serve as President until he does. Thus, President Eisenhower will have to step down as President at noon on Sunday unless he takes the oath for a second term. Presidential advisers warned against a 24-hour hiatus of executive power.
Vice President Richard M. Nixon also will take his second term oath at the private White House ceremony and will repeat it at the public ceremony on Monday.
January 20 will be the fourth time in U. S. history that an inauguration day has fallen on Sunday. On Saturday night, March 3, 1877, President-elect Rutherford B. Hayes took the oath privately at the White House. He repeated the oath publicly the following Monday. In 1849, Zachary Taylor refused to take the oath on Sunday and was not sworn in until Monday noon. In 1821, President James Monroe deferred taking his second term oath until Monday.
Plans for Church
President Eisenhower plans to attend the 9:30 a.m. service at National Presbyterian Church on Sunday, January 20. If he attended the 11 a.m. service, he would be in church at the time his term expires.
Four clergymen, including the head of the Greek Orthodox Church in North America, will participate in the public inauguration. It will be the first time that a representative of Eastern Orthodoxy has taken part.
Dr. Edward L. R. Elson, pastor of National Presbyterian Church, where President Eisenhower is a member, will give the invocation. (Dr. Elson is a contributing editor of CHRISTIANITY TODAY.)
Archbishop Michael, of the Greek Orthodox Archdioceses of North and South America, will deliver the first prayer, immediately before the Vice President takes his oath of office.
Dr. Louis Finkelstein, chancellor of the Jewish Theological Seminary of America, New York, will offer the second prayer immediately preceding the administration of the oath of office to President Eisenhower.
Edward Cardinal Mooney, Archbishop of Detroit, will give the benediction.
Traditionally, three clergymen participate in inaugurations—one each from the Protestant, Roman Catholic and Jewish faiths.
Private Communion
On Thursday, January 3, a private Communion Service was held in National Presbyterian Church at 8 a.m. for President Eisenhower, his Cabinet and members of Congress. Dr. Elson conducted the service.
Flood Of Indecency
The so-called small protests of concerned people throughout the nation have converged on official Washington and touched off the following major developments in the "flood of obscenity" flowing through U. S. mails:
★ Staff members of the House Post Office Committee are drafting a bill that will make habitual violators liable to as much as 20 years in prison.
★ Rep. John Dowdy (D-Texas), chairman of House Subcommittee on postal operations, has announced plans to close a legal loophole through which "peddlers of lust" flaunt the law.
★ Mr. Dowdy also plans to introduce a bill providing that publishers of indecent books and magazines may be tried at any place such mail is received as well as where it is deposited. (Kansas and New York differ greatly on views of pornography.)
★ The United States Supreme Court has taken under advisement an appeal by a convicted publisher of obscene books which, if granted, can upset state and Federal statutes and necessitate complete revisions of such laws.
Concerning habitual violators, Mr. Dowdy had this to say:
"We see the same fellows over and over again. They publish first under this name and then under another. As soon as postal authorities catch on to them in one place, they move somewhere else. They get fined, but it doesn't stop them because they are after big, quick profits. If they do go to jail for six months, they only use the time to think up new ideas."
The only answer, he said is "a good stiff jail sentence."
In the matter of the legal loophole he plans to close, the Texas congressman said the Dowdy-Rees Bill gives the Postmaster General authority to impound mail of publishers violating postal regulations, but allows violators to flaunt the law because of a Senate amendment.
Designed to protect legitimate publishers, the amendment provides that the Dowdy-Rees act "shall not apply to mail addressed to publishers or distributors of publications which have entry as second class matter under the Act of March3, 1879, or to publishers or distributors of copyrighted books and other publications to whom a certificate of registration of copyright has been issued under the copyright laws."
Publishers of racy "men's magazines," he said, are rushing to Washington to register the contents of their magazines for copyright and are going through the form of applying for a second class mail permit.
The Post Office Department is rejecting the applications for second class mail privileges, but publishers are entitled to a 30-day period in which to appeal. Not until that period is over can the department start legal action to impound the publisher's mail. The copyright office of the Library of Congress does not have authority to deny a registration of copyright merely because it questions the contents of a publication.
Regarding the site for the trying of cases, Mr. Dowdy said most of the objectionable magazines and books are being mailed from two cities, New York and Los Angeles.A staff spokesman for the House Subcommittee said:
"Pornography may be viewed as one thing in Hollywood or on Broadway, and as quite another in Emporia, Kansas, or Athens, Texas. After all, it is in the latter places that the damage is done in terms of corruption of morals and juvenile delinquency. Judges and juries who see at first hand the results of such immoral reading matter may take a more serious view of the offense."
In the Supreme Court appeal, Samuel Roth, a New York publisher convicted by a Federal jury and sentenced to five years in jail with fine of $5,000, has asked that the conviction be set aside on grounds of no evidence to prove his publications actually injured anyone.
The appeal has reached the Supreme Court at the same time that the justices appear to be moving toward a sweeping ruling that will decide the constitutionality of state statutes aimed at preventing the sale of indecent literature.
The justices have delayed until mid-January their decision in the case of Butler vs. Michigan, in which a Detroit bookseller has challenged a Michigan law aimed at preventing sale of books that may be harmful to the morals of minors. This case was argued before the high bench on October 16, 1956. Other cases heard by the court during October have been decided.
(Usually when a case is by-passed in this manner, it means either that the justices are divided and dissenting opinions are being written by some members of the court, or that the court considers its opinion so important and fundamental that extra time is being spent on preparation of the written opinion.)
Have something to add about this? See something we missed? Share your feedback here.
Our digital archives are a work in progress. Let us know if corrections need to be made.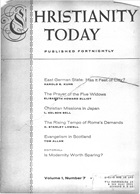 This article is from the January 7 1957 issue.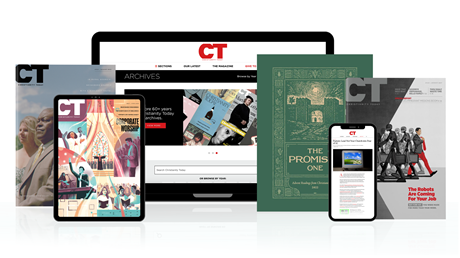 Annual & Monthly subscriptions available.
Print & Digital Issues of CT magazine
Complete access to every article on ChristianityToday.com
Unlimited access to 65+ years of CT's online archives
Member-only special issues
Subscribe
World Crisis Prompts Inauguration Decision
World Crisis Prompts Inauguration Decision