One of the tragedies of modern theology is that the concept of substitution has become suspect and has been so largely abandoned. This has been primarily due to the revolt against biblical and confessional teaching which has been increasingly predominant since the later seventeenth century and especially in more recent times. On the other hand, unfortunate and inadequate presentations of the doctrine have given an appearance of justification to the attack. It may well be asked whether many of those who verbally make much of substitution have really considered its true content, meaning and scope.
A Biblical Motif
There can be no doubt, of course, that substitution is taught in the Bible itself. Prefigured in the vicarious suffering of the servant in Isaiah 53, it is demanded by a strict reading of the New Testament prepositions. In addition, we think of the great passage in Romans 5 where Jesus Christ is portrayed as the representative and head of a new race. Reference may also be made to the "reconciliation" of 2 Corinthians 5, which carries the distinct thought of an exchange, especially in the light of verses 14 and 21. Indeed, it can be asserted with confidence that the Gospel loses its intelligibility and power if we do not accept the truth that Jesus Christ took our place, that in that place he did something for our salvation which we could not do for ourselves, and that the only place which now remains for us is in him.
Life And Death In View
The content of substitution, however, must not be restricted narrowly to the death of Jesus Christ; for the whole purpose of his coming into the world was to effect a substitution. Substitution begins in fact with the incarnation of the divine son—unless we are not to trace it back to the will and purpose of God in eternity. When the Son of God became man, he became man in our place; the true man to whom the whole of the Old Testament had pointed and upon whom all the dealings of God with man were now concentrated. As this man he lived the brief but full life of obedient humility which Adam and all others rejected in their sinful arrogance. He did not need to do this for himself, nor was there any point merely in giving an example which even if we had the will we do not have the capacity to follow. He was the obedient and suffering servant in our stead, living this life as the One for the many. It was a life which necessarily led him to the cross as the fulfillment of identification with sinners—indeed of his replacement of sinners. The way was direct from the baptism of Jordan to the baptism of Golgotha.
But the crucifixion especially cannot be construed just as a death for himself. He was not a sinner that he deserved to die. He was not defeated. He was not concerned only to offer a gruesome demonstration or rather intimidating example. It was a death died in our place and on our behalf. But although in a sense the substitution culminated in the death of Jesus Christ, it did not end there. Otherwise it would merely have been a substitution for death and not for life, carrying a message of despair and judgment and not of hope and salvation. The one who died for the many was raised also for the many and ascended into heaven. This, too, must be regarded as part of his substitution. For in Jesus Christ risen there was introduced the new man who has his place with God and is heir to his eternal kingdom. As the one who has taken our place, Jesus Christ not only tasted death but entered into life, and where he now is there is a prepared place for those who are content to be found in him.
Meaning Of Substitution
But what is the meaning of substitution? Obviously, we must begin by considering its literal sense. It involves an exchange. One person (or sometimes "thing") takes the place of, or replaces, another. In the case of a person, the one who replaces does something which the other perhaps ought to do but for some reason cannot. Traditionally, this has been seen almost exclusively in a penal context. Jesus Christ has taken the place on the cross which ought to have been occupied by the sinner. And this is a true and central part of the substitutionary work of the incarnate son, although, as we have seen, we must not isolate it from the complementary truths that he lived the life of righteousness which the sinner could not or would not live, and that he was raised to the new life to which the sinner as such could not be raised. The substitution of Jesus Christ did indeed involve his offering "a full, perfect, and sufficient sacrifice, oblation, and satisfaction for the sins of the whole world."
Scope Of Substitution
It is not always asked, however, what is really involved in this substitution. It is one thing to conclude, as from one angle we may, that the taking up of the penalty of sin by Christ means its removal from us. But it has also to be realized that there can be no question here of "cheap grace," since in its fuller and deeper sense a replacement means a displacement. The whole action is now undertaken by the substitute, and the one whom he replaces does not come into consideration at all except in the person of the one who acts in his name and stead. In relation to the substitution of Jesus Christ, this means that God's dealings are now wholly and exclusively with the One who acts for the many. It is by him that the life of righteousness is lived, on him that the weight of judgment falls, and in him that the new man is introduced. Sinners themselves are, as it were, crowded out. Their place has been taken. They can have a part in the saving action of God only as they attach themselves to the one, identifying themselves in repentance, obedience and faith with his life and death and resurrection and entering into himself and his work in the place which he occupies for us. In this deep and serious sense substitution has no relationship whatever to the caricature of an artistic and rather dubious transaction.
On the contrary, it belongs to the very core of the Gospel in incarnation, reconciliation and redemption. And at the same time it confronts sinners with the whole comfort and challenge of the Gospel: the comfort, because we can be assured that if Christ has taken our place what is done in that place is well done; and the challenge, because unless and until we are in Christ we are "displaced persons" self-excluded from the gracious work of God.
Once we grasp the meaning of substitution, it is only a step to a realization of its scope. Nothing can be more disastrous than to reduce the vast sweep of the replacement which took place on Good Friday and Easter Day in his death and resurrection for sinners. Yet even in face of this great act of substitution the reaction of the sinner is to cling to a place for himself, or at any rate, to keep as much of a place for himself as possible. The Christian, for example, may acknowledge gratefully that Christ bore sin's penalty, but as far as reason, personality, conduct, gifts, nature or calling are concerned, there is no real difference. He is still, as he thinks, in his place. He lives, speaks, acts and thinks as though Jesus Christ were not his substitute. Business is as usual.
But if Jesus Christ really lived, died and rose again, the one for the many, the old life of the many is rejected, judged, executed and removed in the one, being replaced by a new life. The natural and sinful reason is dead, and they now have the mind of the Lord their wisdom. The old nature of sin is dead, and they are raised up a new man with a new outlook, interests and capacities. Their old personality, gifts and conduct are nailed to the cross, and all things are made new.
This is not just an ideal. It is not just a pious hope. It is not just a theme of exhortation. It is the new fact, the true reality, of the situation; the divinely created fact and therefore the only one which really counts; the fact which we can know in this world only by faith; but the one real fact all the same, because it was accomplished by Jesus Christ and by him on our behalf and in our stead. The calling of Christians is simply to recognize, believe and live out this fact as that which in spite of all appearances to the contrary is their true and present reality in the one who took their place.
The Wider Sweep
There is also, of course, a wider sweep for the nature and life and activity and fellowship of the church, of which we cannot now speak in particular. For example, it gives the church its message, as the proclamation of accomplished new facts rather than religious theory or subjective experience. It gives the church its organization, as the body of those who are transformed according to the pattern of the servant. It gives the church its methods and resources, not as a worldly enterprise with human skills and personalities and plans but as a body of new men equipped with the gifts and graces of the Spirit. It gives the church its unity, not just a spiritual unity and certainly not a mere ideal unity or least of all a man-made and artificial unity, but the unity of those who are the one body of the one who took their place in death and resurrection, the unity of substitution which they are to accept and express as the real fact of its existence.
Seriously to reckon with substitution is indeed a daunting but a necessary and salutary business. We have only to survey Christians and Christian churches to see how little it is really believed and worked out even by those who protest it most loudly, let alone by those who have not even begun to try to understand it. In this deep and comprehensive sense, it demands the true repentance which is self-denial. It can be satisfied with no less than that we really are righteous because God counts us righteous in Jesus Christ. It really believes that the new life is the true life. It recognizes that every sin, every act of the old man, every acquiescence in being the old man, is a contradiction of its true essence. It has to take seriously that both individually and in company life has to be lived as that of the many who are crucified with Christ, so that the life which they now live they live by the faith of the Son of God who loved them and gave himself for them.
To what extent do we really believe and accept substitution? Do we really believe and accept it in any serious sense at all? The answer to these questions is not given in verbal protestations. It is given by the discipleship and renewal in which we genuinely acknowledge that there is no more place for us, that Jesus Christ has taken our place, and that our only place—but a true and eternal place—is now in him.
Preacher In Red
ON THE SAME TEAM
I was absent from my pastorate in Iowa when I received a long distance phone call from the funeral director that a lady in the community had died. Would I return in time to conduct the services? I agreed that I would.
Everything conspired against me at the last moment. I had a blowout. The spare I put on to replace it went flat on a nearly deserted road I had taken to save time. Finally the machine quit altogether. A farmer, whose wife was in town with their car, worked desperately to repair mine. At the very moment the service was to begin I was hurrying up the church steps past a harried undertaker. I went directly to the pulpit and had no opportunity to speak to anyone.
Several times during the brief sermon, I referred to the lady who had departed. Each time I mentioned her, I noticed a remarkable restlessness in the audience, accompanied by a good deal of whispering. After I had spoken several minutes, the mortician stepped quietly up behind me and whispered in my ear.
"Begging your pardon," he spoke almost breathlessly, "But I think there is some mistake. Her husband is the one who died."
That was the nearest I ever came to having a double funeral.—The Rev. ROBERT W. SHIELDS, 222 E. Delaware Place, Chicago, Illinois.
For each report by a minister of the Gospel of an embarrassing moment in his life, CHRISTIANITY TODAY will pay $5 (upon publication). To be acceptable, anecdotes must narrate factually a personal experience, and must be previously unpublished. Contributions should not exceed 250 words, should be typed double-spaced, and bear the writer's name and address. Upon acceptance, such contributions become the property of CHRISTIANITY TODAY. Address letters to: Preacher in the Red, CHRISTIANITY TODAY, Suite 1014 Washington Building, Washington, D.C.
The Rev. G. W. Bromiley, rector of St. Thomas' English Episcopal Church in Edinburgh, Scotland, holds the Ph.D. and D.Litt. degrees from University of Edinburgh. From 1946 to 1951 he was lecturer and vice-principal at Tyndale Hall, Bristol.
Have something to add about this? See something we missed? Share your feedback here.
Our digital archives are a work in progress. Let us know if corrections need to be made.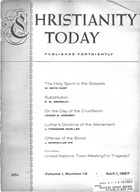 This article is from the April 1 1957 issue.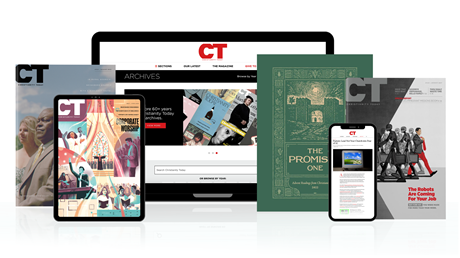 Subscribe to Christianity Today and get access to this article plus 65+ years of archives.
Home delivery of CT magazine
Complete access to articles on ChristianityToday.com
Over 120 years of magazine archives plus full access to all of CT's online archives
Subscribe Now
Substitution
Substitution