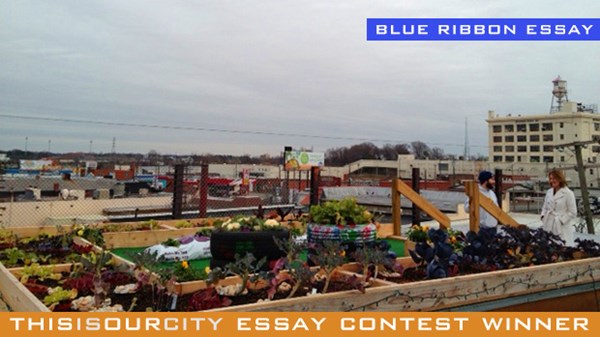 Meeting Refugees on the Roofs of Richmond
How a new housing ministry is welcoming the newly arrived.
1.7.13
Editor's Note: We continue to debut our This Is Our City essay winners, today's essay receiving a 'blue ribbon' badge of honor that deems it among the top 3 of the dozens of stories we received. We've heard about one ministry of sorts to refugees arriving in Richmond, Virginia; now we hear about another that is just getting off the ground in Fritz Kling's hometown.
In the eyes of most Americans, refugees are invisible. They arrive late at night in our airports, are shuttled off to apartment complexes, and live in different parts of our cities than the sections where we longtime residents have established roots.
They are invisible, unknown, and displaced. Many of them have sacrificed promising career paths for a chance to come to America. Onetime lawyers and doctors find themselves sweeping floors or serving up burgers here in the United States.
Nothing is familiar here—not the language, family customs, community structures, or climate. For a few months, they receive a small stipend from federal and state resettlement agencies. They spend most of that time opening checking accounts, registering their children for school, buying cell phones and apartment supplies, and taking English courses. Could anything be more defeating than waiting in a DMV line to obtain a driver's license without understanding the language? Not much is given to them, and no one expects much from them.
Refugees come to Richmond, Virginia in flight from persecution or conflict in their home countries, seeking freedoms they have never experienced, and pursuing economic opportunity while back home there was none. During this year, about 350 refugees are expected to arrive in Richmond, and some fellow Christians think it's our responsibility to respond to their presence.
The Bible consistently features refugees as favored players in God's plan. If God worked through migrants such as Abraham, Moses, Joseph, Ruth, and even Joseph and Mary, we surely need to take today's migrants seriously.
Jay Hartman and Patrick Braford are doing just that. They're members of Tabernacle Baptist Church, once the grandest of downtown Baptist churches and now a largely Burmese congregation. Patrick says, "The faith I've seen in the Bhutanese and Burmese refugees is so strong . . . you end up gaining more from being in their presence than anything you could give them." He used to work for Habitat for Humanity, and immediately recognized the important role housing plays in refugees' lives.
Hartman owns a small business comprised of various real estate interests. He employs about seven people, including several Burmese men from different ethnic groups with long histories of conflict. An ordained pastor, he applies both his Christian worldview and his entrepreneurial bent in his company, which he views as a workplace ministry. He has hopelessly blurred the lines between his business life, his personal life, his faith, and the lives of his friends, the refugees.
These two men are spearheading ReEstablish Richmond, a housing development and integration group focused on helping Richmond's influx of refugees. As men with expertise in housing, they wanted to ensure that immigrants had safe and affordable shelter during their early months in our city. They identified a former camera store, a cavernous three-story building on Richmond's main Broad Street artery. They plan to renovate it and partition off as many as ten apartments for refugees to inhabit during their first two months in the city. Braford says that, if they can house ten refugee families at a time, they could possibly house all of the refugees coming through Richmond in 2013.
Braford and Hartman plan to build out the rest of the facility to provide classrooms for English-language courses, and life skills and vocational training. The ground floor will be rented out to a retail store, taking advantage of the location in a centralized shopping district. The ground floor's earned revenue will support ReEstablish Richmond's mission of serving refugees in our city.
But ReEstablish Richmond's signature feature will be its roof. Braford is the mastermind of the building's rooftop garden, what he calls "a bridge between the refugees, our volunteers, and the neighboring communities." Refugees will care for the gardens, Braford says, providing "a way for them to be productive, even when they're feeling so overwhelmed." Many of the refugees come from agrarian backgrounds, and gardening will become a defining part of their early lives in Richmond.
Working with a volunteer master gardener, Braford has carefully mapped out every plot on the 1,000-square-foot tar roof. There will be vegetables growing out of tires, on raised beds, and even growing directly in bags of soil. A demonstration garden will show urban dwellers various ways to grow produce in limited space. Right now, during the winter, the rooftop is brimming with broccoli, kale, turnips, Swiss shard, and beets.
ReEstablish Richmond's rooftop garden will also build a bridge between the Richmond community and its new refugee neighbors. Braford and his volunteers hope that ReEstablish Richmond's locally grown produce will become standard fare in Richmond's hundreds of local restaurants. Local schoolchildren will be invited to regularly visit the rooftop. A few churches have already volunteered to partner with refugees to tend the garden.
ReEstablish Richmond is partly about gardening, and it's partly about housing. It's partly a business, partly a ministry. It's thoroughly Christian in its leadership and ethos, but determined to be a resource and blessing to refugees of all faiths. Most of all, ReEstablish Richmond aims to be a welcome center for newcomers from other countries.
Refugees to our country come for different reasons, but they frequently have a deep need for hospitality. Many come from countries where community is stressed over individualism, fitting in rather than standing out, and sharing rather than saving. They want a place where they can be accepted and welcomed as Americans-to-be—even as they retain the cultural values and practices of their homeland.
I recently attended a naturalization ceremony in Richmond's downtown federal courthouse. On that July day in Richmond, I saw new Americans sworn in from Germany, Egypt, India, Russia, Bangladesh, Lebanon, Guyana, Guatemala, Cuba, South Korea, Burundi, Uzbekistan, Philippines, Canada, Vietnam, Cameroon, and 20 other countries. At the end of the ceremony, the judge, a first-generation American of Czech descent, movingly told the new citizens, "This is now your country as much as it is mine."
Where else in the world, I thought to myself, would a civic leader with society's highest title, authority, and prestige, name himself as an equal to new immigrants, many of lowly standing? If that story sounds familiar, it's because it is a constant and recurring theme in the Bible. Jesus Christ left his home, surrendered his rights, and came alongside lowly humans like me. And, in the same way, he called and still calls us to associate and throw in our lots with refugees—not just in theory or principle but also, primarily, in practice. He calls us to get our hands dirty with refugees. How better to do that than through providing homes and growing gardens?
Fritz Kling is a foundation executive, consultant, and author of The Meeting of the Waters: 7 Global Currents That Will Propel the Future Church (Cook). He invites other Richmonders to join him at the upcoming CommonGoodRVA conference, January 18-19.
MORE FROM CHRISTIANITY TODAY