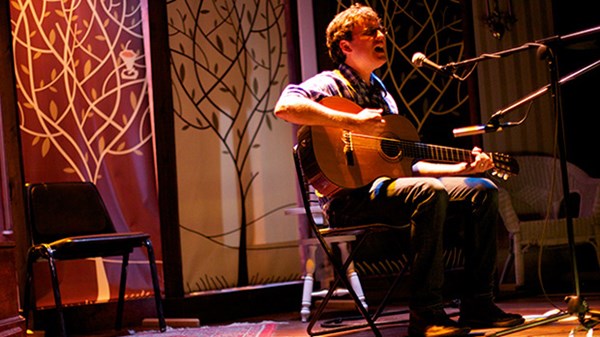 Not Your Typical Indie Music Scene: The Listening Room Speaks
What happens when a Richmond-based concert venue asks audiences to be completely silent.
7.3.12
The history of Richmond, Virginia, my beloved hometown, is not one of collaboration. If anything, our dark past has quieted us. We live honest lives of looking forward, never looking back. We have been branded with a forced forgetfulness of our history as the capital of the Confederacy, fearing our pride will disrespect. So over the past century, the suburbs have crawled and crawled, scratching the long fingers of subdivisions over the hills, across the borders of the town. And the city ever so slowly passed away, as the ominous cloud of fear and regret swept over the blocks. Buildings vacated, trash uncollected, industry dissolved.
Only over the past decade or so has life returned to the city. Revitalization efforts bring cross-sections of the populace together for a common hope. A turn is happening in my city, one where not only college students inhabit downtown, eat downtown, listen downtown. The divisions of the city are beginning to blur, lost in commonality and community; supported and purported by events and people who know no bounds.
One event in particular, the Listening Room, draws all corners of the city together. The show takes place every third Tuesday of the month, and much like any other show, there are two to three performances, breaks in between, and a large mingling crowd.
But this show has one important rule: There's no talking during performances. Before the performance, in between, and after is fine, but when the music is playing, there is silence, and there is respect.
Started in 2009 by a group named The Foundry—a team of musicians, record-label owners, and designers—The Listening Room brings people into appreciation of the independent music scene. Some of the group's members are involved in Richmond area churches and outreaches, some are not. Some play music, some are just listeners. Among them are Jonathan Vassar and his songbird wife, Antonia, local folk musicians with a faithful following. There is Chris Payne, web designer, record-label owner, and occasional keyboardist at Hope Church. There is Rob Jefferson, the jack-of-all-trades photographer and former short-term missionary. There is Christina Gleixner, the quixotic siren singer known for her sweet and humble spirit. And in this mix of backgrounds and experiences and talent, the team is unified in the vision of forging a prosperous local music community.
In three years The Listening Room has grown from an initial attendance of 85 in the basement of a downtown church, to a regular attendance hovering around 125 (and up to 150) in a nonprofit theater named The Firehouse, directly facing Broad Street. The music is typically of the folk and rock variety yet also wanders into jazz, salsa, and an offbeat, imaginative mix. Yet the genre comes second to connection. An artist must be able to connect with their silent audience, regardless of their previous musical affinities, because this audience is present.
Silence, of course, means that the audience is hushed, but it is still more. Unlike the background music wailing at a bar on Friday night, where the band is nothing more than a stage to young peoples' drunken fraternization, silence means listening. I believe it was the first grade when my elementary teacher extolled the principles of active listening. "Really listening," she said, "is not just sitting silently." And only now have I learned it is a process of intake, digestion, and, occasionally, explication.
As listeners, you must uphold your charge with the utmost seriousness. And listening can be exhausting. For the caliber of performers that play, your heart is placed on the whims of the artist. We swell in their joys, we cry in their sorrows. For the few minutes that each artist plays, we parallel their songs. We are a diverse audience, coming from the Northside, Southside, suburbs, and city alike; representing generations and upbringings disparate. Yet together we are a whole, attuning our very selves to roll with the undulations of their music.
The musicians, though, hold the most difficult task. In a world where independent artists grasp at the elusive attention of apathetic bar folk screaming "Free Bird!"' yet again, they are instead met with silence. This crowd's very admiration and reverence weigh in the balance of the performance. The artist has much to lose. When respect actually can be won, where their message can be heard, when their style can pervade, the artist stands vulnerable before the crowd. Usually with sweat on their brow, and a guitar slung across their shoulder, they stand making quaking jokes, fully understanding the severity of listening, even if they are before the most gracious of an audience.
The audience can hear inauthenticity better than they can a misplayed chord. Performers do not just muster their strength; they muster their humility. For without pretense, show, or guises, they have to be fully human. And the audience reciprocates, providing a happily supportive and safe fan base: individuals eager to hear and accept this artist as yet-another great.
In the end, The Listening Room is not just a musical venue. It is a concept that brings the vitality of music back to the musicians and the audience. It is a gathering that has breached gaps unprecedented in Richmond. It represents something far greater than the sum of its parts. It reminds musicians and listeners alike that music does indeed have the power to weave lines of connection between hearts, span audience divisions, and foster a common culture where it did not exist.
And this is the heart of our Christian call: to create life where it was not before, community where it did not yet exist, art that belies a love and respect for what is good and true. To take an empty room and fill it with a joyful sound, this is art that matters- art that changes people, because it connects people.
So as you enter the Firehouse Theater on yet another Tuesday evening, feel the lighting, always low and warm. And don't forget to eat a pastry. This is where souls slow down, dragged backwards in the irrelevance of worry or apprehension. You drift into the larger whole, a congregated body come to respect and support artists. You become an integral part in this momentous concept.
The Listening Room will go on, spurred only by donations and hope, as long as there are willing artists and quiet attendees. And not just for this city of fractured history, but for all people to remember the function and power of art, this type of gathering is absolutely necessary.
Rebecca Parker Payne is a Richmond native, freelance writer, and newlywed. She attends church here, and tweets here. If you are ever in the area, we welcome anyone and everyone to join us on the third Tuesday of every month for The Listening Room. This article was adapted from Rebecca's essay at Curator.
MORE FROM CHRISTIANITY TODAY