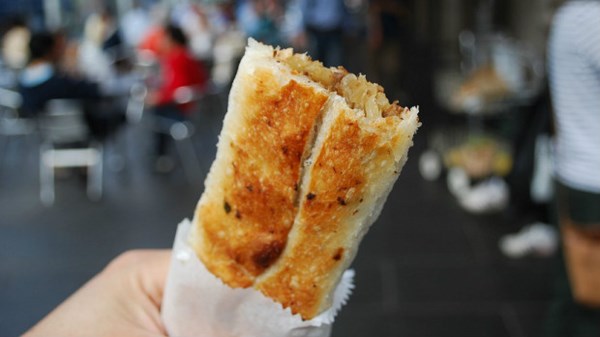 Has Foodie Culture Forgotten the Poor?
In my hometown of Richmond, I long for a truly great food scene that blesses the privileged and under-privileged alike.
7.29.13
I recently attended a Public Square event hosted by the Richmond Times-Dispatch. We discussed recent survey results about how "it" cities like Richmond can attract and keep millennial professionals, who represent the future of the workforce and who are often less expensive to employ than older adults. The survey found that, more than any other factor, a job is the most compelling reason for recent college graduates to move to a city. And young people (digital natives all, and reared on Apple products as they are) prize jobs in workplaces imbued with a creative spirit.
Several members of City Church, where I pastor, helped conduct and analyze the survey data. I was impressed by their work and their recommendations, and by the crowd's interest. Since that night, I've been thinking about the findings, especially about restaurants. The survey found that a thriving food scene—measured by many eclectic food choices at a variety of price points, ideally located in walkable neighborhoods—was a key factor in drawing millennials to a city.
"Richmond, where every week is Restaurant Week." So quipped Michael Philips, a Times-Dispatch reporter, delivering what may have been the soundbite (pun intended) of the night. Philips was noting how restaurants in Richmond and other cities develop prix fixe menus to showcase local cuisine while also donating a portion of each bill to nonprofits combating hunger. Philips and others touted Richmond's food scene for offering a diversity of food, often served in fun and compelling venues. Our food scene, the team insisted, should be celebrated, expanded, and leveraged to attract more young professionals to Richmond.
The Public Square was reporting results from a survey. They were sharing "what is" rather than "what ought to be." And I appreciate a dynamic food scene as much as the next guy. I love to eat. I look forward to trying new restaurants. I spend hours each summer in my own "urban garden." I even pickle. But I'm left feeling that building a city's identity around a dynamic food scene—which, let's face it, tends to cater to largely white, middle- to upper-class professionals—is an undernourished vision of what makes a city truly great.
Foodie culture—particularly with a local and healthy dimension—is now ubiquitous in every major city. Farmers markets, local-sourced menus, and farm-to-table operations have proliferated. However, many of these increased food options are limited to the well-resourced. 'Foodie culture' has become one more way to cultivate a lifestyle-based identity. One wonders, "If I cook local-grazed free-range pork without posting it on Instagram, did I really eat it?"
As I listened to the findings about young professionals' desire for great food, I recalled the e-mails I've been getting the past six weeks about the shuttering of Freedom House. The organization, which works to end hunger and homelessness in Richmond, operated the Conrad Center, until the end of April. The Conrad Center, located far away from Richmond's buzzing foodie scene, served daily meals to the food insecure. Since its inception seven years ago, City Church had prepared and served a monthly Sunday lunch at the Conrad Center.
It was a jarring juxtaposition, to hear our food scene feted while the plight of the city's hungry and under-resourced is worsening. If Richmond wants to foster a "community for the common good"—a phrase used by thye Public Square presenters—all of the region's citizens must benefit. Fostering gourmet farm-to-table experiences for those with disposable income has its place. But so does providing food for the city's hungry. What if Richmond (led by its millennials) weren't only known as a great food scene because of trendy restaurants, but because all of its residents could enjoy healthy and satisfying food?
A Truly Great Food Scene
Food matters. It really does. We know that community coalesces around shared meals, broken bread, and poured wine. Jesus taught and embodied as much. We who follow Christ would do well to consider his description of a different kind of "food scene":
"When you give a dinner or a banquet, do not invite your friends or your brothers or your relatives or rich neighbors, lest they also invite you in return and you be repaid. But when you give a feast, invite the poor, the crippled, the lame, the blind, and you will be blessed" (Luke 14).
Not just what we eat, but who we eat with, matters to God.
Richmond could become a great food scene for all by continuing to serve regular, daily meals at the Conrad Center (or another location like the Grace Street Salvation Army), lobbying for every citizen's access to affordable neighborhood grocery stores (not just premium chains like Trader Joe's), and supporting preventative public health through education about healthy eating and living.
Other cities already reflect a truly great food scene. In Nashville, medical students from Vanderbilt University pioneered the Mobile Market, a healthy-grocery truck that makes weekly rounds to food deserts. In Detroit's Brightmoor neighborhood, master gardeners have translated built sustainable community gardens, where they plant and harvest side-by-side with low-income residents. They are pursuing a great food scene with their neighbors. Millennials who prize both creativity and food can lead other innovative ways to foster a truly great food scene that brings a truly common good for the privileged and underprivileged alike. We could even take Jesus literally, hosting dinner parties with people unlike us: the poor, the crippled, and the lame.
Christians, whose Scriptures are replete with food-based metaphors, have every reason to pursue a great food scene now, as a prolepsis of the coming kingdom. But these meetings at the table must be more than self-congratulatory celebrations of our tastefulness. Rather, they must be informed by our future—by the great food scene we are destined for. Anglican theologian and cook Robert Capon describes it well:
The longest Session of all is no discontinuation of these sessions here, but a lifting of them all by priestly love. It is a place for men, not ghosts—for the risen gorgeousness of the New Earth and for the glorious earthiness of the True Jerusalem. Eat well then. Between our love and his Priesthood, he makes all things new. Our Last Home will be home indeed.
Amen.
Erik Bonkovsky is pastor of City Church of Richmond.
MORE FROM CHRISTIANITY TODAY