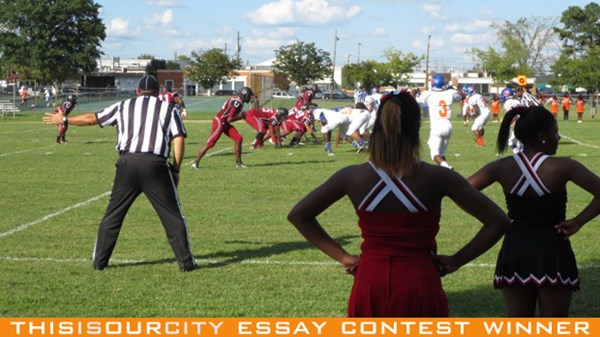 Friday Night Football for the Glory of God
How a local team's success has altered Richmond's future.
9.30.13
A hardboiled businessman-turned-coach, an ex-jock philanthropist, and a ragtag football team. It sounds more like a Hollywood screenplay than a true story. But actually, it's a group of local community leaders, ages 16 to 55, working to resurrect the football program at Thomas Jefferson High School (TJ), a public school in Richmond, Virginia.
The stars of the TJ story are in fact not the adults, but the 35 boys who decided to play football this fall. For years, the TJ football team's only reputation was for losing. In 2011, only 18 boys signed up for varsity football, and there was no junior varsity; in 2012, 30 boys played varsity, and 20 played JV. This season features 35 varsity players and 30 on JV. The numbers signal an important shift not only for the football program but also for the players, their families, and their classmates.
Athletics are intimately tied to the success of the next generation. Students who skip extracurricular activities are 49 percent more likely to use drugs and 37 percent more likely to become teen parents, reports Harvard political scientist Robert Putnam. And poorer kids are more likely to skip out on extracurriculars. In a 2012 column, "The Opportunity Gap," New York Times journalist David Brooks reported,
Richer kids are roughly twice as likely to play after-school sports. They are more than twice as likely to be captains of their sports teams. It's not only that richer kids have become more active. Poorer kids have become more pessimistic and detached …. It's perfectly understandable that kids from working-class backgrounds have become cynical and even paranoid, for virtually all our major social institutions have failed them—family, friends, church, school and community.
In Richmond, a school like TJ stands to suffer most from the opportunity gap.
Money Matters
Sports teams have traditionally been powerful levelers of socioeconomic differences in U.S. schools and communities—places where ability and persistence counted more than bank accounts. NBA superstar LeBron James grew up in desperately poor neighborhoods in Akron, while Grant Hill was raised in a wealthy DC suburb by his NFL executive dad and K Street lobbyist mom. Star rookie quarterback Russell Wilson's father was a megafirm corporate lawyer, and NBA Hall of Famer Jerry West's father was an electrician in a small, poor West Virginia coal town.
But these days, money matters a great deal in school athletics. TJ had not had a winning football team since 1983. By contrast, Cosby High School, an excellent suburban school built in 2006, saw its teams win a remarkable five championships in 2012. Wealthier suburban schools benefit from new facilities and fields, students with years of experience playing on travel teams, abundant personal training during off-seasons, and generous booster clubs.
"You need facilities, equipment and transportation, not to mention coaches and volunteers," says Northeastern University Athletic Director Peter Roby. "And … kids in cities are now much less likely to participate in sports than kids in suburbs." It is, to say the least, an uneven playing field.
But at TJ, several local Christians stepped forward to invest in that most public and central of America's civic institutions: the public school. They have shown that promoting the common good may begin with vision, but ultimately must be sustained by consistent, sometimes costly personal choices.
Making a U-Turn
After many years of moonlighting at successful county schools, Chad Hornik came to coach at TJ in 2012. A restaurant owner, Hornik inherited a 41-game losing streak. "I've definitely learned patience …. I try every day to follow Jesus' example of taking these young people as they are, not as I would have them."
Hornik has had to hire staff to handle restaurant tasks in his place. His wife, a social worker, shares his calling, even as Chad spends long hours studying film, talking to coaches and parents, mentoring kids, and running practices. The couple is expecting their third child.
Hornik says his main goal is teaching the students to have respect—for each other, coaches, teachers, and opponents. As he demands respect from his players, he says, "We're able to get out of them much more than they ever thought possible."
In the first week of the 2012 season, the Vikings broke their five-year losing streak. After the season, Colonial District coaches named Hornik 2012 Coach of the Year. He deflects the honor. "I'm the first coach ever to receive this award for winning one game all year! We will not be celebrating next year, unless we win a whole lot more games." His email signature reads, "BUILDING … Respect - Academics - Strength - Power - Speed - CHAMPIONS - 2013."
The boys seem to be buying what Hornik is selling. More than 70 showed up for spring training this year. The Vikings started this season with two wins, including a 47-6 victory in their season opener. That was the most points scored by a TJ team since the 1970s.
As they approached spring training last year, TJ had more players but outdated facilities. Hornik began searching for a practice facility, when he got a call from a board member of U-Turn Sports Performance Academy.
It just happens that U-Turn's state-of-the-art athletic facility sits in Midtown, less than two miles from TJ. U-Turn's mission is to make its gym available to the needy throughout Richmond, thereby working to reconcile and unite the community. So, the board member asked: Would Hornik want his bring his team to U-Turn?
For almost 20 years, U-Turn has trained youth for Christian lives of love, purpose, and service, attracting kids from widely diverse racial, faith, and income backgrounds. "Serving TJ's team was right in our sweet spot," says U-Turn executive director Avi Hopkins, a former star high school and college running back. "We believe that sports provide a uniquely influential platform for sharing Christ with youth."
Not Another 'Blind Side'
Like most ministries, U-Turn is financially strapped and couldn't afford to hire a private trainer to work with TJ's team. But many phone calls, a few lunch meetings, and several months later, the financing fell into place.
A local businessman had been praying about how to spend his extra time and money. He told friends that he wanted to do more than write checks or give at auctions. As a former major college linebacker, he understood the central role of sports in young adults' lives. When asked by U-Turn to help, he offered to pay for a specialized trainer and has supported TJ since then. Now, TJ is receiving the same kind of first-class speed and agility training that's available at the wealthier schools.
At an early August practice, one coach noticed one of his players had a bandage on his leg. He asked the boy how he'd been injured, and learned that it was from a gunshot wound.
David Brooks claims that improvement on the playing field will also foster more vibrant bands, clubs, and student government. Hornik sees that potential at TJ, where he dramatically raised the GPA eligibility requirement. TJ's principal is a key ally, and together they are rallying alumni, parents, and neighbors to support the school. "People have come out of the woodwork," Hornik says. Already, donors have stepped forward to build a showpiece locker room.
You could write off the changes at TJ as another feel-good sports story, another The Blind Side or Christian rendition of Friday Night Lights. But you would be wrong. Rather, the unfolding story at TJ shows city-loving Christians responding in intentional, real-world ways to pressing needs and deprivation. By serving TJ, these Christians are seeking to promote the prosperity of the surrounding community and the Richmond region, because that's the Jeremiah 29:7 mandate. This story is about teamwork, and not just on the football field. It's mostly a story of Christians teaming with individuals and organizations to serve the city to which they are called.
Fritz Kling is a foundation executive, consultant, and author of The Meeting of the Waters: 7 Global Currents That Will Propel the Future Church (Cook).
MORE FROM CHRISTIANITY TODAY