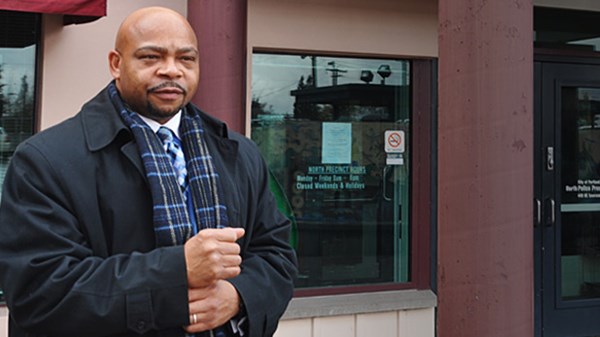 100 Men Standing against Portland's Gangs
John Canda believes the best way to curb gang violence is to ask adults—especially men—simply to show up.
11.30.11
Photo courtesy of Cornelia Seigneur.
If John Canda had to credit one person for his faith and wide-reaching impact in Portland, Oregon, he would point to Grace Collins, a German Christian woman who ran Grace Collins Memorial Center, the daycare Canda attended while growing up in the 1960s on the city's northeast side.
"Ms. Collins and her sisters would read us Scriptures," Canda, 46, recalls. "I remember sitting in Sunday school, and as the pastor shared Bible passages, I'd join in and recite with him, and people would look at me. It was all because of Ms. Collins."
Long after needing day care, after spending days swimming at Dishman Community Center, Canda and his friends would visit Ms. Collins.
"She'd have this 11½-minute Bible study for us, and her pantry was always full—chips, cookies, soda. We'd go there every summer; she'd fill the room. She was planting seeds," Canda said.
Those seeds—namely, Scripture and community—have become vital to Canda's mission in Portland for the past 22 years: to curb gang violence in the city where he grew up, and to inspire others to do the same. In that spirit, this year he formed the group Connected, a grassroots movement that practices a "Ministry of Place," meeting Friday evenings at Holladay Park near the Lloyd Center shopping district, known for gang violence.
Canda found his calling in 1989, six years after graduating from Portland's Jefferson High School. He had attended business college, then joined the Air Force, serving as a security policeman in Idaho. When he returned to Portland in 1989 with his wife, Darla Nelson Probasco-Canda—whom he has been married to for 25 years, raising 4 children together—the community he knew so well had changed. Gangs had begun to run rampant, and gentrification was hurting low-income families.
"Growing up, we didn't have to worry about gangs. Gangs were bike groups and the Hells' Angels," Canda said.
Concerned, Canda became involved in outreach to street gangs in volunteer and paid positions. He chaired the Youth Gang and Gang Violence Task Force, was the first director of the city's Office of Youth Violence Prevention in the Mayor's Office from 2006 to 2007, and served as program coordinator for Brother's and Sister's Keepers, Inc. He is currently the Oregon Youth Authority's metro region youth reentry coordinator for several Portland-area counties, is an active member of First African Methodist Episcopal Zion Church, and continues as a community organizer on this issue.
Rob Ingram, once director of the Office of Youth Violence Prevention, who died Sunday of a heart attack at age 38, said, "This is an all-out war. This isn't a place for humming hymns and picking lilies."
Canda hasn't been picking lilies, but he did do some picketing. He thinks the key to keeping vulnerable kids out of gangs is to ask concerned adults—especially men—to simply show up. In 2009, after a rise in gang-related activities and gun violence, Canda put out a call by holding up a sign that read "Where are the Fathers?" for two weeks on the corner of Martin Luther King Jr. Boulevard and Killingsworth in NE Portland.
"That took guts," said Ingram. "John did something really aggressive. People criticized him for that."
Ingram, an African American believer who left behind a wife and five children, had been involved in driving out Portland's gang violence since the early '90s. He said the issue "will mold you, shape you, and shake you."
Canda views the gang issue as an African American issue in the community, one rooted in the absence of men in children's lives. In other words, it's about men not showing up.
"About 90 percent of these young boys and girls have no dads. They did not have men around them to model or teach them behaviors," Canda notes.
In April 2011, after another gang-related shooting near Lloyd Center, Canda organized a meeting for concerned community leaders. From that meeting emerged Connected.
"My original goal was to find 100 men to engage young people who are robbing and stealing. I was looking for people connected with their church bodies," Canda explained, noting that they have 30 to 40 regular Connected members, including women. "The main goal is to take our faith that has been developed wherever we worship out into the community to have a presence that is more than physical."
Canda's Ministry of Place. Or presence.
Tom Peavey has worked for 31 years as a Portland police officer before becoming policy manager in the Office of Youth Violence Prevention. "The important questions we need to be asking, John's been asking for a long time," he said. "He's been asking questions about the need for involvement and the repairing of lives caused by gangs. John's been asking the faith-based communities and businesses and the public sphere."
That message of involvement has resonated with members of Connected, as they've convened Fridays at 4:30 p.m. and 6 p.m. Peavey said that just their presence connecting with people has impacted the area.
"The mayor's office, we love it, the businesses love it. The collaboration that John and others have helped foster between the faith community, the city police, and the schools is amazing."
At a recent Gang Violence Task Force meeting led by Ingram, Canda's insight was repeatedly sought after; I heard, "John, what do you think about that?" more than once. Alongside Portland Mayor Sam Adams, Canda spoke to local media this September after a major gang shooting that injured six men ages 13 to 16.
J. W. Matt Hennessee, pastor of Vancouver Avenue First Baptist Church, where Canda grew up attending, heard Canda speak at the April gathering on gang violence.
"I saw the photos of the memorial service folders of the dead kids, and I heard John speak on how we men have to own the parks," Hennessee said. "The message I heard was that African American men need to show up and let kids know we care.
"People talk about needing another program, but John said we need to go now, move," said Hennessee.
Connected did move. That very Friday, members showed up at Holladay Park, and they have continued each week. They wear sweatshirts and T-shirts that say, "Connected we care" on one side, "Walk with us, talk with us" on the other. Connected is also talking to Portland Public Schools to offer presence at basketball games, where many vulnerable youth gather.
Gary Marschke, vice chair of the North/Northeast Business Association, said at a recent Connected gathering, "These people are here because of John. He has such a good reputation. By coming here, we are practicing a ministry of place. We've changed the community by being here, [by] our mere presence."
"The way police have seen our presence, they allow us to try to disseminate the problem before they [the police] are needed," noted Hennessee.
Canda recalls a life-saving turn through an interaction with a young woman at Holladay Park.
"There was a group of teenage young ladies who had obviously been drinking and were speaking provocatively with one another. I approached one and asked if I could talk to her," Canda said. "I told her what we were doing, keeping people safe. I talked to her about respect, and that there were men in this area who might take advantage of her, and that I have daughters, that I am a father, and that she has to be really careful. She started to cry.
"Later, her group of friends was leaving and she tried to follow after them, and the MAX train was coming, and I was able to keep her from getting hit."
That girl knew Canda cared. Sometimes just being there shows that.
Canda shows up: He presents on gang awareness at schools and churches, reaches out gang-related populations, and responds to crises involving gangs. He shows up when there is a gang shooting at 3 a.m. He shows up for memorial services of gang members lost—he has collected 200 to 300 brochures from funeral services he's attended over the years. And with Connected, he hopes and prays to help avoid another one.
"Wherever a group of God-fearing believers goes, it turns into a ministry of place; we apply the principles of Christ in a particular area. This area for us is in Holladay Park on Friday nights," Canda says.
He reflects back on his parents being around and the God-fearing Ms. Collins from his formative years.
"I wouldn't have had the abilities to do what I do without that foundation of Ms. Collins. When you mention Ms. Collins to people in this community who are age 30 or older, they know instantly who that is … they remember her presence."
In Memory of Rob Ingram, husband, father of 5, African American leader, Christ follower, mentor, and advocate for those less fortunate.
Cornelia Seigneur is an adjunct instructor at Multnomah University and the author of WriterMom Tales: Corralling the Commotion While Savoring the Chaos, Spilled Cheerios and Prayers of Real-Life Motherhood . Her website is CorneliaSeigneur.com.
MORE FROM CHRISTIANITY TODAY