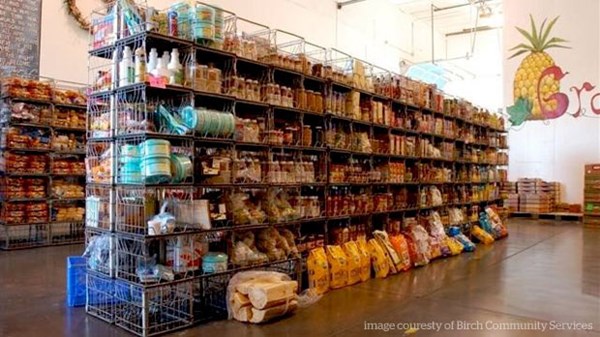 The Gleaners: Giving More Than Food to the Working Poor
The Birches offer 600 Portland families—including my own—a path to financial freedom.
12.19.11
A few years ago, my husband was laid off from his job at a food processing plant, instantly cutting his income in half. As a self-employed cleaning woman, my wages weren't much better. With two kids and a house payment, dipping into our savings to make ends meet was a short-term solution that was about to run out.
We worried about going into debt. We had worked hard over the years in our marriage to live within our means. What we were going to do?
That's when we remembered a couple we'd met at Community Bible Fellowship, a church we'd been a part of in southeast Portland who had a way of helping families like ours.
Nearly two decades ago, Barry and Suzanne Birch started giving food away from the comfort of their front porch. Little did they know that that simple act would grow into an 18,000-square-foot warehouse replete with triple high pallet racks, walk-in refrigerators and freezers, and shelves stocked to the hilt with food—forming one of the most dynamic food ministries in Portland.
In 1992, says Barry Birch, co-founder of Birch Community Services (BCS) with Suzanne, "We heard from a friend that bread was going to waste at a local organization. We started picking it up on an on-call basis."
Three years later, after over 100 families had shown up at their door to collect gleaned foods, the Birches formed a board of directors and applied for nonprofit status. "Then more calls came, and more people came who needed help," remembers Barry. Some friends who supported the mission purchased a 2,900-square-foot warehouse for their use, but the operation outgrew the space in six months.
Today, from a much bigger warehouse located in east Portland, BCS provides food to more than 600 families—including mine, for a season—using an accountability system and, most recently, gardening courses that ensure recipients can become self-sustaining.
"We're a hand-up, not a handout," say the Birches. "It's 90 percent about the people and only 10 percent about the food."
It would be easy to mistake BCS as another food bank, but the organization has evolved beyond that. Recipients must apply and pay $50/month to shop at BCS, and the application is referral based by those who are current participants. Applicants are asked for information about their income and debt, and to outline their financial goal for being on the program. If accepted, there are guidelines to follow—including mandatory volunteering twice a month and one financial accountability class.
"We're here for the working poor who are living on the edge," says Barry, noting that the average family BCS serves has five children and earns under $40,000 a year. "We help serve many households who don't qualify for assistance or who don't want it."
One such household is the Endreses, a homeschooling family of six children ranging from ages 3 to 11.
"[BCS] makes it much easier not to have to live check to check," says Marci Endres, who shops and volunteers at BCS. Her husband works full-time as a pipe layer, and being a single-income family means things are tight. The money saved on groceries helps the family cope with bills and savings. Marci also takes advantage of the clothes closet at the warehouse, stocked by fellow participants who rotate clothing in and out as their children grow. "It's another way to save money," she says.
BCS provides generous resources to participants, but it comes with expectations of accountability and goals.
"People step up or step out," says Suzanne, referring to the four core requirements that every participant must follow: monthly dues, volunteering, one financial class, and thank-you notes. Once a month, participants must take a moment to write a letter to one of the many vendors who donate to BCS.
"There's been an attitude of gratitude from the start," says Barry. "Maybe it's because I should be dead or in prison, but I've been so abundantly pardoned by God that I'm very grateful," says Barry, who struggled with alcoholism before he married Suzanne.
Most recently, BCS has developed community gardens that grow food for their program and serve as the grounds for teaching families to grow their own food. Angela Baker , a BCS participant and volunteer since 2008, oversees the Teaching Garden, located on her family's quarter-acre lot. She coordinates volunteers and offers free gardening classes in exchange for two hours of volunteer work in the garden.
"The garden benefits BCS because we teach families how to garden for themselves while also providing fresh, organic food to the warehouse," says Angela. "This goes along with the philosophy of empowerment. Portland is such a foodie culture, but rather than pay high prices for organic foods, people learn to grow them themselves."
The Teaching Garden has also become a way Angela and her family can serve the city. "We have resources, we have land and gardening skills. We wanted a way to give and serve Portland, and now we have found it," says the mother of four.
BCS's sustainable model has attracted attention. In September, the organization was featured on the NBC Nightly News broadcast. Days later, a local news station followed suit. As a result, BCS has received many emails and calls from those who want to replicate what they are doing in their own cities. "We've always been open to replicating what we do, but we've been too busy to give it serious consideration," says Barry.
In 2008, Oregon senator Ron Wyden toured the warehouse and met with Barry, Suzanne, and the board. Visibly impressed, he asked, "How can I help you?"
They explained that if Wyden could provide a grant for them to buy the warehouse, it would reduce their overhead to free them to apply finances and time elsewhere. They explained that they had applied several times for the senate appropriation grant, without success.
"That's because you're not broken. This thing runs too good," said Senator Wyden. "Where I come from, it takes 10 people to sharpen a pencil."
Seizing the opportunity, Barry and Suzanne told Wyden not only what they needed to make BCS more efficient, but a plan that would help families throughout the state: "If you give us $3 million to buy this warehouse, we can help replicate this program all over Oregon."
Barry outlined how the state would recoup their money within 18 months. "You'd save this money and more from the number of families who wouldn't be on assistance, but would be getting help instead from a program like ours."
Senator Wyden requested that Barry send him a contract proposal with more details. BCS is still waiting to hear back. "Maybe it's for the best," says Barry. "I'm not sure the $3 million would have been worth it for there may have been too many strings attached.
"Maybe the government food distribution system needs some scrutiny. There's no exit strategy," says Barry as we discuss the differences between BCS and state-sponsored food assistance. "The [state] system creates dependency."
Barry still dreams of owning the building. Meanwhile, the recent flurry of publicity and the calls that ensued have reignited the Birches' desire to see BCS replicated in other cities. They are planning their first free seminar in spring 2012 for those who want to replicate BCS's accountability model of food assistance throughout the country. "We're not a franchise. We're not trying to sell anything," says Barry. "We just lead by the heart."
Pam Hogeweide is a writer and author of the forthcoming Unladylike: Resisting the Injustice of Inequality in the Church (Civitas Press, February 2012). You can find her at PamHogeweide.com.
MORE FROM CHRISTIANITY TODAY