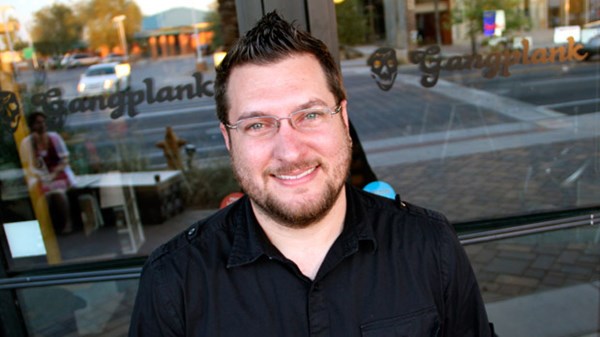 The Best Business Plan? Relationships
If Phoenix Christian Jade Meskill's success is any indication, collaboration and investing in employees isn't pie-in-the-sky idealism. It's just smart business.
10.24.12
The loneliness and isolation that mark modern Western life are amplified in a place like Phoenix.
By far the largest city in the second-fastest-growing state, with 4.2 million, Phoenix has wittingly or unwittingly taken on a spirit of more, bigger and—possibly most significantly—farther. It's the opposite of a place like New York City, where tight quarters lead to creative use of compact areas.
The vast horizons in the Valley of the Sun are breathtaking. But the sheer possibility offered by all of the land can lead to fragmented lives, long car rides, and moving farther and farther out.
Enter Jade Meskill, a Phoenix entrepreneur who's built his company around fighting such isolation with a vengeance. His strategy is simple: he values human beings. And his values have driven him to make ample space—literally—for community and collaboration.
This wasn't always the case. In his first job as Chief Technology Officer for a distribution company in Chandler, just outside Phoenix, Meskill rose to the top fast and was ready to do things his way.
"I wanted to build a great environment where people loved to work," Meskill says. "I gave my employees really flexible schedules, a totally open work environment, and good pay," Meskill says. He even threw in video games. "I wanted people to like working for me," Meskill says.
"But they hated it, and they hated me."
Meskill says he went through a couple cycles of employees who responded to his management style with the same distaste. He had to dig deeper to figure out what was going on.
"I couldn't just blame my employees," Meskill says. "I had to ask how I was responsible for what happened." As a follower of Jesus, Meskill knew that people had gifts and talents given by God. He also knew he was not a perfect boss. What he had yet to do was make his management approach line up with what he confessed on Sunday morning.
A New Way
Meskill's journey toward "prioritizing human relationships," he says, took an even more dramatic turn when he co-founded a software development company with friend and colleague Derek Neighbors. While software development can conjure up images of a lone programmer working in a dark room writing code, Meskill says in truth, "it's a highly social endeavor." If people who use the software are ignored, no programming code is good enough to make the system work. Once again, Meskill was face to face with living out the values of human collaboration.
Inspired by Jesus (as well as agile software development methods), Meskill and his company, Integrum, began building around a different set of values, of collaboration, transparency, and honesty. They went so far as to make "love" a core value. Simply put, they were becoming experts at working together. They began teaching themselves and their clients how to move away from a top-down, control-oriented process and trust each other.
As Meskill became more convinced of the power of collaboration and human potential, he and his colleagues started looking at their "tribe": the greater software and design community. "We saw that in Phoenix we were very disconnected; we are so spread out," he says. "We were all trying to make a difference, but we weren't working together for the greater good."
A self-admitted risk taker, Meskill and his colleagues had some extra office space and knew a small graphic-design group that was losing its workspace. They decided to invite them in. The new tenants paid no rent. They were there to work alongside and, in Meskill's words, "see what happened."
Both companies benefited from sharing the space. They began meeting regularly to collaborate and discover possibilities they wouldn't have seen otherwise.
Then the circle widened. Others who were linked to the design firm would stop by and discover their shared office space. Meskill says, "Before we knew it, we had a bunch of people just showing up." They all were working on their respective business opportunities, but all the while sharing expertise and innovating.
Jade says it was like stepping onto a ship of possibility—the possibility that comes through human collaboration—and setting sail. They were not disappointed.
Today, that small sailing ship has turned into a full-fledged, sea-faring vessel. And it is appropriately named Gangplank, the walkway between land and sea.
Building a Gangplank
Picture this: You are going to meet Meskill at his office. You arrive at the correct address and open the front doors. You see about 50 people working at long tables in a big room with exposed wood rafters overhead and cement floors below. You proceed to the back of the room. All along you assume these are Meskill's colleagues hard at work, and in a way they are. It turns out, they don't work for him or Integrum.
Meskill and Neighbors designed Gangplank as a place for people to just show up. The website says, "Gangplank offers FREE collaborative workspace M-F. If you are in the area, drop on by and get your work on." The Gangplank community spans from 20 to 50 years old, and represent at least 10 different companies involved in real estate, education, graphic design, software development, marketing, and business development consulting.
They show up because they believe they have something to offer and something to receive. That's it. They don't pay rent. They have few rules. The only requirement, if a person becomes a regular, is that he or she gives back to the surrounding city in some way in return for all they are receiving through Gangplank. Often this takes place through a monthly Gangplank Open Forum, where people teach from their areas of expertise. Other times giving back means an impromptu problem-solving session for another person's business opportunity. Sometimes giving back doesn't take place within the walls of Gangplank at all. Tutoring children, volunteering for nonprofits, serving in a local church are all part of Gangplank's vision of giving.
As Gangplank regular Greg Taylor, a digital marketing specialist, told the local East Valley Tribune, "The biggest benefit is a sense of community . . . I can see innovation happen first-hand. If I have a challenge with a client on a technical standpoint, there's someone who can help me."
The City of Chandler has climbed on board to Gangplank's vision. A grant from Chandler pays for the space, located on the city's historic main street. The Chamber of Commerce is convinced that Gangplank is fostering good things for the people involved and the community at large. And they want Gangplank to prosper, knowing that will directly affect the local economy.
Faith and Action
In spoken and unspoken ways, Meskill's faith is intertwined through all of his endeavors. From his view of humanity to his willingness to admit shortcomings, he is rooted in Jesus' gospel. And he is applying the freedom of the gospel to create a counterculture of work and creativity.
As summed up in the Gangplank Manifesto, Meskill seeks to value:
collaboration over competition,
community over agendas,
participation over observation,
doing over saying,
friendship over formality,
boldness over assurance,
learning over expertise,
people over personalities.
Meskill's pastor, Bill Weaver, celebrates the perspective that Jade brings. "It would be very easy for Jade to get rich on whitewashed fences, but that's just not his style," says Weaver, pastor at San Tan Christian Center. "Jade wants to help destroy the fence in order to see it built up again the right way in business, church, and life."
Integrum now does little to no software development, instead spending most of its time teaching all kinds of teams within corporations how to work together. They call themselves "culture hackers," as they analyze and break through current business practices and help teams discover new ways to work together.
When asked if people know that he seeks to follow Christ in all he his doing, Meskill says, "People know me pretty well," Meskill says. "They know what I stand for and what I believe. I hope all that I am doing starts to open people's minds about what . . . Christians [are] like."
The Gangplank vision is catching. Already two more Gangplank locations have opened, in Tucson, Ariz., and Avondale, Ariz. A third is starting in Richmond, Virginia. In each location, government and business leaders have approached the planners, recognizing that a nonprofit mission like Gangplank can incubate small businesses and serve the common good.
Entrepreneur magazine named Gangplank as one of the 100 Brilliant Companies in 2011.
Farther out or Further in?
While the Phoenix metro area is pushed to the limits of expansion in terms of real estate and infrastructure, there is something in the human spirit that inherently knows "farther out" has its limits. Fortunately, for this city and others, Meskill has taken risks to hack the culture of individualism and build a business culture around the truth that, no matter how competitive the businessman, we all are wired for community.
Eileen O'Gorman lives in Phoenix, where she works in communication for Food for the Hungry, an international relief and development organization. Since moving to Phoenix, she's grown to love the big sky, cool nights, cactus blooms and the people. She is a member of Christ Church Anglican and holds a Master of Divinity from Covenant Theological Seminary, in St. Louis, Missouri.
Photo courtesy of Esther Martinez.
MORE FROM CHRISTIANITY TODAY