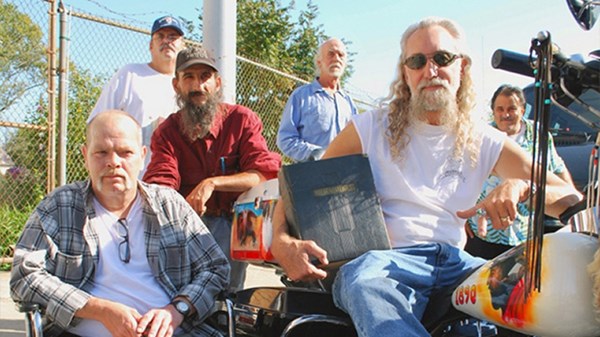 Salvation at the Storefront Church
How Peacemakers International is giving Detroit drug dealers and prostitutes a hope and a home.
3.4.13
In every city, you will find them: storefront churches, often next to liquor stores and laundromats, nearly imperceptible except to those neighbors looking for shelter and spiritual sustenance. And in Detroit, the need for shelter and spiritual sustenance is great.
Yet so is the sense that change, however slow and halting, is possible, on the systemic as well as the personal level. In recent weeks, we at the City project have highlighted Christians who are committed to the Motor City's systemic flourishing. Now we are pleased to share a story of profound personal change, taking place at one of the city's dozens of storefront churches, Peacemakers International on Chene Street.
This story comes to us from John Carlisle, also known as "DetroitBlogger John." Since 2006, Carlisle has documented the lives of hardscrabble Detroiters, first for his own site, later in a biweekly column for local alternative newspaper Metro Times, and now for the mainstream Detroit Free Press. For his 'man on the street' style of reporting, Carlisle was named 2012 journalist of the year by the local chapter of the Society of Professional Journalists. "Urbanophile" Aaron Renn (who recently wrote for us) calls John's blog "the best" in the world. --Katelyn Beaty, editorial director, This Is Our City
They stagger in one by one—each with a story, each with a life of problems.
First comes the prostitute. Then comes a drinker. Every swing of the door brings another desperate person from the street outside.
People with addictions, with diseases, people living on the street. And people who suffer from none of those things but who are just drawn to this strange place.
Some talk to each other; one or two are talking to themselves, or the air, or whatever demons they hear in their heads.
It's Sunday morning. It's time for church.
At Peacemakers International on Chene Street, a little storefront ministry not far south of I-94, the congregation doesn't just help people who are addicts or poor or homeless. Those people are the congregation.
They come here because this place has taken in dozens of people fighting years of addiction and, somehow, they say, it has helped them get off drugs.
People like Tony Cusmano, 52, who gradually stole a quarter-million dollars from his family business to feed a cocaine habit before ending up behind bars. Like Shirley Robinson, 53, who gave up a career and a house for a coke habit, which became a crack habit that left her selling herself on this street for a few years. Like Coy Welch, 39, a longtime drinker who was found living under a bridge a couple months ago and was invited to come here.
And from this ragged crowd, the preacher emerges.
At first it's hard to distinguish him from his flock. Steve Upshur is 62, and wears jeans and cowboy boots and a leather Harley jacket. His hair is long. So is his scraggly mustache. He's a biker and looks like a biker.
He used to be an addict, so desperate he once puked up his methadone at a clinic and then got down on the ground to lap up the drug-soaked vomit. He's been a dealer. He's been jailed. He even got caught up in a bank robbery once.
His flock relates to him because he's been where they are, because he's done as much wrong in his life as they have in theirs, but more importantly because he's someone who found a way out of that hell. He's walked the walk. And because of that, he's earned their trust, earned his post as father of the wayward.
"When you get into crack and prostitution, anything goes," Upshur says. "A lot of these people will stuff people in trunks, kill people. I've had people confess murders in here. I've heard it all."
More people arrive. A homeless man. A woman one misstep away from being there. An old lady with a scowling face, muttering to herself.
The services begin right on time. But there's no prayer to start things off. No reading of the Bible. No sermon.
Instead, a high-tempo, old-time gospel song — "I Believe" by John P. Kee — blares from the stereo. And as the beat kicks in, everyone in the pews who had been sitting quietly suddenly gets up and starts clapping along. A few even dance.
Then the pastor says a few short words, but right away another song bursts out of the stereo, and the congregation is behaving like it's some kind of dance party. People who were living on the street or still are, people selling themselves there, people crippled by drug and drinking problems, are all dancing together, looking like they haven't had this kind of fun in years. It's an astonishing sight.
And just when it seems this can't possibly be the actual service, it turns out that's this is indeed how it goes at Peacemakers. Down here on Chene, going to Sunday service is almost like going to a party where, for a couple hours, the weight of everyone's troubled past falls away.
"It's just upbeat, you know?" Upshur says. "This isn't a dead place where everybody's sitting there. That ain't the way a church is supposed to be."
Read the rest of "Desolation Angel" at Metro Times.
MORE FROM CHRISTIANITY TODAY