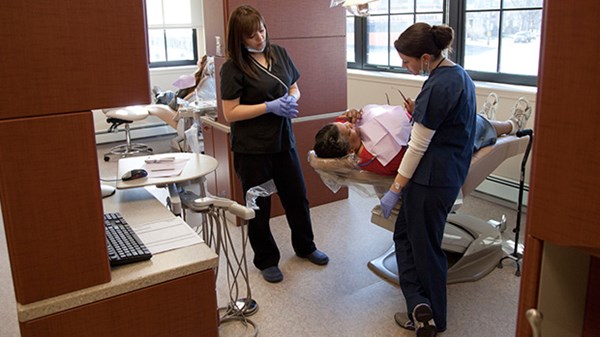 The Great Physicians of Detroit
Covenant Community Care is the only faith-based, federally funded health center in Michigan. It may also be the most Christlike.
2.8.13
Like most players on Detroit's economic stage, Covenant Community Care (CCC) arose out of community demand. Across Detroit neighborhoods, from burgeoning Midtown to the West Village Historic District, entrepreneurs rise to meet the needs and desires of their consumer base. They open restaurants and decorate storefronts, money exchanging hands to pay for lattes or handmade goods.
But what happens when most of your customers can't pay?
That was the dilemma facing Kathy Kleinert, DO, in 1999. After one Sunday service at Messiah Church in Southwest Detroit, the general practitioner noted to Pastor Bob Hoey her growing concerns about their surrounding neighbors. Kleinert had made house calls and even treated people in the street, and was especially conscious of those without insurance, all the while ignoring their inability to pay and poor hygiene. She always shared Christ, praying for clients and trying to point them to a local church. As she became aware of people without necessary medical care, she became increasingly driven to provide it. And she told Hoey that she'd treat all people, regardless of their ability to pay.
Thus Kleinert became the founding physician of one of Detroit's largest health clinics operating on small co-pays and large amounts of grace.
"We try to treat each client as if they are Christ, regardless of their ability to pay," says Hoey, co-founder of CCC and pastor of Messiah Church (part of the Evangelical Covenant denomination) for 18 years.
Opening in 1999, CCC is the only faith-based, federally funded health center in the state of Michigan. Although there are many free faith-based clinics throughout the state, they tend to be much smaller and volunteer-run. By contrast, all of CCC's doctors and dentists are employed. And with 100 employees, the clinic has doubled in size every two years. CCC serves approximately 10,000 Detroiters annually in a city with approximately 200,000 residents who lack adequate health care.
"There's a tremendous need in the community, and we want to meet our consumer demand, caring for as many people who come in," said Paul Propson, CCC's executive director. "If we could hire more doctors now, we'd see more people today. A lot of people are waiting to be seen."
CCC's main campus is on Michigan Avenue in a four-story brick building the color of garnets. Once an Albert Khan warehouse, the integrated health care center is one of five CCC locations throughout metro Detroit. From the Waterman location in Southwest Detroit to Royal Oak's Woodward site to the newest venue on Moross, the CCC clientele is as varied as the buildings that serve them. Propson says 90 percent of patients are an ethnic minority, and that CCC sees everyone from children with public insurance to parents with no insurance, to Latinos, African Americans, and Middle Eastern patients, as well as African immigrants and Caucasians.
Pastor Semmeal Thomas was so moved by the care he received in 2011 at CCC that he has sent 20 to 30 of his parishioners to the facility. City Covenant Church in the Brightmoor neighborhood brought CCC medical and dental mobile units to Brightmoor as part of the EACH movement in 2011. Knowing he needed dental care and without insurance himself, Thomas waited until the last day of the EACH campaign to get treatment so that church members could go first. During a routine examination, CCC staff discovered that Thomas had high blood pressure and sent him to the ER, where he was diagnosed with atrial fibrillation.
"What we were doing for the community ended up saving my life," said Thomas. "It affirmed that God was moving in my life—that there was something more that he had for me to do."
Thomas notes a difference between CCC and other Detroit-area health centers: primarily the spiritual component. Because CCC staff at every level have committed to live for Jesus, he says, they exemplify compassion rather than mechanically getting patients in and out the door. Never once has he felt like another number.
"Whether or not I pay at Covenant Community Care, the same level of care is given to all," said Thomas.
Except for the homeless and children who are served in local schools, clients are asked to pay what they can based on a sliding scale; most people qualify for the base fee of $20. By paying a co-pay, Propson notes, clients participate as customers rather than charity cases. However, no one is turned away due to lack of means.
Covenant Community Care stays afloat from two major sources: the revenue from services rendered, and grant money. Many patients possess Medicaid and other types of basic insurance, which significantly bolsters the income that flows into the organization. Beaumont Health System has also been a large contributor for almost 10 years, after their staff volunteered at CCC. Propson notes that the Beaumont partnership is a great example of a grassroots response.
The Great Physicians
"When you invite God in, that's when things really change. Christ opens up many doors that doctors and counselors can't," said Lydia Best, CCC medical director.
Beyond the high blood pressure, diabetes, and obesity-related problems that are common among adult CCC patients, there are also raw spiritual needs, especially among Detroit's older generation. CCC has intentionally included prayer rooms and chapels in some facilities, and a full-time chaplain leads a prayer and healing ministry. All doctors ask patients if they want to pray, and most answer yes. But the opportunity for patients to engage and practice their faith is just that—an opportunity, not a requirement.
CCC's mission statement—"To show and share the love of God, as seen in the Good News of Jesus Christ, by providing integrated, affordable and quality health care to those who need it most"—is embossed in large letters behind the front desk. CCC staff member Rosie Verde Rios says patients frequently read the words, nodding to themselves, and comment to her after their appointment that they notice the difference.
"Our doctors are Covenant Community Care's greatest strength. They most perfectly demonstrate the Christian witness," says Propson. "They take time every day to model Jesus' love for people."
Best told me of a patient who was referred to CCC after being released from the hospital after suffering a heart attack. The staff worked with the patient to qualify for Medicaid, but were ultimately unable to secure it. Through several different avenues, their staff was able to get this patient all of his medicine free of charge, medicine that ordinarily would have totaled upward of $500.
"God has blessed our organization with tremendous gifts—financial gifts and blessings, as well as fulfilling needs. He's been our provider," said Propson. "We attribute our success in caring for people in God's foundational love for Detroit. God loves Detroit. He's looking for people to be his hands and feet to care for those he loves."
At that, Propson paused for a second, mulling the words over a bit. "If we had another name for CCC, it would be God Loves Detroit Health Center."
Stefanie A. Bohde is the owner of Luminarium Studios, a freelance writing and editing company that caters to the needs of small business owners. She believes that words - whether used through poetry, fiction, journalistic expression, or even copywriting - are the most powerful tool we possess. When she's not working, she enjoys listening to records, reading contemporary literature, crocheting, discovering new blends of tea, and exploring Detroit on her bike.
MORE FROM CHRISTIANITY TODAY