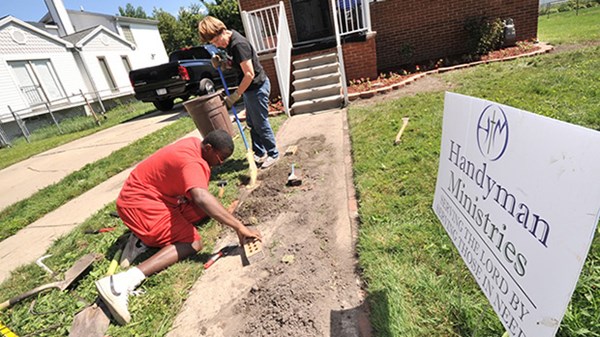 My Boss Is a Detroit Carpenter
Detroit native Timothy Addy says his Handyman Ministries provides a doorway into people's lives.
2.1.13
Around the time the U.S. economy turned sour and Detroit's automotive industry took a hit, Motor City resident Jeff Johnson lost his job with American Axle & Manufacturing after nearly 15 years at the auto-parts manufacturer.
Johnson took a severance package and tried to provide for his wife and three young children. But as he looked for a new job, the work on his family's home, including much of the kitchen, remained unfinished.
That is, until Detroit native Tim Addy learned of the Johnsons' needs in 2012. Addy and a crew of about 15 volunteer skilled tradesmen installed a new kitchen sink, hung new kitchen cabinets, laid tile, and repaired and reinforced the home's front and basement stairs, finishing the job by planting flowers in the front yard.
"[Last year] was the first year out of the four years we have been in our house where we were able to have Thanksgiving dinner," Johnson says. "Tim, through God, has been a blessing."
The Johnsons are one of more than 100 low-income families whose homes Addy and his team of volunteers, known as Handyman Ministries, repaired in 2012. Founded in 2009, the nonprofit is a practical response to the disrepair that's overwhelmed many Detroit streets—and ensures Detroiters can stay in their city in safety and relative comfort.
The latest figures Addy has seen on Detroit's abandoned homes range from 50,000 to 70,000 homes (a November 2012 New York Times report puts the number at 70,000). Declines in the automotive and housing industries, crime, fewer public services, and education inequalities are intertwined challenges that have led many residents to move, leaving behind homes and a smaller tax base to cover the public needs of a city of formerly 5 million.
"It's a snowball effect," says Addy, executive director of Handyman Ministries. "All of metro Detroit is affected by the blight. It does not stop at Detroit's borders, nor does the crime, financial desperation, or flight."
Handyman seeks to offer a solution for Detroiters who own a home but who cannot physically or financially maintain it. Addy and his crews—composed of volunteers and apprentices—tackle basic plumbing, electrical work, and roof and furnace repair, and also provide efficient energy upgrades and home modifications for residents with physical disabilities.
While the nonprofit works throughout metro Detroit, it focuses in Wayne, Oakland, and Macomb counties. Most of the homes are decades-old and worn down. Their current residents, Addy says, are often single parents, the elderly, or people who are sick and/or who have disabilities. Many residents recently suffered a job layoff or unexpected loss that has set them back financially, so repairs are often delayed until "things get better." Further, those who try to hire home-repair help often fall victim to cheap promises from others struggling to make ends meet in Detroit.
"I have never come across a person where all is going well," Addy says. "Every story has tragedy, loss, and pain behind how they got to where they are, and that is heartbreaking. Praise God that we can make a difference.
"There is a blessing in disguise that allows us to reflect the love of Christ and share the hope of his gospel," he says.
Fixing What's Broken
The scope of Handyman's projects range from Addy and his brother making last-minute repairs to a home they learned of by word-of-mouth, to a crew of several hundred volunteers from the EACH network—a partnership of 500 Detroit-area churches and organizations—repairing an entire block of homes.
Since joining forces with EACH in 2011, the results have been, well, of biblical proportions: In April, Addy signed on to renovate 40 homes in 40 days through the EACH network.
"God was leading me to do 40, and I'm begging him, How about 20? He said, You couldn't do 10 without me, so I ended up doing 40," Addy says. "Everything worked out perfectly. I wish I could get one job to go as quickly as those 40."
Some families and individuals whose homes have been repaired donate their time and abilities back to the nonprofit. Johnson now volunteers with Handyman when he can, recently helping to repair drywall in a house that sustained damage from a leaky roof.
"I was happy that I was able to help somebody else, but I was happier I was able to help Tim and whatever his vision was," he says.
While Handyman's first priority is home repair, it hopes that personal restoration, especially through building community, will take place. Neighborhood barbecues and prayer walks are common during group projects.
"One time we renovated a block with 21 houses," Addy says. "Every day for a couple of weeks we had a barbecue, and the neighbors helped each other. It just made a tight-knit community out of them. Friendships developed where neighbors lived near each other for 10 years and didn't know each other's name. Now the younger lady down the street is babysitting for this other lady who is sick with cancer."
Of course, another community he hopes to help Detroit residents find is a local church. Through the Emergency Services Church Referral Program, Addy coordinates with Detroit-area churches to provide emergency home repairs to those most in need, and if they so desire, a church home to address spiritual needs.
The latest Handyman initiative hopes to help Detroit residents find work. Through its Tradesmen Apprentice Program (TAP), Addy hopes to help youth ages 18 to 21 transitioning out of foster care, adults re-entering society, and the unemployed acquire the skills necessary to obtain a Michigan State Building Contractor License and with it, safe, permanent housing. The program will officially launch this summer with five to seven apprentices. TAP will use classrooms, hands-on field training, master-to-apprentice training, peer-to-peer mentoring, and student accountability partners to help apprentices achieve their goals. Further, Handyman will pay a wage-based allowance to participating apprentices, and will offer supportive services to help them obtain their driver's license, GED, and/or temporary housing.
"With the apprenticeship program, I'm trying to create jobs, create housing, take care of some of the blight, and help with the fixing up of the houses for the people," Addy says. "That program is really holistic and tries to solve a lot of the issues at once."
Addy's passion for Handyman Ministries sustains him through 18-hour days, constant phone calls, and a waiting list that's now 2,000 homes long.
"There's been an ease that comes over me so it doesn't get overwhelming," he says. "It's a lot of work though, because seven or eight months a year I have to work for free."
In addition to the projects, Addy juggles organizing volunteers, collecting supplies, and fundraising, as the ministry is largely supported by donations.
"I'm sure I've gotten more out of it," he says. "I don't want to work for money anymore. . . . All in all it's not really a sacrifice anymore. It's a blessing."
Kevin Selders is associate editor at Ascend Integrated Media and lives in the Kansas City area. He's written for This Is Our City about a Kansas City arts company and a four-star restaurant in Charlotte, North Carolina.
MORE FROM CHRISTIANITY TODAY