Thinking Global
When the pastor becomes a missions force, the whole church is affected.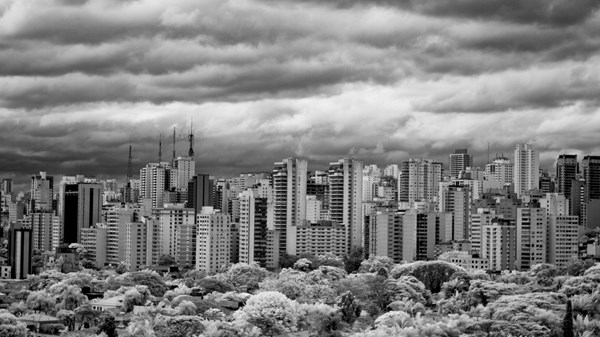 Thinking Global
Over the years, I have lost my luggage, my passport, several exotic meals, and my sanity (almost)
As I traveled in South America in 1998, I met a young Brazilian named Paulo, who had an ambitious vision to restore the lives of the hundreds of thousands of street children. But he was struggling to fund his compassionate enterprise.
I sensed an undeniable call to help this discouraged but promising servant. I rallied our church to pay for Paulo and his wife to visit the United States.
For 18 months he shared his vision all across the country. Paulo returned to Brazil with enough money to purchase a three-story ministry center in the middle of the São Paulo slums. His ministry acquired a 100-acre camp as a haven of recreation and evangelism for the slum children. All told, multiplied hundreds of lives have been reached, redeemed and reclaimed.
A few months ago, hot tears streamed down my face as a Brazilian orchestra performed for our missions conference. The 20-piece ensemble of brass, percussion, strings, and woodwinds, comprised entirely of street children from the slums of São Paulo, brought a blessing beyond words.
In the last two years over 120 of our own people have ministered in São Paulo on short-term missions excursions and many are now preparing for a full-time missions career.
This amazing story illustrates the rewards I've known because of my investment in world missions. I am convinced that pastors are the most powerful human element in shaping a missions-motivated congregation. As a pastor, I am working to fulfill that vision of church-wide involvement in global outreach.
Take me as your leader
Though I do not remember much about my first mission trip to Mexico during junior high, I do recall returning home with a keen awareness of the spiritual need, physical poverty, and incredible receptivity of people there. During my freshman year in college, I traveled with a college music team throughout several Pacific Rim countries. Flying home from Taipei, I yielded my life to God for his service—anyway, anytime, anywhere.
While I am still living in the U.S. and serving as a pastor, I've resolved that my only justification for staying in America is to give extreme leadership to a church to implement a dynamic missions vision. Otherwise I need to lessen the stockpile of Christian workers in America and get on the cutting edge in a country where the need is so great and the resources so few.
My best efforts should contribute to a passionate pursuit of the global task. Even though we have committees and administrative staff committed to our mission strategy, I want to accept the indispensable responsibility for leading the charge and fueling our congregation's interest. This is the first step. But I am learning that forceful leadership requires five additional commitments.
Explore personally
Missions can easily be reduced to a vague collection of maps and statistics. The only way to lead with passion in global outreach is first-hand experience of the sights, sounds, smells, tastes, and emotions of the countries we're trying to reach. As one Brazilian proverb states, "The heart cannot taste what the eyes have not seen."
When I came to Arcade Church ten years ago, I asked to be allowed to travel internationally for strategic mission purposes every 12 to 18 months. This has been the secret to speaking with fervor about our missionaries and the fields in which they serve.
I'm the first to admit that I seldom feel "ready" for one of these trips. My life is packed with church and family obligations. I am always too busy. The travel is not easy on the mind or body. Over the years I have lost my luggage, my passport, several exotic meals, and my sanity (almost).
Still, I've not regretted a single trip. The rewards are undeniable and often indescribable. My heart is always moved. And our missionaries are deeply touched when their pastor takes time to visit their field and show genuine interest in their work. Encouraged missionaries are always more effective in their ministry.
Invite others along
In the early 1990s I enjoyed a close friendship with Dr. Luis Bush, a mission leader and author. As a member of my church, Luis invited me to travel with him one summer to several countries in Southeast Asia. There he shared his vision and passion. He gave me opportunities to minister to missionaries and speak to various groups.
From this experience I learned a vital principle of recruitment. Now I always take others with me on overseas trips, providing opportunities for them to serve. One year, I took our college pastor to Indonesia. The next summer he returned with 10 collegians, many of whom have gone on to serve the Lord in various capacities.
Another year, I took eight other men to Eastern Europe. Each ministered through testimony and teaching. All experienced a dramatic new understanding of the world. Three are entering full-time service for Christ.
One man visits the Ukraine at least twice a year and has led hundreds of people to Christ. Another has returned to Romania annually with teams of church members. The multiplying impact is amazing.
One year, I took 20 church members to India. All raised their own support and learned some great lessons about faith. Each ministered in a strategic way. Several have returned with more first-time missions explorers. One is now on the board of an India-based mission agency. All are giving more generously to missions.
The best way to ignite missions in a congregation is by involving people with the reality of the need. As pastor, I have a unique influence, and by inviting others to journey with me, lives are changed for eternity.
Host your international staff
I am a strong believer in inviting missionaries to spend quality time at the church for exposure and interaction. Our annual mission conference has become my favorite week of the entire year. Although many churches have given up on this annual emphasis, it continues to play an essential function in our mission vision. Three reasons come to mind.
1. Personal enrichment. In my view, most missionaries are real modern-day heroes of the faith. Their lives model a radical obedience, sacrifice, and passion for the cause of Christ. They are typically well-educated and deeply spiritual. During our mission conference we reserve the weekday mornings for a time of prayer and sharing with our missionary guests. I always insist on being a part of those times, usually facilitating the discussion. Our missionaries always motivate and challenge me by their example of commitment and insightful observations of biblical truth.
2. Strategic exposure. Our week features a variety of evening meetings designed to allow different groups in our church to hear the vision and personal stories of our amazing missionaries. Young and old alike are challenged to care deeply, pray passionately, and plug in strategically. Many of our youth have moved toward greater personal involvement in missions because of this exposure.
3. Mutual encouragement. After each conference the missionaries turn in a feedback form. Without fail they comment on the encouragement and nurture they've received. Missionaries seldom spend time with the pastor of a supporting church. They tend to feel isolated and forgotten. The attention, sharing, and prayer support always provide a real spiritual and emotional boost for these extraordinary servants of Christ. And for me, too.
Communicate the excitement
I'm always looking for speakers who can really "ring the bell" from the pulpit as they challenge our people with the global task. It's hard to find motivational communicators.
I have learned that senior pastors have the greatest potential to challenge their people because they know the flock.
This is especially true when the pastor can tell stories from his own travels, share experiences of spending time with missionaries, and reflect on the ways God is challenging his own heart.
Launch here and there
The net effect of pastoral leadership in missions will be short-term and full-time workers launched into the task. That may be across the seas or across the street. People who make a difference in this world are motivated to step outside their comfort zone. They live by faith and gladly sacrifice for the needs of others as they share the gospel in culturally relevant ways. By God's grace, my mission's leadership has been one of the most significant catalysts to surfacing and sending these people.
I served on the board of a denominational mission agency for several years. We approved dozens of full-time missionaries during my term. I noticed that every career missionary first became interested in missions through short-term exposure trips.
This fact convinced me that the people in my church also need to lift up their eyes from the busyness of domestic life in order to see and experience the needs and opportunities elsewhere.
I do not believe they will do so unless I lead the way.
It came as no surprise but great delight when our business administrator recently showed me the figures on our missions giving over the last decade. Not only has our general fund mission's line increased exponentially but our people have given over $1.3 million through special offerings designated for outreach and missions.
Clearly, Jesus' teaching about the connection between the heart and the pocketbook is true when it comes to the global task. Our people are realizing that God has blessed them to make them a blessing to the nations of the world (Psalm 67).
Seeing your leadership count
In a few weeks, I will be back in Brazil among the street children of São Paulo. Two of my children will already be there ministering. A couple dozen collegians will arrive within a few days of my visit. This is just one of ten countries our people will serve in this year.
I cannot describe the reward that fills my soul in knowing that God has used me, in this leadership assignment among my people, as a force for His mission in the world.
Daniel Henderson is pastor of Arcade Church in Sacramento, California.

10/01/2003