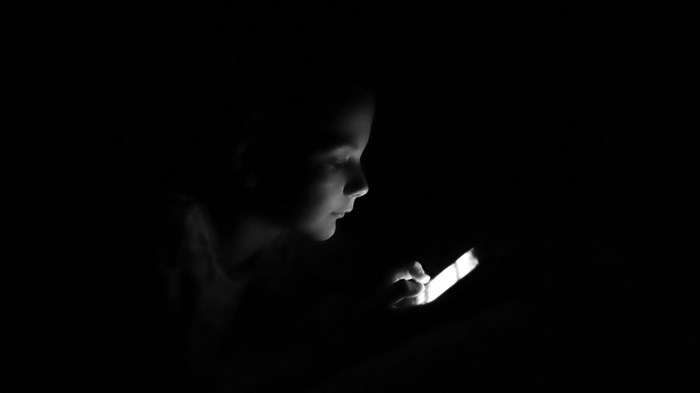 Image: Edits by CT / Source Image: Getty Images
When parents ask Chris McKenna at what age they should give their kid a smartphone, he has a stock answer: "the age you want them to see porn."
The former youth pastor started Protect Young Eyes, a nonprofit that teaches tech safety to schools, businesses, churches, and parents, in 2015 after he became concerned about the dissolving barriers between pornography and young people.
"I was watching for the first time in human history as we were putting the internet in the pockets of kids," he said, "and that terrified me."
In the years since, the average age at which kids are first exposed to pornography has trended younger. Researchers estimated in 2021 it was somewhere around 11.
As data continues to show the harms of viewing porn, particularly for children, support for stricter legal limits on pornographers has grown. McKenna's job description as head of Protect Young Eyes has grown too—it now includes political advocacy.
In 2019, McKenna testified before the US Senate Judiciary Committee, recommending lawmakers hold tech companies responsible for making safety filters and parental controls on their devices easier to use.
This year, McKenna consulted with lawmakers and testified before legislators in several states in support of new age-verification laws, which require porn websites to verify their users are 18 or older. Seven states—Texas, Louisiana, Utah, Mississippi, North Carolina, Arkansas, and Virginia—passed age-verification laws this year.
In Texas, McKenna helped lawmakers draft what became House Bill 1181, which Gov. Greg Abbott signed into law over the summer. The measure was immediately challenged on First Amendment grounds, and a district court judge struck it down, citing free speech and privacy concerns. The office of Texas Attorney General Ken Paxton is appealing his decision.
Paxton's wife, Texas state senator Angela Paxton, was the original sponsor of HB 1181. The Paxtons are members at Prestonwood Baptist Church, a megachurch in Plano. A Prestonwood pastor, Mike Buster, worked with Paxton and Chris McKenna on drafting and advocating for the bill at the Texas statehouse.
The mechanics of each age-verification law differ across states. In Louisiana, porn websites automatically redirect visitors to a state-run website where they must upload their ID information. Most other states require the porn websites themselves to collect and verify users' ID information.
But there's no doubt the laws have curbed access to online pornography, whether directly or indirectly.
Pornhub, the nation's largest pornographer, now blocks access to their site from users in at least four states—Utah, Arkansas, Virginia, and Mississippi—in an effort to evade requirements to collect user ID data. Four months after Louisiana's law went into effect last January, a Pornhub spokesperson told CNN visits to their site from Louisiana IP addresses had decreased by 80 percent.
Christian ministries like Focus on the Family and Covenant Eyes have advocated for stricter obscenity limits in entertainment and in law for decades, often without any secular support. The National Center on Sexual Exploitation, a nonsectarian organization with Christian roots as the formerly known Morality in Media, has also spoken up in favor of regulations.
Sometimes caricatured as prudes or scolds, Christian anti-porn advocates grounded their advocacy in the biblical teaching that sex is sacred and that every human person, and their bodies, should be treated with respect and dignity. (Responses to new House Speaker Mike Johnson's use of Covenant Eyes highlight the gap between how evangelicals and secular culture approaches porn use.)
But McKenna and other anti-porn Christian advocates argue that creating or viewing porn isn't just sinful for Christians. They believe, like all other sins, it's destructive for everyone.
Research continues to bear that out, which has moved the anti-porn position closer to the mainstream. So far, 17 states have passed resolutions naming porn a "public health crisis."
Still, McKenna hopes more Christians will engage the issue. "I believe that church leaders should be showing up in flocks to support legislation that works toward creating safer digital spaces for children," he said. "Families need more help."
Some Christians and conservatives, however, don't support a legislative approach. The provocatively named XXXChurch, a ministry that helps people struggling with porn addiction, says on its website that "blaming the porn industry for our problems or relying on legislation to protect us doesn't work."
Others are concerned that age-verification laws are an invasion of privacy or that the responsibility to protect kids from pornography rests with their parents, not the government.
Steve Demetriou is the parent of two young sons with a new baby on the way. He's also a state representative in Ohio, where he recently introduced an age-verification bill. Demetriou is a member of the Greek Orthodox Church and said his faith, as well as prompting from a Catholic legislative aide, motivated him to introduce the bill.
"It's already illegal in Ohio to distribute pornography to children," Demetriou said. "We're just bringing this into the digital age and creating common-sense barriers online."
Demetriou says he's sensitive to First Amendment concerns about the Ohio bill, which includes criminal penalties for using AI-manipulated images of a real person in pornographic videos without the person's knowledge or consent. He said he plans to ask Ohio's Casino Control Commission how they verify the age of their customers without violating free speech or privacy laws.
"We need to make it as difficult for kids … to watch porn online as it is to place underage sports bets or buying cigarettes," Demetriou said.
Danny Huerta is a licensed professional counselor and the vice president of parenting and youth at Focus on the Family, where he oversees Plugged In, the conservative organization's media reviews and ratings publication. He said age-verification laws are a "good start" in the effort to protect kids from online porn.
"I do think it could help some," Huerta said. "It's still not a substitute for parents to put filtering … and to be very intentional in their conversations with kids."
Huerta, who has also counseled families in his private practice for 20 years, said he's seen an alarming increase in the past decade in the number of kids watching pornography, as well as a troubling increase in the degree of deviancy in porn, including sexual violence, sexual activity with animals, and even sexual attraction to blood.
Huerta often recommends parents install porn-blocking software on their kids' devices, even though it may slow the system's processing. Products such as Net Nanny, OpenDNS's FamilyShield, BrowseControl, and Net Angel offer to block certain websites identified as containing "adult content." Huerta is particularly hopeful about Canopy, a filtering software that uses AI to learn in real time whether an image is pornographic and can instantly block it.
Still, Huerta said filters and even age-verification laws won't fix everything. "Let's say there's an 18-year-old brother or 19-year-old who is accessing [porn]. Kids can still accidentally run into that," he said.
That's why Huerta is primarily focused on helping parents disciple their kids toward choosing to look away from pornographic images on their own. To that end, Focus on the Family has created a "phone contract" template that parents and kids can fill out together as they negotiate tech limits and consequences.
McKenna at Protect Young Eyes said the responsibility to protect kids from pornography can't and shouldn't rest solely on parents. He worries particularly about kids whose parents don't have the time, knowledge, or motivation to guard their children's tech use.
Instead, McKenna believes tech companies should be accountable to make their devices as safe as possible for kids. In Texas, he helped draft companion legislation to the age-verification law that would have set requirements for stricter default settings and simpler parental controls on device creators like Apple and Google.
"It currently takes over 30 steps to properly set up parental controls on an iPhone," McKenna told federal lawmakers in 2019. He urged Texas lawmakers to force device manufacturers to simplify that process and make the default settings on any device that may be used by children the strictest possible. That could include blocking access to the internet or certain apps during school hours or overnight.
Texas lawmakers "ran out of time" to pass that bill, McKenna said, but he believes focusing policy efforts at the "device level" is the best way forward.
"We've created patterns of living and learning that require children to be online," McKenna said. "Every single device knows when a child is using it. … Shouldn't the default of that device be its safest possible version? Isn't that how we treat everything else that kids use—cribs, car seats, bicycles, playgrounds?"
Some advocates say they favor the device-filtering laws since age-verification laws risk being overturned on constitutional grounds like in Texas.
Nevertheless, McKenna at Protect Young Eyes is hopeful Texas's age-verification law will survive judicial scrutiny and prove ultimately worthwhile—and that other states will consider similar measures.
"It has to work at some level," he said.