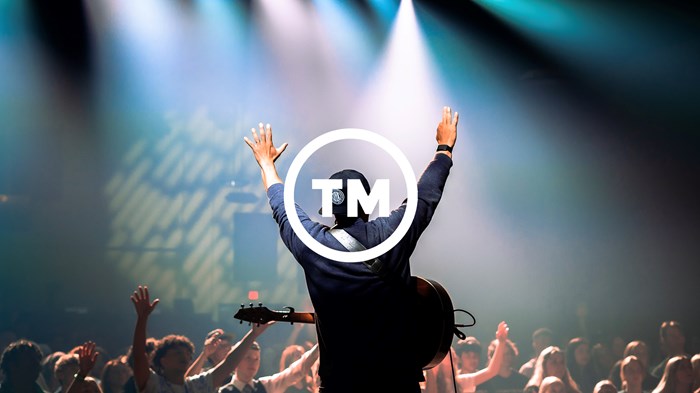 Image: Illustration by Christianity Today / Source Images: Unsplash
Worship Leader Probs was a meme account and podcast dedicated to the challenges of music ministry, but last week its creators revealed that they've lost social media pages and had to censor their brand due to a company claiming ownership to "two out of the three words" in their original name.
That company is Authentic Media, which runs a church resource called Worship Leader, once a print magazine and now available online. Authentic Media holds the trademark for "worship leader" and last year publicly stated that it planned "to continue to defend our trademark, as we have for decades."
The dispute between Worship Leader and Worship Leader Probs dates back to October 2022, when Authentic Media explained its concerns about the name during a phone call with the creators of the meme account.
According to Joshua Swanson, editor in chief of Worship Leader and managing partner at Authentic Media, the company "woke up to the fact that people were using our brand," and in 2022, he and others at Authentic Media became particularly concerned about brand confusion with Worship Leader Probs.
"It became a material issue for us. Our mission and their mission do not align," Swanson told CT. "It became a major conflict. We would be at events, and people thought we were them and they were us."
The phone call last fall did not resolve things, and after months at an impasse, Authentic Media began reporting Worship Leader Probs' social media accounts for trademark infringement in February 2023.
Before losing its accounts, Worship Leader Probs had 15,000 followers on Facebook and 45,000 followers on TikTok. Its YouTube page has also been taken down. On Instagram, where it has the largest following—133,000—Tabor has been able to rebrand and keep the account as "Worship Probs," with a Band-Aid over the L in its WLP logo.
What started as an anonymous meme-sharing account has grown into a community and resource for worship leaders looking for inspiration and commiseration. Its growth from a silly diversion into a full-fledged ministry—running it has become creator Brian Tabor's full-time job—likely led to the conflict with Worship Leader.
Tabor started Worship Leader Probs in 2016 and joked about the scenarios worship leaders know all too well: tech crises, unrehearsed musicians, and holiday exhaustion.
"It started to catch on and grow. People started to ask 'Who are you? How do you know what I'm dealing with today?'" said Tabor, who has served as a worship pastor in Indianapolis since 1993.
The conflict between Worship Leader Probs and Worship Leader was not public until last week, when another popular social media creator got caught up in the trademark infringement dispute.
This third account, Rogue Worship Leader, was known for Star Wars–themed memes and mash-ups poking fun at the tropes and quirks of worship music and music ministry: One popular entry is a video of the band Leeland performing "Way Maker" spliced together with footage from The Phantom Menace of Anakin Skywalker yelling, "It's working" from his podracer.
Scott Leonard, the page's creator, was blindsided when the Facebook page was taken down without warning for violating community guidelines—specifically, for trademark infringement. Leonard appealed to Facebook and found that it too had been reported by Authentic Media.
On March 16, Leonard posted a video to Instagram, saying (with "Cantina Band" from A New Hope playing in the background), "Hey worship leaders … your job title is actually a trademarked term."
Authentic Media told CT that it was not their intention to initiate the removal of the Star Wars–themed meme page but that it included it in a list of other similar accounts in the process of reporting Worship Leader Probs. Swanson claims Facebook made that decision and acted without the prompting of Authentic Media.
"We made a mistake and we're owning up to that," Swanson said. As of Monday afternoon, he said the company was able to get six reported accounts restored on Facebook.
Before its removal, the Rogue Worship Leader page had thousands of followers on Facebook— its accounts on Instagram and TikTok have 82,500 followers and 46,600 followers, respectively.
Leonard isn't convinced that his page was just collateral damage. He told CT that he was able to confirm that eight individual posts on his page had been reported to Facebook for copyright infringement by Authentic Media.
Leonard also said that after he posted his video to Instagram last week, Authentic Media reached out to the church office where Leonard leads worship, as well as to the church's pastor and elder board.
Leonard is pursuing an appeals process through Facebook and fears that he may soon be reported on TikTok and Instagram and lose those accounts too. A veteran worship leader of 18 years, Leonard was surprised to find himself in a conflict over a phrase that he considers very much part of his identity.
"I expected to have to fight off Disney and Lucasfilm, not a Christian company," said Leonard. "Copyright, CCLI, there is room for all of that to maintain some order in the worship community, but this goes beyond that."
In other trademark conflicts between Christian entities, leaders have had to weigh the importance of protecting and stewarding their brands with the desire to avoid legal fights with fellow ministries. In 2011, the former Mars Hill Church in Seattle dropped its cease-and-desist against a church with a similar name and logo.
At the time, several executive pastors and lawyers saw some benefit to trademarking church names to avoid confusion, though Jim Tomberlin of MultiSite Solutions told CT, "Since most church names are derived from the Bible or commonly used words, it would be difficult to trademark their name only, but it is certainly appropriate to protect a church's name and logo from those who would misrepresent it accidentally or misuse it intentionally."
Since 2016, Authentic Media has owned the rights to the phrase "worship leader" when applied to periodicals, online publications, and websites with resources around worship. Prior to that, the trademark had been owned by Maranatha Music, Worship Leader's previous owner, since 1993. The company also holds trademarks for "worship leader workshop" and "song discovery."
The Worship Leader website featured the claim that the organization "literally coined the term 'worship leader,'" citing its founder, Chuck Fromm, who died in 2020.
"We have a long history that goes back to the Jesus Revolution and we're just fortunate enough that our founder [Fromm] and his team essentially created this term 'worship leader' and then trademarked it and built our business off of it," Swanson wrote in an article titled "Why We Defend Our Worship Leader Trademark" on the publication's website in June 2022. That article was removed last weekend.
Swanson said that before Worship Leader Magazine began in 1991, "the term 'worship leader' was not one commonly used in church ministry."
"It's been our name since the beginning," he told CT. "Prior to us, they were music ministers, and they were off to the side."
A quick search of American newspaper archives reveals the term was in use to describe music ministers and church leaders across Christian denominations throughout the 20th century. A 1959 article from the Sunday Times of Bridgeport, Connecticut, refers to the "Rev. Joseph Church, worship leader" at First Methodist Church. A 1958 article in the Lewiston Daily Sun (Maine) detailing plans for ecumenical Lenten services gives six different individuals the title "worship leader." It's also not difficult to find hymnals from the early and mid-20th century that occasionally use the term.
Another page on the Worship Leader website offers a more circumspect take on Fromm's use of the term: "While Chuck did not invent the term 'worship leader,' he did more than anyone to define the role, to establish its significance, and to equip those who were called to this ministry."
Here, the claim seems to be that although the term "worship leader" was used prior to the '90s, it had no standardized definition. And when Worship Leader trademarked the words, it was because Fromm had identified and codified an emerging concept of what or who a "worship leader" was in the contemporary worship space.
But it's difficult to say whether Fromm's use and elevation of the term was a singular accomplishment or part of a larger movement that was already underway. Historians Lester Ruth and Lim Swee Hong trace the rise of the term back to the late '70s, particularly to influential books on praise and worship like David Blomgren's The Song of the Lord.
Ruth and Lim note that Blomgren used three terms for the lead vocalist in worship services: "song leader," "leader in worship," and "worship leader" and that he preferred the latter because it indicated the spiritual leadership inherent in the musical role. Ruth and Lim cite Fromm's dissertation as a useful and influential source on the changes in worship music culture during the '60s and '70s. Fromm completed his dissertation in 2005.
Branding 'worship leader'
Despite any questions about the origins and development of the term worship leader, Authentic Media has the trademark and therefore has a stake in protecting its Worship Leader brand.
"Our own business has spent hundreds of thousands of dollars over the years on our trademark," wrote Swanson. "We have 'invested' in our trademarks and so we are compelled to continue to defend all of them and ensure that our investments are protected."
The creators of the meme accounts insist that it'd be difficult to confuse their brands, full of movie clips and jokes, with the polished and ministry-oriented articles and interviews offered on WorshipLeader.com.
Worship Leader recently began speaking out about the trademark issue on its Instagram, days after the concerns from Worship Probs and Rogue Worship Leaders became public.
"'Can I still use Worship Leader on my website, my Facebook group, my job title, Instagram, etc?' Yes. You can," read a post on its Instagram account on Sunday. "The narrative that we are going after all accounts using Worship leader is a lie and a manipulation tactic to divide the worship community."
In the past, Christian ministries have faced trademark disputes with brands like Adidas or the Italian denim company that secured the trademark for clothes branded with Jesus' name, but they also have come into conflict with each other. Attorney Brock Shinen weighed in a decade ago around the issue of churches claiming name trademarks.
"If a church is on the receiving end of a cease-and-desist letter, it should ask this question: 'Does the church that sent the letter have an exclusive legal right to the name?' If the answer is 'yes,' then why be offended? Comply. Romans 13 obligates us to submit to government laws like this," he wrote for CT's Church Law and Tax.
But Shinen also said, "A church applying for trademark protection won't necessarily take away another church's right to have its name and logo: If a church's name and logo are unique, trademark protection will be granted. If the name and logo are generic or descriptive, it won't."
Worship Leader's protection of its trademark is nothing new; in 2017, when the magazine was still owned by Maranatha! Music, it sent a cease-and-desist letter to Alex Enfiedjian, creator of Worship Ministry Training (originally Worship Leader Training).
"They basically said, either change the name, or they'd take me to court," Enfiedjian said.
He was able to arrange a personal meeting with Fromm through a friend to try to resolve the conflict person-to-person.
"I really wanted to do the Matthew 18 thing. You know? I'm not going to go to court," Enfiedjian said. "In person, [Fromm] obliged and said, 'It's okay, we'll just make it work, you can keep the name.' But on the drive home, they called and changed back to their original stance, that I need to change the name."
At that point, Enfiedjian decided to let it go.
"The next Scripture to follow is what the apostle Paul says in 1 Corinthians 6:7, where he says that we should not take each other to court in front of a watching world. It's better to be defrauded. He says, 'Why not rather suffer wrong?' (ESV)".
Enfiedjian changed the name of his organization and podcast and moved on. In hindsight, he has no regrets. Watching the current conflict unfold six years after his experience with Worship Leader, Enfiedjian says that he hopes for healthy, kingdom-oriented perspective for everyone involved.
"What we have is not our own," he said. "God has entrusted us to build the kingdom. Not our kingdom, his kingdom."
The now-public nature of the dispute between Worship Leader and Worship Leader Probs raises some uncomfortable questions about the nature of branding, ownership, monetization, and power in the worship music industry.
Fans of Worship Probs defended the creators in the comments to the recent post about the ongoing dispute over their name. Many were surprised or dismayed that a company would attempt to restrict the use of a term as common in today's churches as "worship leader."
"Trust us, no one is confusing the brands!" one wrote. "We're with you Worship [redacted] Probs!"