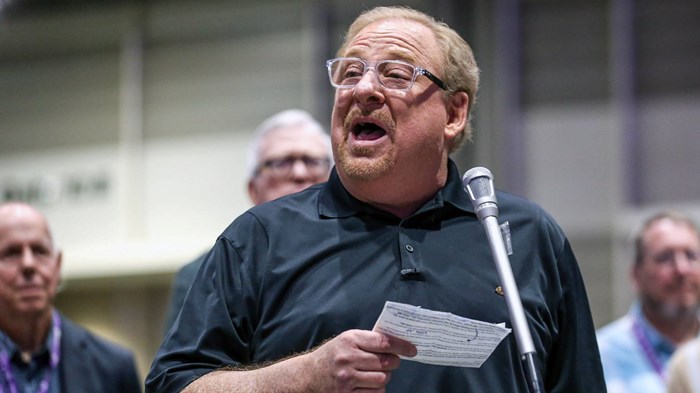 Nobody expected Rick Warren's appeal to be successful—not even Rick Warren. But he still stood up in front of 13,000 Southern Baptists gathered in New Orleans to make his case.
"No one is asking any Southern Baptist to change their theology! I'm not asking you to agree with my church," he insisted, reading from a printout at a microphone on the floor of the convention hall during a three-minute speech. "I am asking you to act like a Southern Baptist, who have historically agreed to disagree on dozens of doctrines, in order to act on a common mission."
For messengers at the SBC annual meeting, employing women pastors was not an agree-to-disagree issue. A vast majority—88 percent—voted to uphold the decision made back in February to disfellowship Saddleback.
The vote concludes two years of scrutiny and criticism toward the California megachurch for ordaining female pastors from its stage, welcoming a female teaching pastor to preach on Sundays, and naming a female campus pastor. This was the only chance to appeal.
After the vote, Warren said he wasn't counting the appeal to succeed. Instead, "I wanted to push the conversation that's been stagnant for years."
Warren, who founded Saddleback and led the church for 43 years until his retirement last September, did not leave quietly. In the weeks before the meeting, the fourth-generation pastor launched a campaign in his church's defense, with dozens of tweets, a website, three videos, an open letter, and a four-page messenger's guide arguing that removing Saddleback violates the fellowship's belief in church autonomy.
"I wanted to speak up for millions of Southern Baptist women … I believe their spiritual gifts, their leadership gifts and talents, are being wasted," said Warren, who considered himself well-positioned to make the case given his prominence, "tender heart, and thick skin."
But the messengers were largely unified against the appeal. As Warren offered up arguments for Saddleback, Southern Baptists online and at events ahead of the meeting countered with their own defense of the SBC's historic stance and their own complementarian convictions.
"Southern Baptists decided this is not just a matter of church polity, this is not just a matter of hermeneutics, it's a matter of biblical commitment—to a Scripture we believe unequivocally limits the office of pastor to men," said Southern Seminary president Albert Mohler, who offered a rebuttal to Warren's appeal.
The messengers also voted to uphold decisions to disfellowship Fern Creek Baptist, another church removed for having a female pastor, and Freedom Church, which was found to have mishandled abuse allegations.
At the direction of SBC president Bart Barber, the messengers were largely silent as the results of the appeals were announced on Wednesday morning. A small smattering of applause broke out from the back of the giant hall when the Saddleback results were read.
This year was the first time Southern Baptists have removed churches over female pastors, declaring Saddleback and four others "no longer in friendly cooperation" with the convention.
The move fueled a much bigger debate over how the SBC handles churches with women pastors.
Some saw the Saddleback decision as evidence that the process was working; the credentials committee was able to identify a church as out of alignment with the denomination's Baptist Faith and Message's position against female pastors and disfellowship it. Others saw a bigger issue looming, saying that far more churches in the SBC employed women as pastors, and a change needed to be made.
The SBC voted to amend its constitution to list male pastors as a requirement for cooperating SBC churches, a stance already included in its statement of faith. It states that churches must appoint "only men" as "any kind of pastor or elder as qualified by Scripture."
The constitutional amendment follows similar additions in 2019 and 2021 to explicitly name ethnic discrimination and disregard for abuse as grounds for removal from the SBC. It will have to be passed again next year to go into effect.
"Of everything we do at this convention this year, I think dealing with Saddleback correctly is the top thing," said Denny Burk, a professor at Southern Seminary's Boyce College, during a 9Marks discussion of the issue on Monday night. "If we don't get that right, that's really bad … but the amendment is really important too."
The vast majority of Southern Baptist leaders believe Scripture restricts lead and preaching pastor roles—the pastor-elder-overseer designation in the New Testament—to men. And many also believe that women using the title of "pastor" in other positions (think "children's pastor") is confusing at best.
The discussion continued around the convention, in meetings of the Executive Committee, and in proposals from the floor. Among a group who share convictions about what Scripture says about male pastors, is this a debate about titles? About ministry roles? About the function of a confessional fellowship?
The messengers also approved a change to the statement of faith wording to add "elder/overseer" to pastor—an attempt to clarify the biblical office being referenced.
And they authorized a task force studying terms of "friendly cooperation," how closely a church must comply with the SBC's statement of faith. The task force, which will report back at next year's convetion, was proposed by Georgia pastor James Merritt, surrounded by a group of fellow former SBC presidents, including Ed Litton and J. D. Greear.
Almost all of the debates have been among male leaders. During a Baptist21 panel on Tuesday, Greear brought up the position of women—especially women serving on church staffs—while this issue takes center stage.
"As tragic as getting complementarian wrong and going egalitarian would be," Greear says he also sees a failure to "recognize the role, integrity, dignity, and calling" of women in the convention.
"There's a lot of discouragement there because they've been turned into a battleground," he said.