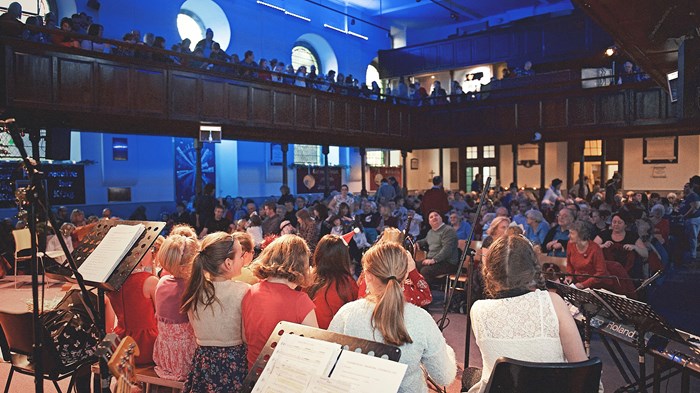 Southern Baptist Convention (SBC) music ministries seemed like they were thriving in 1938. The instruments in churches across the denomination were valued at more than $10 million (the equivalent of nearly $217 million today). Fanny Crosby was the most popular songwriter. And vocal quartets, especially male quartets, were in great demand.
But as the Sunday School Board of the SBC surveyed more than 1,000 churches that year, it noticed one dire problem. The SBC was facing a shortage of qualified music ministers.
"We must point out," the board wrote, "the greatest single need for a program of better music in Southern Baptist churches—the desperate need for well-trained choir leaders in the churches."
Eighty-five years later, some things haven't changed.
"There just aren't enough people out there to serve as worship leaders," said Will Bishop, associate professor of church music and worship at Southern Baptist Theological Seminary.
Bishop is the author of the first large-scale study of music in SBC churches in nearly 100 years. "A Snapshot of Southern Baptist Church Music: 2022," as yet unpublished, surveyed 127 congregations across the country, asking them 111 questions about the music in their worship services.
Bishop's work differs from the last big study of SBC music in scope and size. The 1938 survey had 1,381 respondents (out of 28,844 SBC churches) and asked each of them 24 questions. It focused on practical concerns like the total monetary value of the instruments in each church, the church budget for paying musicians and purchasing sheet music, the makeup of church musical ensembles, whether the choir was robed, and the use of mimeographed bulletins.
Bishop has a much smaller sample of churches—not enough to be representative, but enough to serve as a snapshot of SBC church music today. He also has a much wider range of questions. As someone responsible for training future music ministers, he wanted to know a lot of details. He asked about the frequency of choir use, how often new songs were introduced, and what percentage of music ministers had non-music responsibilities as part of their jobs (the answer: 58 percent). Bishop also inquired about hymnals, orchestras, vocal teams, and worship leaders' titles.
Some of the details he has turned up are fun and quirky: Three percent of the churches reported they have at least one harp player in the congregation. Secular songs sometimes used in SBC services include "California Dreamin'" by the Mamas & the Papas; "Take Me Home, Country Roads," by John Denver; "Man in the Mirror" by Michael Jackson; and "The Lion Sleeps Tonight," a South African song popularized in the 1950s and '60s by the Weavers and the Tokens.
More seriously, the study paints a picture of a denomination adapting and changing while also holding on to musical tradition. Despite declining membership over the past several years, the SBC is the largest Protestant denomination in the United States with more than 46,000 congregations. Bishop's survey shows that many of those are still singing Fanny Crosby's hymns. She ranked second among the 127 churches in the study, surpassed only by Chris Tomlin.
According to Bishop's study, Tomlin is the author or co-author of about 1 out of every 25 songs sung in SBC churches today.
The data corroborate recent research about consolidation in the worship music industry and the small circle of influential songwriters producing chart-topping worship songs. Of the 10 living songwriters with the most widely sung music, eight are affiliated with Passion, Bethel Music, Hillsong, or Elevation Worship.
Much of the industry caters to the needs of megachurches, which have the resources to recreate the high production level of audio and video recordings by popular artists. Bishop worries that a lot of the research on worship music is skewed that way too. Most studies rely on data from Christian Copyright Licensing International or streaming platforms. He suspected they were not capturing an accurate picture of SBC worship, which includes many small churches that don't have a lot of resources for music production.
"You hear a lot of folks say, 'Southern Baptists do this or that,'" Bishop said. "I found myself wondering, 'What do Southern Baptists actually do?' I may think I know based on my experience, but I've only been part of a few churches."
About 20 percent of the churches in Bishop's survey have 50 or fewer people in the pews every week; 30 percent have between 50 and 100. Some reported data wouldn't show up in a search of copyright license reports. One in five SBC churches sing more hymns than modern songs. One-third sing an equal number.
As he got into the nitty gritty of the survey data, though, Bishop became most concerned about the music ministry pipeline. Few SBC congregations seem to be emphasizing the kind of programs that encourage young people to pursue worship music training or to participate in music ministry at all. Only 44 of the 127 congregations he surveyed had an active children's choir. Less than 10 percent had a youth choir.
"Churches have not prioritized training young people to do worship ministry," Bishop said. "We're not thinking about the future."
As an educator who works with current and future worship ministers, Bishop was most worried by the responses to the question: "Can you name a young person in your church who 1) has expressed a call to or interest in pursuing a vocation in church music/worship, or 2) you could envision pursuing a vocation of church music/worship in the future?"
Half of the respondents said no. Another 10 percent said they weren't sure.
"Music is a way to disciple," Bishop said. "I see bad things on the horizon when I see bad numbers for youth and kid ensembles."
Brady Paul, pastor for worship ministries at Capitol Hill Baptist Church in Oklahoma City, agrees it's important to create opportunities for children and youth to participate. His church, which participated in the survey, has a 20- to 30-person choir, a 12-piece orchestra, and a worship band that all regularly play throughout the year. Members of the church with musical skills are encouraged to join.
"Choirs and orchestras open up a wider door," he said. "As pastors, we're called to equip the saints for ministry. Ensembles are more ministries for the saints to be involved in."
Paul says that's how he learned. He developed a love for music and a sense of belonging in the church through his participation in choir. He learned to play by ear, sing, and collaborate in church ensembles. He also had a strong model to follow: his father, a worship leader in SBC churches for more than 25 years.
At the same time, Paul has seen how difficult it is to recruit and retain passionate young people for music ministry. When he began pursuing a degree in worship arts at Oklahoma Baptist University in 2016, he was one of eight students in the program. By his last year, he was one of two.
Fewer people raised in church choirs and ensembles mean fewer people considering music ministry as a career path, so the widespread lack of opportunities for young people to explore and develop musical abilities in their churches worries Bishop.
"It's not like we can push a button at seminary and out pops a worship leader," he said. When he encounters pastors and church leaders looking for new worship leaders coming out of SBTS to fill positions in their church, he asks them, "Who do you have to send us?"
There's no quick fix for the problem, but Bishop believes he knows where to start: "Find a way to invest in the young people in your church."