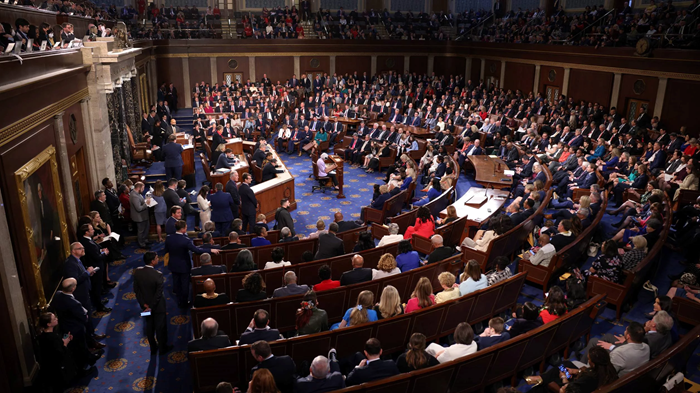 Image: Win McNamee / Getty Images
Por primera vez en la historia del informe Faith on the Hill del Pew Research Center, es más probable que encuentres a un bautista dentro de los pasillos del Congreso de los Estados Unidos que fuera de él. [Los enlaces de este artículo redirigen a contenidos en inglés].
A medida que la afiliación a las principales denominaciones sigue disminuyendo, aumenta la diferencia entre las afiliaciones religiosas de los estadounidenses y las de sus representantes.
En el Congreso número 118, el 88 % de los legisladores se identifican como cristianos, en comparación con el 62 % de los adultos estadounidenses. Solo 1 de los 534 miembros del Congreso afirma no tener una afiliación religiosa (0.2%), frente al 29 % a nivel nacional.
En 2023, el número de bautistas en el Congreso —la identidad denominacional más popular— se mantuvo relativamente estable con un 13 %, mientras que la afiliación bautista disminuyó a nivel nacional al bajar al 11 %, en comparación con el 15 % de 2021.
Actualmente hay 57 bautistas en la Cámara de Representantes y otros 10 en el Senado, entre ellos los bautistas del sur Ted Cruz, Mitch McConnell, Lindsey Graham y James Lankford. Otros bautistas, como Raphael Warnock, proceden de denominaciones bautistas predominantemente afroamericanas, como la Convención Nacional Bautista Progresista.
Hasta 2008, el porcentaje de estadounidenses que se identificaban como bautistas siempre había superado a la representación bautista en el Capitolio. Asimismo, durante años, las principales tradiciones estuvieron sobrerrepresentadas en la Cámara de Representantes y el Senado, ya que los miembros del Congreso habían sido menos propensos que el resto de la población a identificarse con afiliaciones como la pentecostal y la no denominacional.
Recientemente, sin embargo, más legisladores cristianos eligen etiquetas genéricas en lugar de identificarse con una denominación concreta. En el Congreso de hoy, los representantes tienen casi el doble de probabilidades de llamarse a sí mismos protestantes de denominación «no específica/otra» (20 %) o «no denominacional» (2.8%) que la confesión más popular (la denominación bautista, con un 12.5%).
La tendencia es aún más fuerte entre los recién llegados al Congreso. Entre los 52 legisladores novatos que son protestantes, la mitad son protestantes de denominación «no específica» o «no denominacional», y muchos de ellos se identifican como evangélicos.
Eli Crane, congresista entrante por Arizona que pertenece a esa categoría, ha compartido su testimonio en una serie en Pray.com y ha hecho referencia a un periodo de formación bajo el liderazgo de Miles MacPherson en la iglesia The Rock Church, una congregación evangélica de San Diego.
Otro nuevo protestante en esta categoría, el representante de Misuri Mark Alford que asiste a la iglesia Evangel Church de Kansas City, publicó Proverbios 3:5-6 antes de la toma de posesión del lunes.
«Dame discernimiento, sabiduría y valor en las decisiones que tome aquí en Washington, y dame compasión y comprensión por... nuestros electores en casa», oró.
Mientras que los protestantes de denominación no específica ganaron once escaños en el Congreso y los protestantes no denominacionales sumaron tres, por su parte los grupos denominacionales mantuvieron el mismo número —tal como los bautistas y los luteranos—, u obtuvieron menos —como los metodistas, presbiterianos y episcopales—.
Cada uno de estos tres últimos grupos tiene menos miembros en este Congreso que en el anterior: los metodistas perdieron 4 miembros y bajaron a 31, los presbiterianos perdieron 1 miembro y bajaron a 25, mientras que los episcopales perdieron 4 y bajaron a 22. También hay 10 legisladores católicos menos en esta legislatura.
Aunque la composición religiosa del Congreso está empezando a reflejar el declive de las denominaciones y el auge del evangelicalismo no denominacional, aún le falta el otro componente principal del cambiante panorama religioso estadounidense: los llamados «nones», es decir, sin afiliación religiosa.
La congresista Kyrsten Sinema, de Arizona, sigue siendo la única miembro del Congreso que respondió no tener afiliación religiosa, una categoría que ahora comprende casi un tercio (29 %) de los adultos estadounidenses y es la afiliación de más rápido crecimiento del país. Otros 15 demócratas y un republicano eligieron no especificar su afiliación religiosa.
Algunas tradiciones cristianas más pequeñas recibieron un impulso de los líderes recién elegidos. Hay una cristiana ortodoxa más, la diputada Mary Peltola, quien es miembro de la Iglesia Ortodoxa Rusa y congresista demócrata por Alaska, con lo que el total de ortodoxos asciende a ocho.
Solo dos miembros del Congreso se identifican como reformados, y ambos son de Michigan. La legisladora novata y demócrata Hillary Scholten (cuya campaña de 2020 fue cubierta por CT) asiste a la Iglesia Cristiana Reformada de LaGrave Avenue, mientras que el titular republicano Bill Huizenga es exalumno de la Universidad Calvin.
Una nueva miembro, la diputada republicana de Florida Anna Paulina Luna, se identifica como cristiana y dice que fue «criada como judía mesiánica». Es la única judía mesiánica en el Congreso.
Traducción y edición en español por Livia Giselle Seidel.