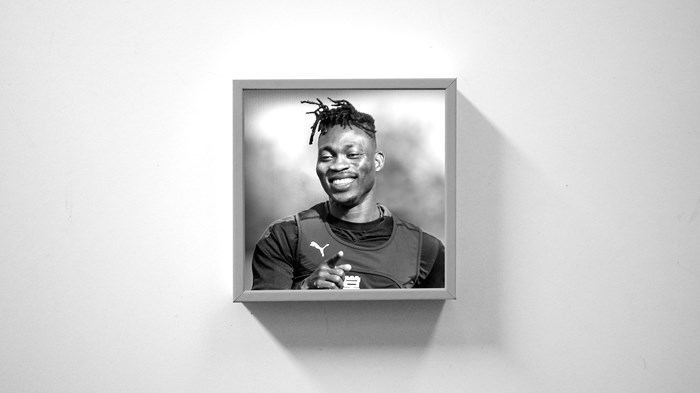 Image: Serena Taylor/Newcastle United via Getty Images/edits by Rick Szuecs
Christian Atsu kicked his last goal on February 5. He ran up to the soccer ball and slammed it with his deft left foot, shooting it past 10 opposing players and a goalie in the fifth minute of extra time. The ball found the back of the net, breaking a 0-0 tie and lifting his team to euphoric victory.
Atsu was a long way from the dirt-and-rock pitches where he learned to play barefoot in Ghana. But through all the changes—from poverty to professional soccer, international fame playing for Ghana, the highs and lows of the British Premier League, and then a new challenge with this team in Antakya, Turkey—he held fast to his faith.
"God's power has to be manifested in my life for people to see how far he has brought me," Atsu once told a reporter. "The Bible says it is not by our hard work. … It is not just by my hard work, though I am working hard, but it is the will of God, the grace of God, that has brought me this far."
The day after he scored the winning goal, February 6, Atsu's apartment building collapsed in the 7.8 earthquake that reduced the ancient city of Antioch to rubble. He went missing for nearly two weeks. On Saturday, February 18, authorities finally confirmed Atsu was one of the tens of thousands who died in the disaster.
In Newcastle, where Atsu played for four years as a winger and helped the team win promotion to the Premier League, fans applauded him for a full minute before a game on Saturday. Television showed his wife and two young children crying in the stands as 52,000 people in the stadium sung out his name.
"It's just devastating—he's 31," said Johnny Ferguson, Atsu's pastor at Hillsong Newcastle UK. "One thing I remember Christian being really passionate about was politics in Ghana. He had a real vision to do some good and give back to his community."
As Atsu's body was flown back to his hometown on the coast of West Africa, the president of Ghana issued a statement mourning his passing.
"Ghana football has lost one of its finest personnel and ambassadors," President Nana Akufo-Addo said. "May his soul rest in the Bosom of the Almighty until the Last Day of the Resurrection when we shall all meet again. Amen."
Christian Atsu and his twin sister, Christiana, were born to Immanuel and Afiko Twasam in Ada Foah on January 10, 1992. Immanuel was a poor fisherman who struggled to catch enough fish in the mouth of the Volta River to provide for his and Afiko's 10 children. The family's situation grew direr when Immanuel died in 2004.
At 12 years old, Atsu blamed himself for his father's death. If he had been working and making money instead of studying at a soccer academy, he said, perhaps the family could have paid for medical treatments.
His father's final charge to him, however, was to worship God and always use his talents to better humanity. The best way he knew to do that was to keep playing soccer.
"Jesus is the best thing that ever happened in my life and I give thanks to my parents for how they brought me up to know Jesus," Atsu later explained. "I'm inspired by God who gives me strength each and every day to move forward in my football career. … It will be difficult [to be successful] but you will because God is your strength."
Five years after his father died, Atsu left Ghana to play professional soccer for FC Porto—the top soccer team in Portugal. He stayed on the bench but then was loaned out to Rio Ave in 2011, where he scored for the first time in a professional game at age 17 and was named the team's player of the year.
Atsu struggled to adjust to Portugal—"Everything was different," he said—but he met and fell in love with his wife, and his playing improved rapidly. In 2012, he started playing for Ghana's national team, earning recognition from the international soccer press. The following year, he signed with Chelsea and moved to the UK to play in the Premier League. The West London club decided not to put him on the pitch, though, and instead loaned him out to a series of lower-league teams.
At the same time, Atsu achieved fame in Africa playing for Ghana in the World Cup and the Africa Cup of Nations. His celebrity rose, but he continued to prioritize his faith. When he traveled with the national team, he shared a room with defender Jonathan Mensah, also a committed Christian, and the pair frequently prayed and worshiped together.
"In the night we have to praise God," Atsu said, "and when we wake up, we have to thank God."
Like other Christian athletes, Atsu prayed to win and be successful. But he also believed that God should be praised at all times, in all circumstances.
"What if my football [career] doesn't work, does that mean that God didn't listen to my prayers?" he once said. "No. It doesn't mean that. What is important is that we know God is always there to worship. Even if we fail in our career, we will not be shaken in our belief in God."
In 2016, Atsu moved from Chelsea to Newcastle, signing a four-year contract for a reported £6.2 million (about $8.4 million). When the then 24-year-old soccer star moved to Newcastle, he and his family started going to the local Hillsong. The church was already attended by several professional soccer players and known, locally, for running a sports program from refugee kids. There were numerous African immigrants in the congregation, including an older couple from Ghana who greeted Atsu like family.
"The first time I came, I loved it so much," Atsu said. "I felt like I was home."
In one long interview he gave about his experience at the church, Atsu said the congregation was really the one place in public where he felt himself. He worshiped God like he did as a child at his parents' house and in private with other believing soccer players.
"In the house of God, I'm normal," he said. "I'm here to worship God."
Encouraged by the church and the memory of his father's charge to better humanity, Atsu started working with Arms Around the Child in 2017. He served as an ambassador for the nonprofit and raised money to help them build a school for orphans in Ghana. His efforts funded the purchase of land and a foundation in 2019, and he personally financed much of the construction. Currently, the school is near completion, according to Arms Around the Child, but still needs paint and school supplies. Fans are organizing to finish the work.
Atsu also gave to help children who had been forced to work have the chance to go back to school, and he quietly contributed funds to the CrimeCheck Foundation to release people from prison. In 2019, he paid thousands of pounds to release a 62-year-old woman serving a sentence for stealing less than $2 worth of grain to feed her family.
When his philanthropy attracted press attention, British reporters suggested he was generous because of his personal experience with poverty. Atsu corrected them. It wasn't that, he said. He was motivated by his faith.
"This is the will of God for every man—for every man to help his friend, help those really poor in need," Atsu said. "It is not because of what I've been through that is making me do it, no. You have to help your friend when he is in trouble. You have to love your neighbor as yourself."
Atsu continued to live and worship in Newcastle when he went to play soccer for Hatayspor FC in a newly formed Turkish league in 2022. His luxury apartment in Antakya, like most of the ancient city where followers of Jesus were first called Christians, was reduced to rubble in the February 6 earthquake. There were false reports and false prophecies that raised hopes he had survived, but a pair of his shoes was found by rescue workers on February 14, and his death was confirmed a few days later.
Atsu is survived by his sister, wife, two sons, and a daughter.