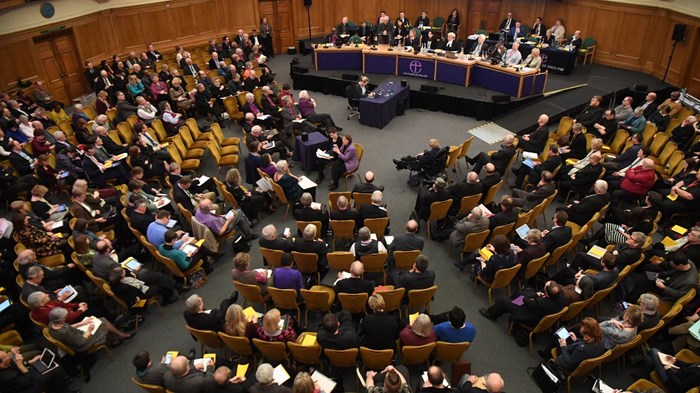 Image: Victoria Jones / PA Images / Getty
This coming week promises to be one of the most historic—and controversial—in the life of the Church of England, as its governing body, General Synod, heads toward a resolution of a long debate over blessings of same-sex couples.
After years of wrangling over how the church should deal with homosexuality, its bishops announced in mid-January that they would not agree to same-sex marriage but were prepared to bless civil unions. They followed with an apology for the way that LGBTQI+ people were treated by the Church of England.
Beginning Monday, the three voting houses of bishops, clergy, and laity will discuss and vote on the proposals in an all-church body known as Synod.
The deepest split on the issue has been between evangelicals vehemently against moving away from what they call the biblical concept of marriage as being between a man and a woman and those campaigning for full equality, who are frustrated by the bishops' willingness to recognize their mistreatment of LGBT members while being unwilling to offer them marriage.
Also frustrated are members of the House of Commons advocating for the established church to endorse marriage for same-sex couples, which has been legal in England and Scotland since 2014. (Northern Ireland followed in 2020.) Last week 14 MPs met with Archbishop of Canterbury Justin Welby to express dismay at what they see as the church's lack of equality.
The debate has grown so tense as Monday's meetings begin that facilitators have been hired to help navigate the discussions.
The current proposal for blessing new civil unions and praying for those already in them comes after a six-year discussion project within the church, called Living in Love and Faith. The Archbishop of York, Stephen Cottrell—the English church's second-highest ranking prelate—said that the bishops had opted for a pastoral rather than a legislative way forward: changing the church's canon law on marriage would take years, he pointed out.
"I hope that these prayers of love and faith can provide a way for us all to celebrate and affirm same-sex relationships," he said.
Welby, the primate of the Church of England and the ceremonial head of the worldwide Anglican Communion, acknowledged that the proposals were a compromise. "I am under no illusions that what we are proposing today will appear to go too far for some and not nearly far enough for others," he said in a January 18 statement.
The bishops also urged congregations to welcome same-sex couples unreservedly in their churches, advising that inclusion is founded "in Scripture, in reason, in tradition, in theology and the Christian faith as the Church of England has received it."
Though the bishops' middle course of blessing unions avoids the legislative wrangling of changing church doctrine, they are keen to win Synod support for the proposals, which can be bestowed with a simple vote. Heading into the week, the count looks tight. According to the Rev. Neil Patterson, chair of the General Synod gender and sexuality group, reformers will begin the week with 167 yes votes out of a total of 467, based on subscribers to the group's pro-reform email list.
The challenge will be convincing enough pro-LGBTQ members that the proposal goes far enough.
"We would have liked rather more than the limited way that the prayers have been framed," said Patterson. "But this is a step forward worth supporting. My philosophy is that we have to have a gradualist approach if we are to eventually accept same-sex marriage. If we have celebratory services at this stage we can get there."
Evangelicals, for this reason, refuse to go even as far as blessings. The Church of England Evangelical Council has warned that the proposals will lead to what it calls "broken fellowship" and "a greater tearing of the fabric of the worldwide Anglican Communion" while also "compromising with prevailing culture."
Earlier this week the CEEC's director of strategy and operations, Canon John Dunnett, called the proposals a "lose-lose situation," explaining, "The liberals don't get what they want, and we have been dragged into a place that we can't accept."
General Synod member Jayne Ozanne, a long-standing campaigner for marriage for all, said she could not accept the bishops' plans as a halfway house and will offer an amendment calling for debate of same-sex unions in the near future, but others who support equality are willing to accept the blessings for now. Dr. Charlie Bell, a psychiatrist, Anglican priest and author of the recently published book Queer Holiness, urged members of Synod to accept the bishops' proposals.
"For me this is a clear stepping stone to equal marriage. Is it enough? Absolutely not," Bell told Religion News Service.
Beyond the Church of England's decision looms a broader fight with other churches in the Anglican Communion. Bell wants the church hierarchy, especially Welby, to be more courageous in taking on conservative Anglicans who are not only opposed to same-sex marriage but condemn people for being gay.
The 14 MPs who met with Welby for private talks indicated that the issue raised the question of whether a church that rejected the legal status of married people in England could continue to be the established faith. Welby recently said he would rather accept disestablishment than to split the church itself.
Ian Paul, a theologian and vicar who is opposed to marriage reform, said, "The idea that the government should tell a Christian church what its doctrine should be is unprecedented.
"The Church of England is the established church but it has been self-governing since 1919. An intervention like this would be implausible, provoking a constitutional crisis," he said.