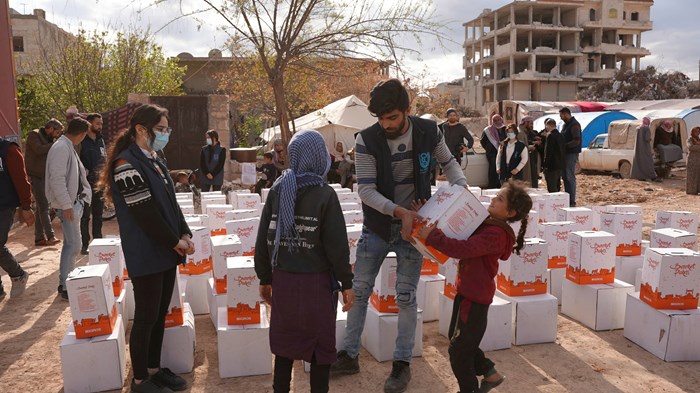 Image: Rami Alsayed / NurPhoto via AP
Syria has been suffering for 12 years, plagued by civil war, jihadist violence, foreign occupation, and autocratic governance. Yet widening US economic sanctions have made it increasingly harder to help—until now.
A February waiver offers a 180-day window for earthquake relief.
"If God has put it on your heart to give to Syria, be generous," said Nabil Costa, executive director of the Lebanese Society for Educational and Social Development (LSESD), also known as the Baptist Society. "Find trusted organizations, because it is not easy to get it to the right place."
On March 10, the World Evangelical Alliance (WEA) joined the World Council of Churches (WCC) and Catholic charity Caritas to detail the "chilling effect" sanctions have on the ability of faith-based and other NGOs to transfer money and goods to struggling Syrians. Most banks have deemed such transactions too risky to facilitate.
Therefore, unlike in neighboring Turkey, the February 6 earthquake was not followed by an immediate outpouring of international aid. Despite a death toll of 6,000 and an estimated 500,000 more displaced amid the rubble, United States and European Union policy—and distrust of the Bashar al-Assad government—prevented most nations and international humanitarian organizations from rushing to the scene.
A false step could result in a $1 million fine and 20 years in prison.
US sanctions against Syria began in 1979 with a declaration that it was a state sponsor of terrorism, and tightened in 2004 for its undermining of the war in Iraq. In 2011, Syria's repression of civil protest resulted in additional sanctions, subsequently strengthened throughout its civil war—especially after the use of chemical weapons in 2017.
Two years later, after a whistleblower smuggled out alleged evidence of the torture of civilians, the Caesar Act implemented secondary sanctions against anyone conducting business with the Syrian government.
Legislation permitted humanitarian exemptions for food and medicine, and in 2022 allowance was made for unfettered aid into regions outside of government control. Turkey and various rebel entities occupy territory in northwest Syria, while a US military base supports Kurdish forces administering large swaths of the northeast.
The United Nations designated a number of humanitarian aid corridors from Turkey, but Russia and China vetoed all but one—in protest of their ally's dwindling sovereignty. Iran and Hezbollah have also backed Assad militarily, while Israel occupies the Golan Heights and regularly bombs the alleged transport of weapons near its frontier and before crossing into Lebanon.
Amid it all, Syria's Christians help who they can.
Following the earthquake, Aleppo's churches hosted hundreds of frantic neighbors fleeing their cracked and crumbling homes. But the WEA report, written prior to the tragedy, outlined how many faith-based organizations lacked the resources and legal expertise necessary to navigate the myriad regulations to apply for permitted exemptions. Costa said LSESD did not attempt it, relying instead on "existing channels" to get aid into Syria.
"Everything we do is transparent," he said, "but not everything is advertised."
Even large NGOs like Caritas have struggled.
"It should be like math, one plus one equals two," said Karam Abi Yazbeck, Caritas's regional coordinator for the Middle East and North Africa. "But I can't make sense of why certain documents are required sometimes, and others not."
Organized as a confederation, Caritas affiliates in the US, Europe, and around the world interacted with American and EU authorities to obtain the necessary paperwork to facilitate aid. Abi Yazbeck said Caritas's Syria office has been bolstered considerably since the war.
His office is based in Lebanon, where local banks and their intermediary partners have delayed transfer of funds amid snail-paced investigations. It is a very human problem, he said. Bank personnel themselves do not know the regulations and protect against institutional risk.
Thus the 180-day comprehensive waiver.
"I want to make very clear that US sanctions in Syria will not stand in the way of life-saving efforts for the Syrian people," stated Wally Adeyemo, deputy secretary of the US Treasury Department. "Those providing assistance can [now] focus on what's needed most: saving lives and rebuilding."
The waiver, issued three days after the quake, preceded even Assad's authorizing of two additional border crossings from Turkey. Within the first month, the US provided $50 million in humanitarian aid.
A Treasury Department Q&A outlined the new reality. Financial institutions are specifically authorized to process earthquake-related transactions, even if interacting directly with the Syrian government.
The impact was dramatic—for some.
"The process has not changed," said Michel Abs, secretary general of the Middle East Council of Churches (MECC). "But donations, previously delayed, have now been processed quickly."
Some transactions had taken up to nine months of investigation. One transfer of $800,000 was blocked completely, causing the donor to repurpose the aid. But working through a Lebanese bank with an affiliate entity in Syria, MECC's aid money is now flowing far more easily.
In fact, donations can now be direct. Among many local partners, the WCC-affiliated ACT Alliance has been approved to transfer funds to the MECC office in Damascus. Its leaders there are training a team to carry out humanitarian oversight of relief distribution, working in tandem with the Ecumenical Joint Church Committee of Aleppo, formed by the regional body.
In addition to distributing food and hygiene kits to more than 1,500 households, MECC has partnered with church-linked engineers and local authorities to inspect over 500 buildings to date, with preparations made for 20 requiring the most substantial repair. Others are helped with educational, medical, and psychosocial needs.
The greatest benefit, Abs said, was Syria's adjustment of monetary exchange. Keeping US currency out of local circulation, authorities required that every dollar brought into the country be traded at the official rate. But for earthquake-related transactions the government gives nearly one-third more, depending on fluctuations in the parallel market.
Edward Awabdeh is waiting to see if he can benefit.
When the president of the Christian Alliance Church in Syria and Lebanon tried first his Beirut bank, they told him the US waiver pertained only to goods, not funds. Then the manager revised the message to permit specifically designated earthquake aid. But with relative pennies currently in the account, Awabdeh doesn't yet have enough money to test it.
Like LSESD, his denomination had also been using "existing channels" to support a network of 5,000 needy families prior to the earthquake. Amid a poverty rate of 90 percent, 4 million Syrians were already reliant on humanitarian aid, according to UN figures.
And then roughly 200 people in Aleppo suddenly found themselves housed in Alliance churches. Whatever donations come from sister churches in Lebanon, the US, and elsewhere, Awabdeh said, will be added to the comparative widow's mite from Syria. With 50 neighbors still sleeping among the pews, local believers in Damascus—on a monthly salary of $30—gave $4,500 to support them.
"Sanctions hurt our people also," said Awabdeh. "But whatever rationale used to justify them, God's grace is sufficient, and his power made perfect in weakness."
Not part of the Aleppo council, the Alliance church is cooperating with the area NGO network that ensures no one is left out. And even the government is facilitating Awabdeh's wider work, permitting three trucks of relief supplies to cross from Lebanon to the affected area. Traditionally comfortable with the Orthodox and Catholic majority, authorities issued official permits for his evangelical body to help.
"God has been faithful as we have stewarded small things," said Awabdeh. "Maybe now he is giving us the favor that can facilitate larger challenges."
Not all have been as fortunate. Amnesty International reported that the government blocked 100 trucks of aid sent to Kurdish areas of Aleppo, while opposition militias barred 30 shipments to Turkish-occupied Afrin. Up to 40 percent of assistance coming from the Kurdish northeast is diverted to rebel families, and The New York Timesreported that the local Red Crescent and Syria Trust charities, which have close ties to the government, deliver only a fraction of aid to earthquake victims.
Some say this is evidence for why sanctions should stay in place. If Assad cannot be trusted to work with international agencies during a natural disaster, the national tragedy will only metastasize if funds flow freely.
"The regime has inflicted thousands of times more damage on the country than the recent earthquake," stated Wa'el Alzayat, the CEO of Emgage, a Muslim American advocacy organization, and a former Middle East policy expert at the US State Department. "If the sanctions are lifted today, the war will simply heat up again."
Yet Syria's churches have found multiple partners to advocate otherwise, on humanitarian grounds. Chief among them is Alena Douhan, UN special rapporteur on the negative impact of unilateral coercive measures (UCM) on the enjoyment of human rights.
Another name for sanctions, UCMs are illegal under international law, she said. While Douhan welcomes the waiver, it does not "fully open the floodgates" for what is needed.
Take water as an example. The US announcement lists the liquid along with food and medicine as allowed relief, and also specifically states that critical infrastructure damaged during the earthquake can be repaired.
Does the water processing plant qualify? Douhan said that sanctions prevented the restoration of facilities damaged during the war. Notwithstanding the recent outbreak of cholera, presumably these are still off-limits.
But how to interpret water service in Aleppo?
"If any bank manager sees a request resembling reconstruction, it will be interpreted as risk," said Douhan. "But he is not the one who should decide."
The US has not responded to her official UN communication.
But the EU, which began sanctioning Syria in 2011, defended its policy, stating that it does not cause the severe suffering of targeted nations and that it has received positive feedback from advice given to querying nations and NGOs.
Issued in 2022, the EU response only mentioned "over 15" such questions.
Most, including the gatekeeping bankers, do not ask. So while Abi Yazbeck's colleague in Damascus was contacted by the local bank, saying it could now process Caritas' earthquake relief to Syria, it has been one month with four transactions still pending. The bank manager blames intermediaries.
"No one was willing to work with Syria after the Caesar Act," Abi Yazbeck said. "Many, it seems, are still uncertain."
For donors eager to try, LSESD provides advice.
First, be certain that aid is clearly labeled "for earthquake relief."
Second, limit outside conditions for use. Aid agencies and churches alike are overwhelmed with the scope of need, are not competent in all areas, and need flexibility with discretionary funds.
Third, keep the medium and long terms in view. Beyond food and medicine, rent support will be necessary for a while, fuel for running generators is often overlooked, and local volunteers must be sustained through a viable income received for their services.
Fourth, ensure accountability. More money means more temptation.
In the meanwhile, sources encourage generosity. The waiver is temporary, and even if renewed on August 8, the suffering will continue. Syria will not be rebuilt soon.
"If you make it harder for me, that is your decision," said Costa. "But no one can stop us from helping the people in need, and no one has yet. God has a plan, and it is moving forward."