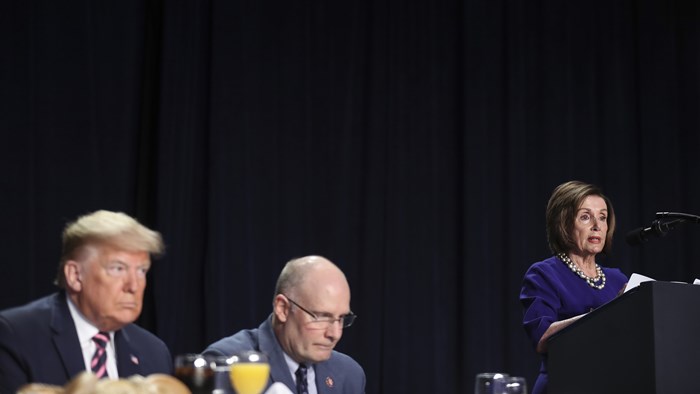 Image: Oliver Contreras / Sipa / Bloomberg / Getty Images
Inside the International Ballroom at the Washington Hilton, the mood at the National Prayer Breakfast was half church service, half political rally.
The program began with a spirited rendition of Hank William's "I Saw the Light," led by members of the House of Representatives prayer breakfast group, followed by prayers from co-hosts Rep. John Moolenaar, a Republican from Michigan, and Rep. Tom Souzzi, a Democrat from New York.
Their prayers and opening remarks echoed the larger theme of the prayer breakfast this year, which centered on Jesus's commandment to love your enemies.
The event's keynote speaker, Harvard University professor and author Arthur Brooks urged those in attendance not to let their disagreements over politics lead to contempt. Brooks recalled speaking to a group of conservative activists and telling them their political opponents were neither evil nor stupid.
That line, he said, did not get much applause.
He went on to talk about being raised by Christian parents in Seattle who had progressive politics. His parents were neither evil nor stupid, he said. And he challenged listeners to remember their loved ones who have different points of view—and to stand up for those who would ridicule them.
Brooks also said Jesus asked his followers to love their enemies—not just tolerate them. Putting that into practice, he admitted, is hard. Brooks asked the crowd, "How many of you love somebody with whom you disagree politically?"
Many people in the audience raised their hands. Trump, sitting quietly a few feet away from Brooks, did not.
When Brooks finished his speech on mending political division by "loving your enemies," the president, his voice hoarse, approached the podium and opened his remarks by lamenting that he and his family "have been put through a terrible ordeal by some very corrupt and dishonest people."
He then took thinly veiled shots at Utah Republican Sen. Mitt Romney, who invoked his faith on Wednesday when he announced that he would vote to convict Trump on abuse of power, and House Speaker Nancy Pelosi, a Democrat from California, who has said throughout impeachment proceedings that she was praying for Trump.
"I don't like people who use faith for justification for doing what they know is wrong, nor do I like people who say 'I pray for you' when they know that is not so," said Trump, who identifies as Presbyterian.
A noticeably frustrated Trump used the bulk of his speech at the multifaith religious gathering to champion his administration's achievements on religious matters, but also to chide political opponents who challenged him during the recent impeachment process.
While expressing gratitude for people in the room, Trump appeared to go off-script at the end to make a point that sometimes religious Americans "hate" people.
"I'm sorry, I apologize. I'm trying to learn," he said, appearing to return to the question posed by Brooks. "When they impeach you for nothing, you're supposed to like them? It's not easy, folks. I'm doing my best."
The recent division in the United States over President Trump's impeachment was on the minds of attendees and organizers alike. Several mentioned the theme of the day was especially timely–and that gathering people together around tables to talk and get to know each other is one way to defuse some of the tensions in the country.
"If we are to heal our divisions—we need to spend time together," Souzzi said.
His words echoed a larger belief of The Fellowship, the nonprofit that puts on the National Prayer Breakfast. Members of the group described themselves as friends who get together to talk about the teachings of Jesus. While the group positions itself as open to all faiths, the themes of the event are distinctly Christian.
David Myhal of Westerville, Ohio, a first time attender, said he appreciated the day's theme. He said he was encouraged to see so many people praying together and admitted that loving your enemies is not easy.
"It's about the hardest thing a person can do," he said.
Myhal said he also sympathized with the president, saying he had been through a difficult time, so it made sense he was less than enthusiastic about the day's message. Myhal said he appreciated Trump's honesty.
Speaker of the House Nancy Pelosi led a prayer for those suffering religious persecution around the world, including Muslims, Yazidis, Buddhists, Christians and those from other faiths.
"Let us pray that the names of the persecuted always live on our lips and their courage carried through our actions," she prayed. "And let us pray that we honor the spark of divinity in them and in all people, including ourselves."
Toward the end of the breakfast, gospel singer Cici Winans received a standing ovation after a stirring rendition of her song, "Alabaster Box." She then led the audience—which organizers said was about 4,000 people, including 1,000 foreign guests—in singing a chorus entitled "Alleluia."
A few thousand people at the National Prayer Breakfast sang along with Cici Winans.
Civil rights legend and Georgia Congressman John Lewis, who is battling cancer, gave the benediction by video, while attendees joined hands and bowed their heads.
He said the country needed peace, "now more than ever before." Lewis asked God to bring the country together and prayed Americans would treat each other as "brothers and sisters."
In his prayer, Lewis recalled facing death when he was beaten while crossing Edmund Pettus Bridge in Selma, Alabama on a Civil Rights march.
"I never hated the people who beat me, because I chose the way of peace, the way of love, the way of nonviolence," Lewis said.
He said he never gave up, because God helped him. And he urged attendees to become one family.
"We must believe in one another," he said. "We must never give up on our fellow human beings."
With additional reporting by Jack Jenkins.