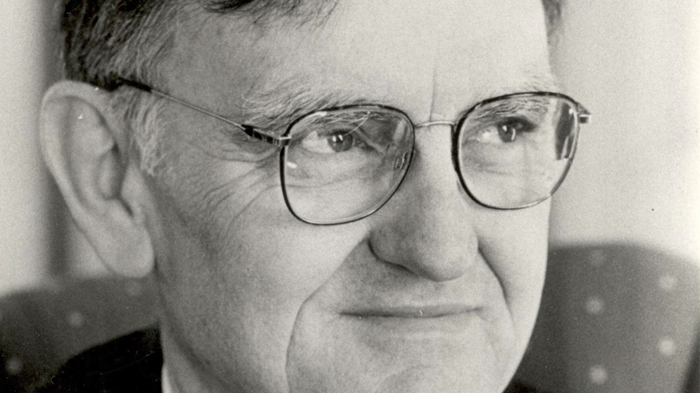 Image: Courtesy of the Lynn family
While plenty of Christian leaders set out to serve the "common good," the late Robert Wood Lynn asked, "But whose 'common good'? Even more to the point, how would we know if we had served the good or not?"
As an educator then a longtime executive at the Lilly Endowment, Lynn dedicated his career to surfacing the answers and helping Christian institutions continue to make meaningful contributions to the shifting society around them.
At Lilly, one of the richest charitable foundations in the world, Lynn served as senior vice president for religion. Starting in 1974, he distributed $100 million in grants to fund research examining the role of Protestant institutions, according to a recent Christian Century tribute, written following his death this month at age 93.
Lynn was responsible for bringing evangelical scholarship, as well as other traditions, under the purview of Lilly's generous philanthropy, funded by billions left behind by the pharmaceutical family—J. K. Lilly Sr., J. K. Lilly Jr., and Eli Lilly.
The Lilly Endowment continues to fund evangelical endeavors (full disclosure: both Christianity Today and fellow CT publication Church Law & Tax have received grants), with the organization recently granting $1 million for a church revitalization initiative through Wheaton College's Billy Graham Center for Evangelism.
Lynn himself was a Presbyterian Church (USA) minister and served at Union Theological Seminary and Auburn Seminary before transitioning to Lilly, whose work overlapped with his interest in mainline Protestantism in America.
Thanks to the influence of his Yale Divinity School professor H. Richard Niebuhr, Lynn paid particular attention to America's relationship with its history and the interplay between faith and public life.
"His work acknowledged that social factors determine religious organization while also expressing profound conviction that American Christianity was capable of transforming both itself and its environment," wrote historians Dorothy C. Bass and Glenn Miller in a Talbot Theological Seminary database of Christian educators.
Lynn raised important questions about Protestantism's changing position in America that shaped both his career trajectory and the landscape for theological study.
"Already in the 1960s, Lynn understood that the cultural dominance of the Protestant church was waning. While its ecology of institutions—churches, colleges, seminaries, camps, and other organizations—provided for the faith formation of generations of Christians, it was clear to Lynn that this was breaking down," wrote Christian Scharen, who leads the Center for the Study of Theological Education at Auburn.
"Rather than see the loss as a reason for lament, he creatively inquired as to the potential for a renewed vocation for a church from the margins, a place of significance for the biblical prophets, and for Jesus himself."
While the Lillys, Indiana Episcopalians, were most interested in the church as a force for building ethics and character, Lynn brought to the religion division his own interest in the sociology of religion, eventually discovering a "cabal of evangelical historians" whose research inspired him.
As Christianity Today wrote in a 2002 feature on the Lilly Endowment and the Pew Charitable Trusts—deeming them "Patrons of the Evangelical Mind"—Lynn was impressed by how evangelical scholars like George Marsden, Mark Noll, Nathan Hatch, Grant Wacker, Harry Stout, Joel Carpenter, and others linked their own faith and their fields of study.
He went on to award a $15,000 grant to Noll and Hatch for a 1979 Wheaton College conference on the history of the Bible in America. Then the checks kept coming, so much that by the '90s evangelical historians and sociologists would joke, "Consider the Lillys," a reference to their benefactor.
Lynn funded the Institute for the Study of American Evangelicals and dozens of other evangelical academic ventures over the decades, as the lab that made its first riches through penicillin and insulin continued to make big bucks on drugs like Prozac and Cialis.
As VP, his initiative expanded the scope of the endowment funding and the opportunities for evangelicals themselves, since few institutions were committing major gifts to evangelicals in academia. Fellow evangelicals often preferred to give directly to missions or churches, rather than the writers, researchers, and survey-makers studying the effectiveness of missions and churches.
His name appears on the tribute pages of dozens of books examining American Christianity, whose authors were supported by Lynn and the Lilly Endowment.
"As minister, scholar, teacher, dean, foundation officer, trustee, consultant, and author, [Lynn] demonstrated that one can foster an educational world that can advance participants' knowledge and ability to act," wrote Bass and Miller for Talbot. "In all these settings, his work as an initiator and guide for conversations about the things that matter has reflected a lifelong and multifaceted commitment to the relationship between teaching, learning, and the common good."
Lynn dedicated his career to rethinking and improving Christian higher education and scholarship involving the work of the church, including helping launch congregational studies as a field of study and, in his retirement from Lilly, serving as a senior fellow at the Lake Family Institute on Faith and Giving at the Center on Philanthropy at Indiana University/Purdue University.
In his obituary, Lynn's family wrote that "his kindness, wisdom, and generosity of spirit will live on in the lives he touched, the institutions he influenced, and the body of knowledge he fostered."
They described his October 7 passing at home in Maine as "peaceful, bringing the gift of rest after a life of great contribution, love, faith, fortitude, and joy."