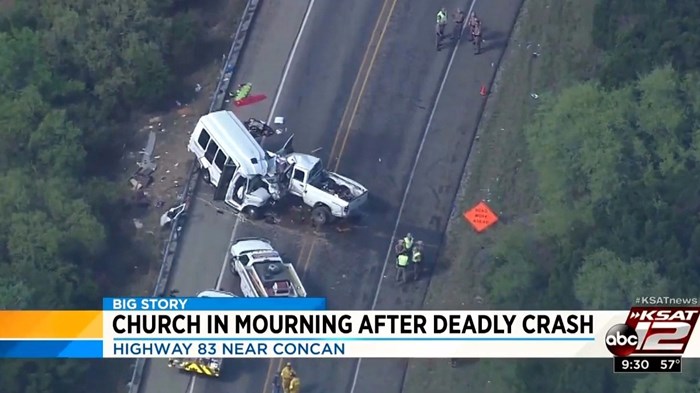 Image: Baptist Press
NEW BRAUNFELS, Texas (BP) -- "Death could not hold Him," proclaims the website of First Baptist Church of New Braunfels, Texas. The bright Easter message of Jesus' resurrection sits just above the tragic announcement of 13 members who died Wednesday (March 29) in a bus accident.
"When we're absent from the body, we're present with the Lord," First Baptist New Braunfels pastor Brad McLean told San Antonio CBS affiliate KENS5 News hours after the crash. "We know that their families are going to be hurting and our church family is going to be hurting."
McLean cancelled Wednesday evening services and opened the sanctuary for prayer after the members of the senior choir were killed when a pickup truck crossed the center lane in a curve, state troopers said, and struck the bus head-on on Highway 83 in Concan around 2 p.m. The bus driver and one church bus passenger survived and are hospitalized.
"We're just trying to be very respectful and provide a place for our church family to come together, to cry with other," McLean said of the evening prayer gathering, "you know, to hug each other and pray with each other."
The senior choir members, all between the ages of 61 and 87, were returning from an annual retreat at Alto Frio Baptist Encampment in Leakey when the accident occurred on Highway 83 near Garner State Park in Concan. All but one of the fatalities occurred at the site of the crash; the other, hours later at the hospital.
Many local and area community members and church congregants gathered at the church last night, First Baptist student pastor Michael Van Gorp told Baptist Press.
"It was a great moment to be able to go through that moment with fellow believers, and be able to be encouraged by each other, and be able to rest on the assurance of the Gospel," Gorp said. "The pastor [McLean] just commented on how it's a difficult situation, but we'll get through it with the hope and assurance of the Gospel."
Among Southern Baptists extending sympathy is Jim Richards, executive director of the Southern Baptists of Texas Convention.
"Our hearts are broken as we pray for the families who lost loved ones," Richards told the Southern Baptist TEXAN. "Because of Jesus, the precious saints who left this earth shed the confines of the flesh to enter the glorious presence of our Lord. We stand with the pastor and church in constant prayer."
Frank S. Page, Southern Baptist Convention Executive Committee president and CEO, also responded.
"Our hearts are broken over the horrendous accident which took the lives of so many members of First Baptist Church of New Braunfels, Texas," Page told BP. "Our prayers are with the families, the church and the pastor as he seeks to minister God's grace.
"We are praying for them and ... Southern Baptists stand ready to assist them in any way," Page said. "May God bless this church as they heal and deal with this tragedy."
Most of those who died at the scene were residents of New Braunfels, the Texas Department of Public Safety (TxDPS) said, identifying them as Howard Bryan Allen, 81; Rhonda Barlow Allen, 61; Harold Boyd Barber, 87; Margaret Robinson Barber, 82; Murray William Barrett, 67; Mildred Goodlett Rosamond, 87; Sue Wynn Tysdal, 76; Dorothy Fern Vulliet, 84; and Martha Holcomb Walker, 84. Also killed at the scene were Avis Scholl Banks, 83, of Austin; Cristie Clare Moore, 68, of Cibolo; and Donna Elizabeth Hawkins, 69, of Schertz. Addie Maurine Schmeltekopf, 84, of New Braunfels, died at University Hospital.
The lone church bus survivor, 64-year-old Rose Mary Harris of New Braunfels, was in critical condition at San Antonio Military Medical Center in San Antonio. The pickup truck driver, identified as 20-year-old Jack Dillon Young of Leakey, is in stable condition at University Hospital, TxDPS said.
The cause of the crash was not immediately known, but the National Transportation Safety Board arrived at the scene today (March 30) to investigate the incident, ABC affiliate KSAT reported. The small church bus had only made it nine miles from the retreat site when the accident occurred, and was about 120 miles from the church.
In photos and videos taken at the scene, both vehicles were heavily damaged on the front driver's side, and the rear of the bus appeared to rest on a guardrail.
The latest official statement on First Baptist New Braunfels' website encouraged prayer.
"It is with heavy hearts that we confirm that thirteen of the fourteen passengers in today's bus accident were called home to Jesus. The survivor is in serious but stable condition," the statement posted March 29 at 10:40 p.m. said. "Families have been notified. Out of respect for the families, we will wait until tomorrow to publish an official statement and list of names. Thank you for the outpouring of love and support. Please continue to pray."
Grief counselors are onsite at the church to talk with children and teenagers in particular, and lunch was being offered in the church gym to family members, the church said on its Facebook page.
"We have grief counselors available today for any children, preteens, and teens, from 1:00-2:00," the church said on Facebook before noon today. "Other times will be available. Feel free to bring your children by to talk with a counselor."
Texas Gov. Greg Abbott extended condolences.
"Cecilia and I extend our deepest condolences to the victims and the families of those involved in today's tragic event," Abbott said. "We are saddened by the loss of life and our hearts go out to all those affected. We thank the first responders working on the scene in the wake of this unimaginable tragedy, and ask that all Texans join us in offering their thoughts and prayers."
With reporting by Keith Collier, managing editor of the Southern Baptist TEXAN. Diana Chandler is Baptist Press' general assignment writer/editor.