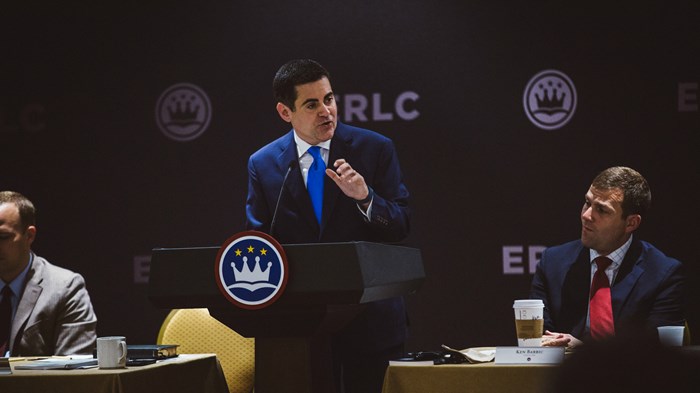 Image: ERLC
Russell Moore still has his job, after today's much-discussed meeting with Southern Baptist leader Frank Page.
"We deepened our friendship and developed mutual understanding on ways we believe will move us forward as a network of churches," wrote Moore and Page in a joint statement.
"We fully support one another and look forward to working together on behalf of Southern Baptists in the years to come," they stated. "We will collaborate on developing future steps to deepen connections with all Southern Baptists as we work together to advance the Great Commission of our lord Jesus Christ."
Today's consternation on social media over Moore, the president of the Ethics and Religious Liberty Commission (ERLC) of the Southern Baptist Convention (SBC), came after more than 100 churches threatened to end their donations to the SBC's Cooperative Program, which supports Moore's ERLC but also the denomination's six seminaries, two missions agencies, and other efforts.
The churches represent less than 1 percent of the 46,000 congregations that make up America's largest Protestant denomination. But they also represent the most complaints on any issue "in recent memory," according to the SBC's Executive Committee, which is investigating the problem in search of "redemptive solutions."
The highest-profile threat has come from Prestonwood Baptist Church, led by past SBC president Jack Graham, which stated it would escrow up to $1 million from the Cooperative Program. Such a sum would only represent less than 1 percent of the program's approximately $190 million budget. But the decision captivated the Baptist blogosphere. (Ed Stetzer, past executive director of the SBC's LifeWay Research and a CT blogger, explained the message that Graham was sending Moore.)
The Washington Post broke the news of today's meeting between Page, president of the Executive Committee, and Moore in a story that revived the debate thanks to these sentences:
[Page] indicated that he would not rule out the possibility that he could ask Moore to resign. He said he hopes Moore and his opposition will agree to pursue efforts toward reconciliation.
"Contrary to what some are saying, I do not know a single prominent SBC leader who wants @drmoore to resign or be fired. We don't need that!" tweeted Danny Akin, president of Southeastern Baptist Theological Seminary, in response. "Southern Baptist have a decision 2 make: stay in the barracks & fight 1 another or get on the battlefield & fight the real enemies together."
"Thankful & praying for my friend @drmoore. Hoping that the wise in the SBC will recognize the faithful wounds of a friend, Prov 27:6," tweeted Ligon Duncan, chancellor and CEO of Reformed Theological Seminary.
Page later told Baptist Press:
[He] had "requested a private meeting with Dr. Moore" last week and that [reporter Sarah Pulliam Bailey] apparently became aware of the meeting.

When [Pulliam Bailey] called Page on March 12, "I insisted that the meeting with Dr. Moore was a private meeting intended to seek bridge-building strategies," Page said, acknowledging that "nothing was off the table" in his efforts to facilitate reconciliation within the convention.

"I also informed [Pulliam Bailey] that I have no authority over Dr. Moore; that is vested in his board of trustees," Page said, adding his desire for the meeting was "to find bridge-building solutions to an unnecessary divide that has been created across the landscape of our Southern Baptist network of churches."
(Pulliam Bailey tweeted: "Just clarifying: Nothing in my story suggests Moore might be fired. SBC dynamics are more complicated. +the story is complicated (surprise!)." Executive Committee spokesman Roger S. Oldham explained to The Tennessean why the SBC can't fire Moore.)
Recently, SBC president Steve Gaines also stated that he prefers reconciliation. "I hope the kind of [divisive] talk we have been hearing is not the direction in which we are going," he told a gathering of Baptist newspapers, according to Baptist Press. "I hope Russell will remain in his position and that we have reconciliation with a lot of people."
Observers have wondered if it was too late to say sorry for Moore after the divisive 2016 election left him on the opposite side of many white evangelicals over how Christians should respond to President Donald Trump's campaign.
Many evangelicals voted for Trump as a pragmatic bid for a conservative Supreme Court justice and more pro-life victories. (On that front, Trump already granted Moore one of his 2017 wishes.) But Moore argued, for CT and elsewhere, that voting for the lesser of two evils was not an ethical option.
As Southern Baptist historian Nathan Finn told the Post:
"If you're one step in front of Southern Baptists, you're a leader. If you're two steps in front, you're a prophet. Three steps in front of Southern Baptists? You're a target. A lot of Southern Baptists think [Moore] is three or four steps in front of Southern Baptists."
For example, Moore has led the ERLC to defend the rights of Muslims to build mosques in the United States. Backlash to this particular application of Southern Baptists' high regard for religious liberty recently led the International Mission Board to apologize for and abandon its similar stance.
However, many critics also expressed concern with how Moore had articulated his opposition to Trump. As CT reported after Moore's first attempt at an apology:
His remarks on social media and in the news suggested that Trump supporters came from the "Jimmy Swaggart wing" of evangelicalism, that Christian defenses of the candidate were illogical, and that Southern Baptist leaders who met with Trump were "drinking the Kool-Aid."

"How condescending can you be and not expect some kickback from the people who provide the monies for you to occupy the office you are misusing?" asked William F. Harrell in an op-ed for SBC Today, a blog which frequently carries critiques of the denomination. The post by the Georgia pastor, who served 16 years on the SBC's Executive Committee and chaired it from 2006 to 2008, was one of the first published criticisms from a notable SBC name arguing that Moore's stance during the election should have consequences.
Past SBC president Ronnie Floyd told the Post, "I have no problem with a minister articulating concern over an issue. But at the same time, there's a way to do it. It's a matter of being able to do it and keep respect for everyone who may disagree."
Graham, one of Trump's advisers, has denied that his church's action is a referendum on Moore's election stance.
"To clarify: our decision to escrow our SBC funds for now is not and never has been about Trump. It is a leadership question," stated Graham in a series of Twitter posts last month. He continued:
After 40 years of CP support @Prestonwood, we are evaluating our giving and looking for ways to continue not discontinue our partnership. On a personal level - I've been giving to the SBC since putting my allowance in a Lottie Moon Mission offering envelope as a 5 yr old boy. I love the work of S Baptists. Period. The question of all leadership is humility and accountability. Nothing works without it.
If Moore did depart the ERLC, it would likely placate critics among the white Southern Baptists who voted for Trump, yet would also likely prompt a new wave of criticism among black Southern Baptists. They have largely defended Moore, both for his stance on Trump and on racial reconciliation efforts (such as the Confederate flag), and at times feel unease with their place in the SBC.
The president of the SBC's National African American Fellowship, which represents about 4,000 predominantly black congregations, recently defended Moore and urged reconciliation in an open letter published on Baptist Press.
"Russell Moore has done nothing worthy of discipline or firing," wrote Byron Day. "He has not violated The Baptist Faith and Message and, in fact, has been outstanding as president of the ERLC. He has represented all Southern Baptists, contending for the highly visible ethical issues of abortion and biblical marriage; but he has also addressed social injustices such as racism which have been long overlooked."
Day believes the debate over Moore's fate "is hurting the name of Jesus Christ and the furtherance of the gospel."
"To be sure, feathers have been ruffled on both sides," he wrote, "but obedience to the Bible's teaching can surely offer a solution so that we can get back to working together to share the good news of God's love, forgiveness, and gift of eternal life."
A group of students at New Orleans Baptist Theological Seminary met with Graham after he recently spoke at chapel, and issued an open letter stating their concerns with the Cooperative Program becoming a point of contention. Graham called for unity during his chapel message, and had a "cordial" conversation with the concerned students, according to Baptist Press.
Louisiana is the state where the most public SBC divide so far has occurred. After the Louisiana Baptist Convention proposed studying the recent actions of the ERLC, the New Orleans Baptist Association (NOBA) responded, stating that past SBC president Fred Luter and other signatories were "pulling for Dr. Moore."
Over the past year, 49 churches requested to withdraw from the SBC, up from the "half dozen or so" that is typical in a given year, Oldham told Baptist Press.
CT interviewed Moore on his plans for "convictional kindness" when he replaced Richard Land at the ERLC, and profiled him in a 2015 cover story.