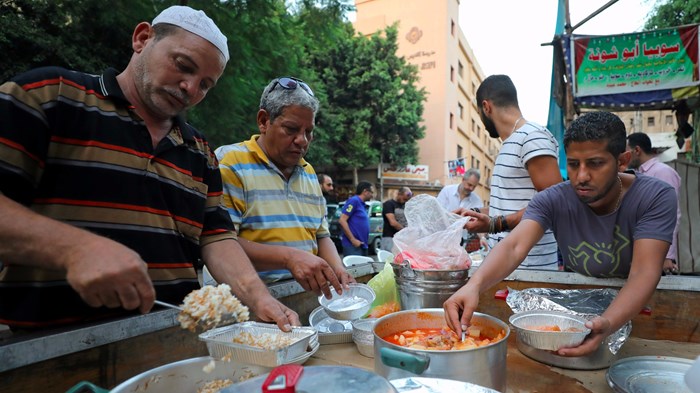 Image: Mohamed Abd El Ghany / Reuters
For most American Christians, Ramadan is a novelty; something heard of, but rarely seen. For Middle Eastern Christians, it is everywhere.
For some, it is an annoyance. The month-long fast from sunrise to sunset can make for a cranky Muslim neighbor. Productivity tends to slow. Religiosity tends to rise.
But for other believers, it is an opportunity.
"The Evangelical Church of Maadi wishes all Egyptians a generous Ramadan," proclaimed the flowery banner hung in the southern Cairo suburb. Such signage is not uncommon (and Muslims also display Merry Christmas wishes for Christians). But saluting "all Egyptians" is a statement.
"I want our brother Muslims to feel that we are one [as Egyptians], and it will make him happy in his heart," said pastor Naseem Fadl. "We both celebrate Ramadan."
Beside the need to have good relations with Muslims, Fadl also emphasized his biblical obligations. "Our faith tells us to love everyone," he said. "And when we reach out to others, we teach them about ourselves."
Across the Middle East, Christians join in the festive spirit—often by hosting an iftar, the traditional fast-breaking dinner. They also refrain from eating and drinking in front of Muslims, said Rafic Greiche, a priest and spokesman for Egypt's Catholic community.
Catholic churches often join in the tradition of Ma'idat al-Rahman, providing public community meals for the poor, he said. The "Table of the Most Merciful" employs a favored Muslim name for God, emphasizing the importance of charity.
In Palestine, the iftar provides opportunity for better understanding, said Salim Munayer, executive director of the Musalaha reconciliation ministry.
"Taking the time to learn about another community allows us to let go of fear and the prejudice that fear encourages," he said.
In Lebanon, it facilitates interfaith dialogue and discussion of social, educational, and peacebuilding issues, said Martin Accad, chief academic officer at Arab Baptist Theological Seminary in Beirut.
"The agenda of some has become so full," he said, "that it has become common also to hold gatherings for suhour, the late-night snack Muslims have before sunrise, usually around 4:30am."
Only slightly earlier was the joint religious service recently held in the hills of Muqattam, an eastern suburb of Cairo.
"For centuries, the message of the church has been love," Nady Labib, pastor of the Muqattam Evangelical Church, told the mixed audience of several hundred participants. "Tonight is for all Egyptians—Muslim and Christian—to sing and worship God together."
Atef al-Gendy, head of the Presbyterian Synod of the Nile, preached on the Good Samaritan. Encouraging the faithful of both religions to "compete in love and good deeds," his expression drew together familiar verses in the Bible and Qur'an.
A celebrated Sufi chanter later joined a popular Christian praise band in familiar tunes. His voice reverberated "Allah" in classic mystic fashion, to the delight of those gathered.
"It is not enough to stand here and speak of national unity," the singer, Ali al-Helbawi, told the crowd. "We love God, and so we worship him together." [CT has previously reported how Arab Christians view the debate over whether Christians and Muslims worship the "same God."]
Not all Christians are happy, said Labib. Some reject such cooperation, calling Islam a "fake religion." Others wanted to cancel the event, given the ongoing killings of Christians. Some felt it was not appropriate, given the ongoing mourning; others generalized their anger onto all Muslims.
"It is important for the church to be in society," said Labib, who has held Ramadan events since the Egyptian revolution in 2011. "If I cancel, what will this do for those killed or their families?
"I am sad, and angry at some Muslim people. But these Muslims here did not kill us, so how can I avoid them? We cannot treat them like terrorists. It is not fair."
It is not as common for churches to host an iftar in Israel, said Azar Ajaj, director of public relations at Nazareth Evangelical College. Some Catholic and Orthodox churches may, but such outreach is rare among the small Protestant community.
Only 1 out of 40 evangelical churches invited local Muslims this Ramadan, he said. Of the 28 pastors who responded to his informal survey on the matter, only 8 said they would be willing to host an iftar. But 24 would accept an invitation from a Muslim to attend one.
Ajaj believed the reluctance in hosting comes from not wanting to give the message that one shares their religious convictions. But joining them is simply a kind response to a friendly invitation, he said.
Should American Christians go and do likewise?
The situations are not similar, said Ajaj. Muslims in America are equal citizens, while in the Middle East, Christians lack full rights. But there is a commonality in that both groups want to win the sympathy and respect of the majority population.
As an American in the Middle East, Kirsten Fryer is an enthusiastic supporter.
"Get yourself invited to an iftar, you will experience hospitality from your neighbors that will be memorable," said the pastor of St. Andrew's United Church in Cairo.
"Sometimes it can be uncomfortable, and you'll be anxious about what to do. But as soon as the dates go around, you will know you are welcome."
Fryer's church held an iftar for its refugee ministry staff of 200. Coming from 23 countries, more than 80 percent originate from nations with forcibly displaced populations. The religious breakdown is roughly 60–40 Muslims.
Similar staff gatherings celebrate Christmas and Easter. But for Fryer, the iftar tradition goes beyond interfaith dialogue into genuine Christian conviction.
"We Americans are not good at getting to know our neighbors, we are missing something," she said. "But it is so Christian to sit down and eat together. The table is the center of what we do."
Kindness to Muslims during Ramadan can go a long way. Mutaz Laham is a Syrian refugee in Egypt who traveled during Ramadan to a conference in interfaith dialogue—in Norway, with its 21 hours of summer daylight.
The hotel restaurant and nearby groceries were all closed during his tiny window for eating. But the dialogue center manager surprised Laham by showing up at his door with a full plate of food and sweets, offering help wherever necessary.
"I learned a lot about dialogue at the conference," Laham told the director, "but your friendly behavior was more valuable than the whole course."
Among the lessons learned—and now offered—is that good relations marginalize the voice of radical extremists.
Labib, the Muqattam pastor, tried also to temper his objecting parishioners. "You should encourage me," he told them. "We're doing something that will help us love each other."
Similarly, he encouraged Americans to accept the invitation of Muslim colleagues and neighbors—not for polemics, but as human beings.
"We have a message to share, but it is the Holy Spirit who produces the fruit," he said. "Perhaps this is a first step, and God can do what he wants afterwards."
Editor's note: This article has been updated to clarify that Fadl's quote refers to shared citizenship, and that a later quote was made not by Labib but by a Sufi singer. CT has regularly covered the debate over whether Christians and Muslims worship the "same God," including what missions experts and Arab Christians think.