What to Give Up for Lent 2017? Consider Twitter's Top Ideas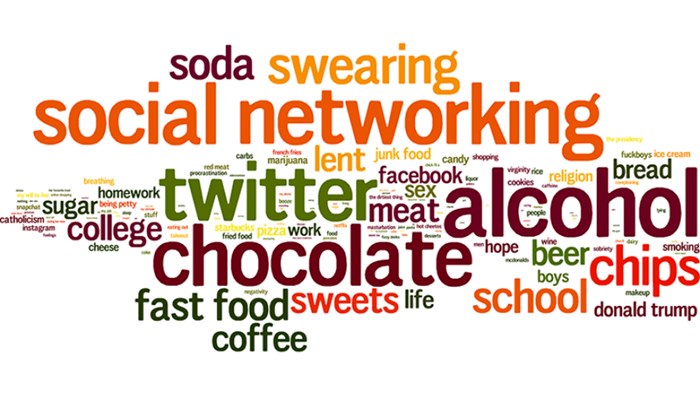 Image: Stephen Smith / OpenBible.info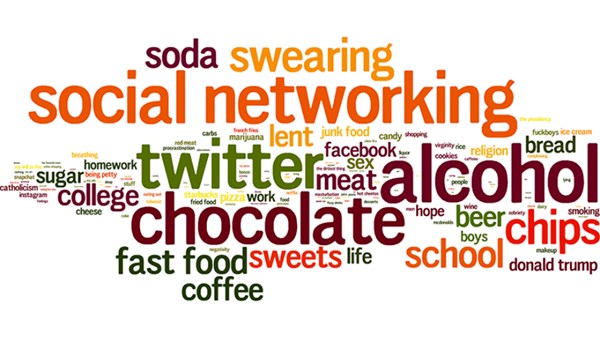 What to Give Up for Lent 2017? Consider Twitter's Top Ideas
Update (Mar. 6): After analyzing 73,334 tweets that specifically mentioned giving up something for Lent this year, Stephen Smith has crowned a new winner.
"This year, alcohol topped the list for the first time," noted the OpenBible.info blogger. "It's been hovering in the top five for the past few years, last year landing at a then-record No. 3."
Overall, food items were three times as popular to claim abstention from as technology items or personal habits.
Smith also noted the impact of the recent US presidential election.
"Donald Trump is a big winner this year, landing at No. 22, just behind Facebook but ahead of hope," he wrote. "The presidency comes in at No. 52. In all, there are 1,002 tweets mentioning Trump, President, and POTUS, which is good enough for No. 10 on the list if we were to combine them all into a single line."
Meanwhile, Netflix, Chipotle, Diet Coke, and "my phone" dropped the most from last year.
Smith's final tally of Twitter's 100 favorite things to give up for Lent 2017, as well as links to charts of how each idea has trended since 2009, are included below.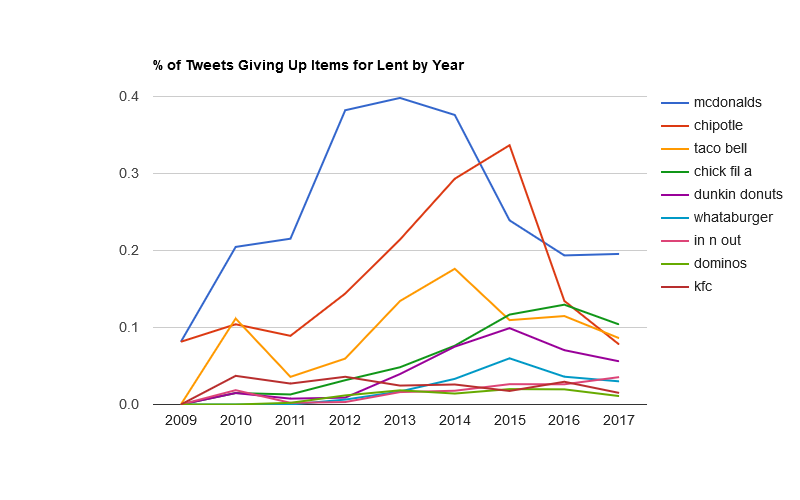 Image: OpenBible.info
-----
Once again, you can follow in real time what Twitter users say they are giving up for Lent, which this year begins Wednesday, March 1.
But new this year is a LifeWay Research study on what Americans who observe Lent say they actually give up. It offers a chance to compare Twitter's serious vs. sarcastic sharers.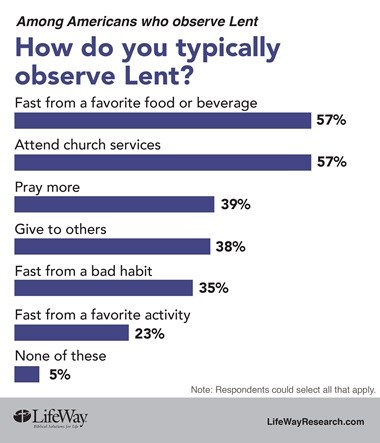 "Perennial favorites social networking, alcohol, and chocolate lead the list," wrote OpenBible.info's Stephen Smith, creator of the Twitter Lent Tracker, based on the first 1,600 tweets. "My main question, given the current US political climate, is how high Donald Trump will rank?
"He's currently vying with smoking and sugar for No. 24. Last year, as a presidential candidate, he finished at No. 82."
LifeWay found that nearly 3 in 10 evangelical believers (28%) now observe the Lenten season before Easter, while Catholics remain most likely to do so (61%).
In its analysis of who gives up what, Facts & Trends noted:
Giving up a favorite food or beverage is more common out West (62%) than in the Northeast (42%). Young Americans—those 18 to 24—who observe Lent are more likely to choose this option (86%) than those over 65 (43%). Catholics (64%) are more likely give up a food or drink than Protestants (43%).
Overall, Twitter's top five Lenten choices have proven consistently popular since Smith began tracking Lent in 2009.
He also charts trends over time, such as this attempt to track the "seven deadly sins":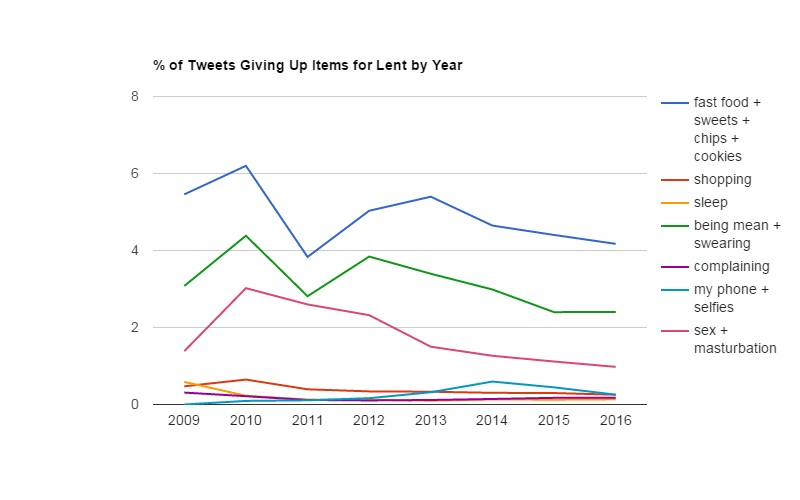 For comparison, here are the top 100 ideas of 2016, the top 100 ideas of 2015, and the top 100 ideas of 2014, as well as charts on trends over time.
Here is Smith's final tally of the top 100 most-mentioned Lenten sacrifices (both serious and cynical) in 2017. (The list covers tweets from February 27 to March 4 that mention giving up something for Lent and, except as noted, excludes retweets.) Links lead to charts of how each item has trended since 2009.
Top categories of 2017:
| Rank | Category | Number of Tweets |
| --- | --- | --- |
| 1. | food | 17,017 |
| 2. | technology | 5,659 |
| 3. | habits | 4,962 |
| 4. | smoking/drugs/alcohol | 4,880 |
| 5. | irony | 3,495 |
| 6. | school/work | 3,470 |
| 7. | relationship | 2,541 |
| 8. | sex | 1,179 |
| 9. | religion | 1,055 |
| 10. | politics | 911 |
| 11. | generic | 679 |
| 12. | entertainment | 447 |
| 13. | shopping | 407 |
| 14. | health/hygiene | 328 |
| 15. | money | 279 |
| 16. | sports | 152 |
| 17. | possessions | 103 |
| 18. | clothes | 64 |
| 19. | weather | 28 |
| 20. | celebrity | 20 |

02/27/2017