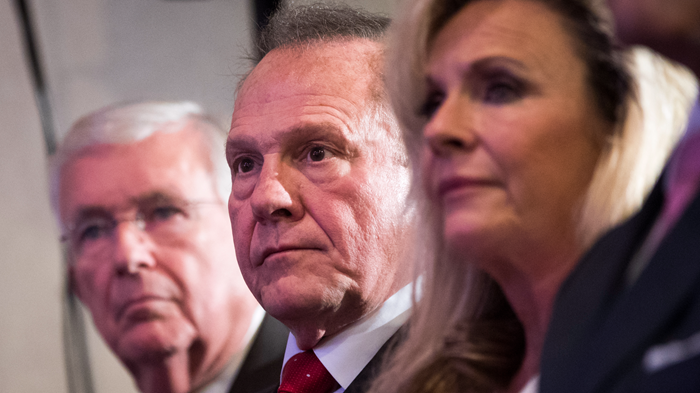 Image: Drew Angerer / Getty Images
When it comes to Roy Moore and the long list of prominent men accused of sexual misconduct or assault, which side do believers believe?
Evangelicals share the concern of most Americans that such claims need to be taken seriously and are representative of a broader pattern of sexual misconduct in society.
However, when it comes to individual cases—particularly those involving conservative political leaders such as Moore, currently running for US Senate in Alabama, and President Donald Trump—self-identified evangelicals are slightly less inclined to give credence to the allegations.
There's a gap between evangelical voters and registered voters overall when it comes to Moore, an outspoken Christian judge who has dominated political news ever since The Washington Post reported this fall on several claims of sexual assault against teen girls that date back 40 years.
According to a Politico/Morning Consult poll conducted December 1–3, 36 percent of self-identified evangelical voters find the accusations against Moore credible, compared to 42 percent of voters overall.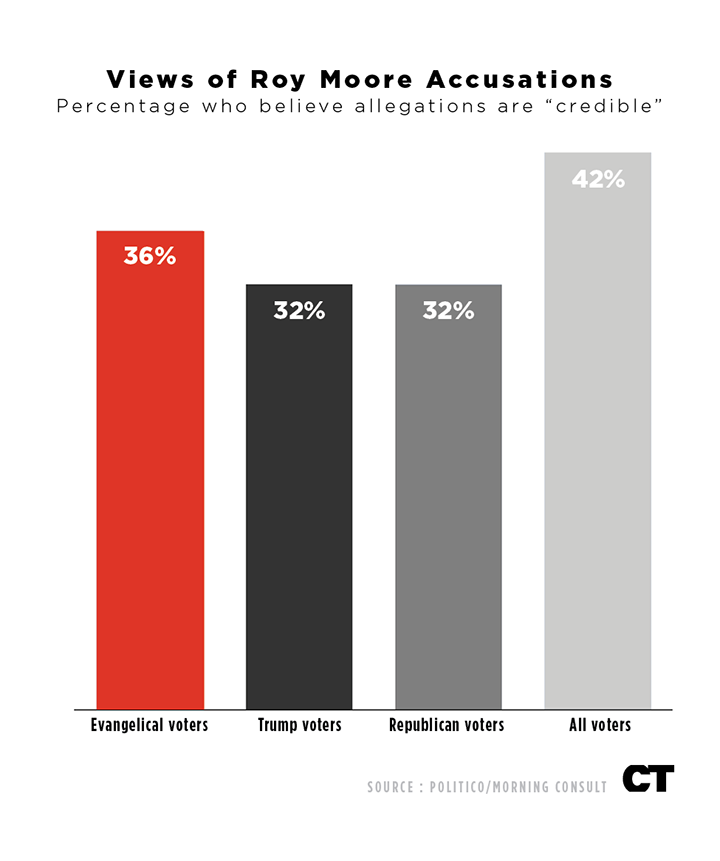 For 10 of the accused men in the survey, evangelicals were in most cases less likely than American voters overall to believe the accusers: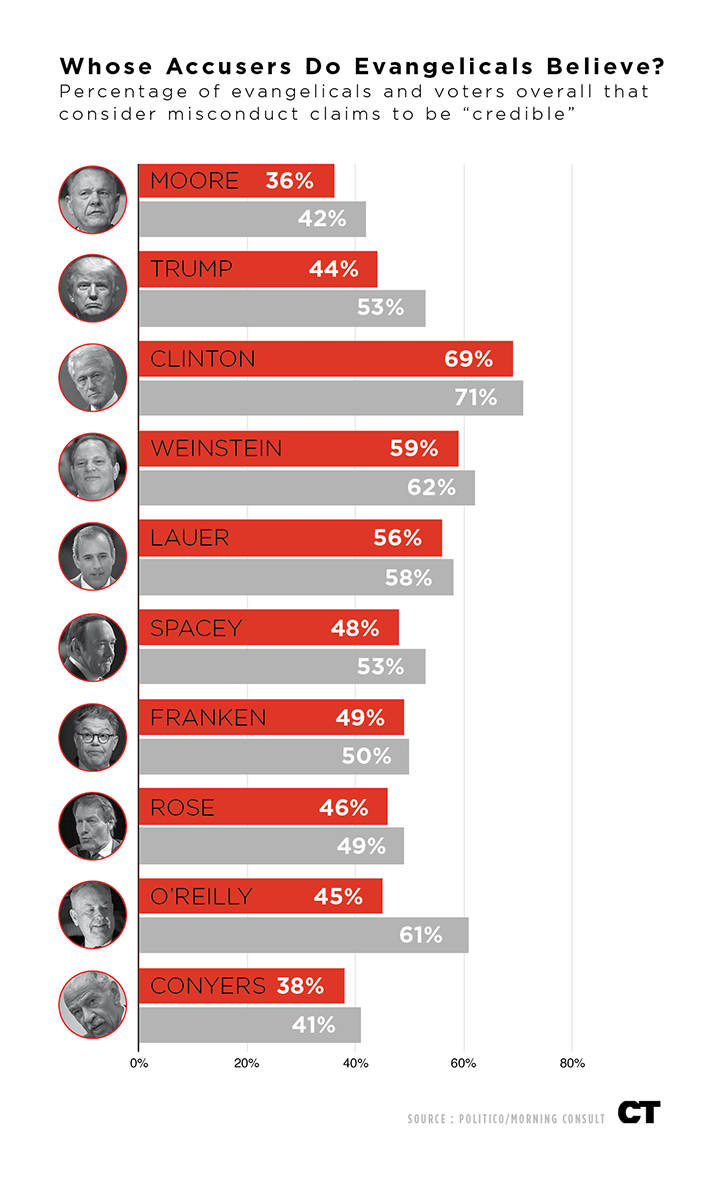 In two of these cases—Moore and John Conyers—a plurality said they didn't know or had no opinion about the credibility of the accusations.
Ahead of Moore's much-anticipated Senate race on Tuesday, Americans have looked to his fellow conservative Southern evangelicals—many of whom supported the former state judge as he defended a Ten Commandments monument at the Alabama Supreme Court and spoke out against same-sex marriage.
Moore denies the allegations against him, characterizing them as partisan attacks by liberals. He told supporters he wants "to take the truth about God to our Capitol" and that he is in a "spiritual battle with those who want to silence our message."
Last month, a plurality of Alabama evangelicals took his side: 37 percent said they were more likely to vote for him in the wake of the allegations, while 28 percent said they were less likely and 34 percent said it made no difference on how they planned to vote. (Overall, the first survey after the allegations broke found that 57 percent planned to vote for Moore, while 34 percent planned to vote for his Democratic rival Doug Jones.)
In the Bible Belt red state, a strong turnout among his supporters could carry the vote; white evangelicals represent more than a third of all voters in Alabama, making it the second-most evangelical state in the country, according to the Pew Research Center.
Moore's defenders either deny the allegations or simply don't believe that a controversial past decades ago precludes him from public service today.
"The basic argument of Moore's supporters is that the stakes in US elections are so high that we have to disregard what might otherwise be valid moral objections to voting for him," wrote Greg Forster, director of the Oikonomia Network at Trinity International University, for The Gospel Coalition. "Defeating the church's political enemies is so important at this critical moment in our history that even voting for a monster is justified."
According to Pew, two-thirds of Alabama's white evangelicals pointed to religion as their source of guidance between right and wrong in 2014, up from just over half in 2007. The survey also found that Alabama evangelicals—defined by denomination, not the usual self-identity—were split evenly over whether "there are clear standards for what is right and wrong" or whether "right or wrong depends on the situation" (51% vs. 49%).
Nationwide, the number of self-identified white evangelicals who believed "an elected official can behave ethically even if they have committed transgressions in their personal life" more than doubled between 2011 and Trump's campaign in 2016, from 30 percent to 72 percent, according to PRRI.
Bible teacher Beth Moore tweeted, "This is what happens when we sell our souls to buy our wins. The huge irony is that we do it in Jesus' name. I don't think he's taking credit for this."
While they don't have a vote in Tuesday's state election, evangelicals at a national level feel strongly about keeping Moore from holding office. According to Politico/Morning Consult polls (which each offer a multiethnic sample of about 600 self-identified evangelicals), half believe that if Moore wins the election, he should be expelled from Congress, while only a quarter believe Congress should seat him. Fewer than half of Republicans and Trump voters (44%) say the same. (Already, two of the other embattled politicians in that survey, Al Franken and Conyers, have resigned prior to congressional investigations.)
White evangelicals (64%) mostly line up with the rest of America (66%) in believing that the recent allegations "reflect widespread problems in society" rather than isolated incidents, according to Pew data provided to CT.
A majority of white evangelicals agree that the issue of sexual assault and harassment is "very important," though women (73%) feel stronger about the issue than men (56%).
The ongoing claims of sexual misconduct are not confined to a particular industry or segment of American life; they have spawned the hashtag #ChurchToo for Christians to share their experiences of abuse.
Many church leaders have spoken out, in grief and condemnation, against the accused figures and have encouraged fellow believers to take a moral stand against sexual misconduct and on behalf of victims.
"Christians need to avoid even the appearance of ambivalence towards sexual assault and child molestation," wrote Ed Stetzer, CT blogger and director of the Billy Graham Center at Wheaton College. "The world is watching and the gospel demands us take a stand against such sin and to stand with the victims. That should be, and has been for me and many others, our primary focus."
Following the allegations against Roy Moore, Ethics and Religious Liberty Commission president Russell Moore tweeted, "Christian, if you cannot say definitively, no matter what, that adults creeping on teenage girls is wrong, do not tell me how you stand against moral relativism."
Evangelicals are mostly likely to recognize sexual harassment as an issue in Hollywood (67%), the media (51%), and the federal government (45%), according to Politico/Morning Consult. But nearly 1 in 5 evangelical voters say sexual harassment is a "big problem" in their workplaces, slightly more than Christians and Americans overall.
"Leaders in every level of society—from entertainment, to the marketplace, to politics, to churches—must honestly wrestle with this challenging issue and what it means for their institutions," wrote Barna Group editor in chief Roxanne Stone.
Barna found that Americans characterize a range of behaviors as sexual assault, including touching, forcing sexual activity, making sexual comments about appearance, sexting, and persistently asking someone out on a date after being told no.
"Pastors and spiritual leaders, especially, must be ready to talk with their members: to hear the stories of the victims, to offer counseling services, to speak from the pulpit on the respect and humanization that gender equality really requires," Stone said.